Found June 23, 2012 on The Saints Nation:
And just like that, Greg Romeus' career may be over. The Saints have waived Romeus from the roster instead of placing him on injured reserve, and the 7th round draft pick in 2011 will now attempt to recover from a major knee injury to prepare himself for a chance to play somewhere in 2013. Without the luxury of a contract next season now, Romeus will have to prove he's 100% next season before anyone would even consider signing him. The Saints could still bring him back, of course, and I know the Saints like him so they would probably be willing to give him a chance if he can show he's recovered. I had high hopes for Romeus to get some significant playing time this season, so how this played out is disappointing, and I'm sure he's devastated by it. Sports can really be unfair to some athletes sometimes.
To replace him on the roster... the Saints have signed linebacker Donavan Robinson. Robinson is an undrafted rookie this season that played defensive end in college, but is listed as an outside linebacker - so it's entirely possible the Saints plan to have him compete at end to fill in for the loss of Romeus more directly. Based on the amount of talent and depth the Saints have at linebacker, there is virtually zero chance of Robinson making this team if he remains at that position. Robinson, from Jackson State, was waived most recently by the New York Jets after spending part of the offseason with them. Robinson posted 30 career college sacks, including 16 last season (!) so while the Jets didn't seem too impressed with him it sure looks like he has a knack for getting to the quarterback. He still sounds like a tweener physically that played poor competition in college, so he's likely a camp body, but with those kind of college stats he's definitely worth a serious look at defensive end. Maybe the Saints can find a place for him as a situational pass rusher.
[follow] 
Original Story:
http://www.thesaintsnation.com/2012-a...
THE BACKYARD
BEST OF MAXIM
RELATED ARTICLES
Getty Images Filmmaker Sean Pamphilon made an appearance on XX 1090 in San Diego with Josh and Charod (via SportsRadioInterviews) to discuss Saints quarterback Drew Brees and the bounty scandal. Pamphilon believes that Brees knows a lot more about the scandal then people want to believe and that someone should confront him. "You don't know if they're standing by it, because...
One of the requests we received from our members for the fantasy football 2012 season was kickoff return and punt return rankings. We have provided those rankings in 3 different categories, so depending on your particular format you can find what you need. Click here for our return specialist projections Devin Hester doing his thing (Image credit: Getty Images via @daylife) ...
When former Saints FB Mike Karney makes the following statement, you know there is a seriously personal problem. To read this story and view a slide from the infamous Bounty Gate PowerPoint, please click the link below.
ProFootballTalk has come out with the updated salary cap numbers of each NFL team and to little surprise is the fact that the Saints have one of the least amounts of room among the 32. As of 6/22, the Saints are operating at $2.27 million under the salary cap which gives them the 30th most space out of 32 teams. Only the Raiders and Ravens are in worse shape, although 14 of the 32...
The St. Paul Saints minor league baseball team is touting it as the wedding of the year. On Friday night, after the Saints play the Sioux Falls Fighting Pheasants, a ceremony will take place, uniting the bride and groom at Midway Stadium. The lucky couple? Kim Lardashian and Kris Hamphries. Yes, it's a spoof of the famous celebrities whose marriage last year was shorter than...
The head of the NFL Players Association called Friday for the re-opening of the probe that led to four players being suspended for their alleged roles in the New Orleans Saints' bounty scandal. NFLPA executive director DeMaurice Smith said on NBCSports.com's Pro Football Talk Live that rather than close the investigation, he'd like to see the entire process re-opened...
Yeah, sorry, I know. But this is just too good to not post. No way I'm playing this cool.  @SaintsNationBlg That is good!!! I do like to speak in code sometimes, unfortunately this was a legit water balloon fight.— Drew Brees (@drewbrees) June 23, 2012
(PhatzRadio / USA Today) — NEW ORLEANS – As he shuttled a fresh group of passengers in his taxi through the tourist district near the French Quarter, Edmond Belizaire expressed the undeniable sentiment of the locals on the topic of beloved New Orleans Saints quarterback Drew Brees. Pay the man. For all the twists stemming from the bounty scandal that has dominated the offseason...
NFL News

Delivered to your inbox

You'll also receive Yardbarker's daily Top 10, featuring the best sports stories from around the web. Customize your newsletter to get articles on your favorite sports and teams. And the best part? It's free!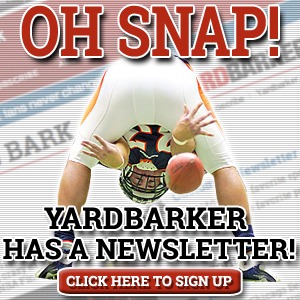 Latest Rumors
Best of Yardbarker

Today's Best Stuff

For Bloggers

Join the Yardbarker Network for more promotion, traffic, and money.

Company Info

Help

What is Yardbarker?

Yardbarker is the largest network of sports blogs and pro athlete blogs on the web. This site is the hub of the Yardbarker Network, where our editors and algorithms curate the best sports content from our network and beyond.