Found June 20, 2012 on The Saints Nation:
I have been a Pierre Thomas supporter since his break out game in 2007, but I believe itis best for the Saints to break free from him soon. Although he is coming off a very productive year last season, there are many factors that scare me going into the future with Pierre Thomas.The biggest and scariest was the concussion he sustained during the 49ers game. After one concussion, it is very easy to get another and this is what scares me. Thomas was knocked out cold after a hit by Donta Whitner, and that's not a good sign at all. I know it was last season, but concussions are no joke. He is in the prime of his career, but I believe this year will be different. I have a strong feeling that he will sustain another concussion this season, and he won't be as effective as in the past.
By living in the Philadelphia area, I watched the same thing happen to Brian Westbrook. Westbrook and Thomas have extremely similar roles on offense, and Thomas is just about the same age when Westbrook sustained his first concussion.Then another happened. Where's he now? Sitting at home, doing the same thing I am, watching games on Sunday.
Why not trade Thomas while the opportunity is available? Thomas' is also getting older. Even though he is only 27, the golden age for a running back's downfall is 30. As each day passes, his value on the trade market is decreasing and I strongly think the Saints should move him now while they can. He has shown that he can handle being a primary back, and can take a leadership role in an offense. I don't think his departure would affect the Saints backfield dramatically in the long run. The Saints have a nice young backfield consisting of Darren Sproles, Mark Ingram, and Chris Ivory. I know that Sproles is a year older than Thomas, but he doesn't get hit as often, or as hard. Thomas is used in almost every situation, and that includes pounding the hole. It just scares me that he won't be effective very soon and change needs to happen.
[follow]
Original Story:
http://www.thesaintsnation.com/2012-a...
THE BACKYARD
BEST OF MAXIM
RELATED ARTICLES
Getty Images On Monday, New Orleans Saints quarterback Drew Brees posted a message on Twitter that compared the current bounty scandal to the Iraq war when the U.S. claimed there were weapons of mass destruction in Iraq, but they ended up being wrong.  It looks like after listening to responses from numerous people, he realized it wasn't the best thing the say. Brees took some...
Getty Images With the New Orleans Saints bounty scandal currently going on, as well as a contract stand-off between the Saints and quarterback Drew Brees, it doesn't look like tight end Jimmy Graham will get a long-term deal any time soon.   Another problem that the Saints have, is that they don't have the cap room at the moment to lock Graham up to a long-term contract. Graham's...
Getty Images Former New Orleans Saints defensive tackle Anthony Hargrove met with NFL commissioner Roger Goodell on Tuesday and afterwards told the media that it wasn't him saying, "Bobby , give me my money," during the 20o9 NFC Championship game. Jason LaCanfora has Hargrove's complete statement laid out on CBSSports.com. We also have a video of Hargrove talking to the...
The New Orleans Saints have been at odds with the NFL all offseason, as the alleged bountygate scandal has dominated just about every football headline. While the suspended Saints players and coaches fight to clear their names of any wrongdoing, the NFL seems to be uninterested in the players claims. New Orleans interim head coach Joe Vitt, who has been suspended for the first six...
The NFLPA recently released the NFL's evidence against the New Orleans Saints' bounty scandal, one piece of evidence which includes former Saints' defensive coordinator Gregg Williams actually referencing Dog the Bounty Hunter. The majority of the evidence that comes by way of Deadspin.com is contained within six PowerPoint presentations that were shown to the Saints' defense...
I know I told you all it was time to move on, but with the plethora of news continually pouring out on a daily basis on "bountygate", and with the lack of any other real Saints related news, what else am I going to write about? My main issue with the "evidence" presented continues to be the ridiculous amount of fluff, after the fact exhibits, and useless table...
Nobody has been blown away by the little evidence that the NFL has released publicly in regards to the alleged bounty program that the New Orleans Saints had been running for the the past few seasons.  All that Commissioner Goodell and his office have given to are 200 pages of what is supposedly a 50,000-page [...]
The NFL came down awfully hard on the New Orleans Saints this offseason for their alleged bounty program. Now it appears that commissioner Roger Goodell and the league are taking steps to ensure that those actions never take place again. After a meeting with Sen. Dick Durbin of Illinois, the second-ranking democrat in the senate, on Wednesday, Goodell announced that the NFL would...
((HT: ESPN)) The four NFL players associated with the so-called "Bountygate" had their day with Commissioner Roger Goodell- and one left really early... Jonathan Vilma only hung around for an hour before stating his case in front of a bunch of microphones... The other three players, Anthony Hargrove, Scott Fujita, and Will Smith all arrived at the NFL offices...
Drew Brees through a Twitter shoe at President Bush when he compared Bountygate to finding WMDs in Iraq. Saints owner Tom Benson and suspended general manager Mickey Loomis will be allowed to meet during Loomis' 8 game suspension. The reason is that Benson owns the New Orleans Hornets, and Loomis is director of basketball operations for the NBA squad. The NFL expects Loomis...
Something I've done in the painstakingly long "bountygate" process is accept that Roger Goodell is going to get his way, live with the fact that the Saints will be without numerous key coaches, front office members, and players, and just move on. I think it's time we all do that, honestly. Regardless of what side of the fence you sit on, at the end of the day, I...
NFL News

Delivered to your inbox

You'll also receive Yardbarker's daily Top 10, featuring the best sports stories from around the web. Customize your newsletter to get articles on your favorite sports and teams. And the best part? It's free!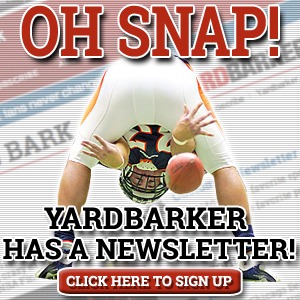 Latest Rumors
Best of Yardbarker

Today's Best Stuff

For Bloggers

Join the Yardbarker Network for more promotion, traffic, and money.

Company Info

Help

What is Yardbarker?

Yardbarker is the largest network of sports blogs and pro athlete blogs on the web. This site is the hub of the Yardbarker Network, where our editors and algorithms curate the best sports content from our network and beyond.