Posted October 22, 2012 on AP on Fox
PLAYERS:
Steve Spagnuolo
,
Scott Shanle
,
Tom Benson
,
Sean Payton
,
Drew Brees
,
Malcolm Jenkins
,
Vincent Jackson
,
Jonathan Vilma
,
Josh Freeman
,
Will Smith
,
Lance Moore
,
Jimmy Graham
TEAMS:
New Orleans Saints
,
St. Louis Rams
,
Tampa Bay Buccaneers
Fresh off his seven-week bounty-related suspension, New Orleans interim coach Joe Vitt did not wait an extra second to rejoin the team in Florida. After watching Sunday's game from an undisclosed location in the Tampa area, he flew back to New Orleans with the Saints after they beat the Buccaneers 35-28 in a game Vitt was barred from attending. On Monday, he said his suspension was excruciating. ''I agonized,'' he said. ''It's hard to go through that. I've been with these guys for seven years. I care very deeply for this team. When you're not there on game day, win or lose, with guys that you respect and love, it was a challenge.'' The Saints losing their first four games under his interim replacement, offensive line coach Aaron Kromer, made it even more agonizing. New Orleans has won two in row but still faces an uphill battle to climb into playoff contention a year after finishing 13-3. First on Vitt's agenda is fixing the NFL's worst defense statistically. The Saints (2-4) have allowed a league-high 465.5 yards per game under new defensive coordinator Steve Spagnuolo, including 513 to Tampa Bay, which scored touchdowns on its first three possessions. Four of the Saints' six opponents have gained more yards against them than anyone else. A fifth, Washington, score a season-high 40 points. ''I'm certainly not a miracle worker,'' Vitt said. ''I'm humble to be back here. I met with (Spagnuolo) this morning, and we know there are things we can do better from a coaching standpoint and from a players' standpoint and from a schematic standpoint.'' Vitt can help just by coaching the linebackers, his position responsibility. The Saints have been down a defensive staff member since his suspension started at the end of the preseason. ''I know it's been hard for him as much as he loves the team to see us playing the last six or seven weeks,'' linebacker Scott Shanle said. ''Everybody was excited to see him back. He went around on the plane talking to different guys just to catch up.'' The serious work began when Vitt got back to his office around 9 p.m. on Sunday night. Fewer than 12 hours later, he said he already had talked to every assistant coach individually, the team doctors, owner Tom Benson and team president Dennis Lauscha in an attempt to make up for his lost time. Although Vitt is much more fiery than the reserved Kromer, neither coaches nor players expect any significant changes in tone. From the day training camp started without head coach Sean Payton, who is suspended for the season, the Saints have preached staying the course Payton laid out over six years. ''The foundation has been built,'' Shanle said. ''It will be a different person in front of us, maybe saying some different things, but the message will be the same week in and week out.'' The Saints will try to build on their performance against Tampa Bay even though it was uneven. Drew Brees rallied them from deficits of 14-0 and 21-7 by throwing for 313 yards and four touchdowns in the first half alone. The defense was awful at the start and the finish, allowing the Bucs to come within 9 yards of scoring two touchdowns in the final 4:10, but it shut them out for nearly 40 minutes in between. After safety Malcolm Jenkins ran down wide receiver Vincent Jackson at the end of a 95-yard gain and tackled him just outside the 1 in the third quarter, New Orleans stuffed Tampa Bay on four consecutive plays to take over on downs. Linebacker Jonathan Vilma, with his season-long bounty suspension on appeal, returned from rehabbing knee surgery and pressured Bucs quarterback Josh Freeman into a near-interception in the first half. Vilma can play this Sunday at Denver before his and Saints defensive end Will Smith's appeals are heard Oct. 30. ''Jonathan Vilma is the epitome of team player and an inspirational guy that I think all the guys kind of feed off,'' Spagnuolo said. ''I'm sure glad we got him back.'' For at least one week, the Saints will have every player and coach but Payton back from the bounty suspensions. Their mood is much brighter than it was a few weeks ago, when a 28-27 loss at Green Bay dropped them to 0-4. ''I told somebody yesterday that this is the best 2-4 feeling I've ever had,'' said wide receiver Lance Moore, who caught nine passes for 121 yards against Tampa Bay. ''We're not where we want to be, but we're moving in the right direction.'' Vitt is thrilled to be part of it again. Always quick to point out questions he did not like in his preseason stint as interim coach, he drove that enthusiasm home in his opening statement to reporters on Monday. ''I never thought I would say this,'' he said. ''But it's good to see you guys.'' Notes: Vitt said he thought Pro Bowl tight end Jimmy Graham, who missed the Tampa Bay game with a sprained right ankle, had a good chance to be ''full go'' on Wednesday when the Saints return to practice. ... Kromer said he would have no difficulty going back to being solely the offensive line coach.
Original Story:
http://msn.foxsports.com/nfl/story/Ne...
THE BACKYARD
BEST OF MAXIM
RELATED ARTICLES
THROUGH THE WIRE
Sean Payton has done some interesting things while he's been banned from the NFL, but nothing compares to the 48-year-old getting braces. Yes, those are braces on his teeth. The guy is running around New Orleans or wherever looking like Ted Stroehmann.Our research team seems to believe these braces were installed within the last week or so and debuted over the weekend at a couple...
New Orleans Saints head coach Joe Vitt says they will test out tight end Jimmy Graham's this week.  It sounds like they're hopeful he'll be able to play this week.Graham missed yesterday's game against the Bucs as he continues to deal with a high ankle sprain. 
New Orleans QB Drew Brees produced a stunning fantasy day on Sunday, throwing for 377 yards and four TDs in a win over Tampa Bay.Fantasy Spin:Brees accomplished almost all of these statistics in the first half when he threw for 313 yards and four scores. Regardless, it's his third straight 300-yard week and over his last four games, the NFL's single-season passing yards leader...
New Orleans Saints wide receiver Joseph Morgan provided one of the top highlights of week 7 in the NFL, with a 48-yard touchdown reception he had in the Saints' 35-28 victory over the Buccaneers on Sunday in Tampa Bay. What made the play so awesome wasn't the actual catch, but the incredible balance and kung fu-like moves Morgan showed off following the catch. He even...
New Orleans Saints wide receiver Joe Morgan is having a great day versus the Tampa Bay Bucs. He made a spectacular play to get into the endzone  for a 48-yard touchdown in the second quarter. Morgan broke free down the field, the pass was left short, but that didn't stop him from making the catch. Morgan then shook off one defender, and flipped the other defender over his shoulders...
According to the Associated Press, Saints interim head coach Joe Vitt is hopeful that tight end Jimmy Graham will be able to practice fully on Wednesday after missing this past … Continue reading »
New Orleans Saints interim coach Joe Vitt, who has been suspended for the first six games because his involvement in the bounty scandal, reportedly will resume his coaching duties Sunday night. He will be waiting at the airport for the Saints when return from their game at Tampa Bay, ESPN reported. Aaron Kromer has served as Saints coach in Vitt's absence. Despite being suspended...
Tampa Bay rookie head coach Greg Schiano has already come under a lot of fire this season for his questionable coaching tactics. Schiano's insistance on thumbing his nose at coaching convention in his first year in the NFL – most notably by bull rushing the kneel down play at the end of games - hasn't sat well with much of the league's old guard.Some have defended Schiano...
Drew Brees of the New Orleans Saints continued to lead his team in the right direction on Sunday. In Week 7, Brees carried his team to a big win over their division rival, Tampa Bay Buccaneers. Brees began with a monster first half, and was able to close it out in the second. Brees finished with 377 passing yards, 4 touchdowns and one interception. His pinpoint passing once again...
I know, I know, you might think that I am crazy for saying this. But I firmly believe that The Madden Curse is real and I HAVE PROOF! Here are the stats of the last few Madden Cover players and the failing seasons that they have had. 2011: New Orleans Saints quarterback Drew Brees. Had a good year, but the Saints were beat by the Seahawks in the first round of the playoffs. 2010...
NFL News

Delivered to your inbox

You'll also receive Yardbarker's daily Top 10, featuring the best sports stories from around the web. Customize your newsletter to get articles on your favorite sports and teams. And the best part? It's free!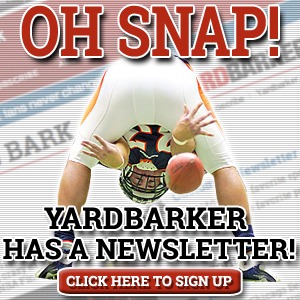 Latest Rumors
The Backyard

Today's Best Stuff

For Bloggers

Join the Yardbarker Network for more promotion, traffic, and money.

Company Info

Help

What is Yardbarker?

Yardbarker is the largest network of sports blogs and pro athlete blogs on the web. This site is the hub of the Yardbarker Network, where our editors and algorithms curate the best sports content from our network and beyond.