Found December 19, 2012 on Fox Sports South:
PLAYERS:
Donovan McNabb
,
Asante Samuel
,
Michael Vick
,
Eli Manning
,
Steve Smith
,
Brent Grimes
,
Robert McClain
,
Christopher Owens
,
Dominique Franks
,
William Moore
,
Andy Reid
TEAMS:
Philadelphia Eagles
,
Minnesota Vikings
,
Atlanta Falcons
,
New York Giants
,
Carolina Panthers
When the Philadelphia Eagles traded Donovan McNabb within their division, they got it right. When the same organization traded cornerback Asante Samuel within the NFC to a team with which they compete for a playoff spot, one cant help but think they got it wrong. Especially considering the meager compensation the Eagles received reported as a seventh-round draft pick and looking at the direction in which both teams have gone since then, its hard not to wonder how both teams might have been different. The Falcons are 12-2 and sit atop the conference. The Eagles are 4-10 and, by virtue of their 2-8 mark in the NFC, officially and improbably have sunk to its bottom. The Eagles have many problems injuries to the offensive line and quarterback Michael Vick that dont involve Samuel, a four-time Pro-Bowler, just as the Falcons have many virtues in addition to him. Nonetheless, its unavoidable that the Falcons most glaring weakness during Mike Smiths tenure has been their pass defense. In Smiths previous four seasons, Atlanta never finished better than 20th in the NFL. While this season that ranking has improved only moderately to 17th, the big change has come in the teams turnover margin, most of which is the result of interceptions by the defensive backs. The Falcons have 18 interceptions, ranking fourth in the NFL, and their turnover ratio is plus-9, good for eighth in the NFL. New defensive coordinator Mike Nolan deserves plenty of credit for those turnovers, as the Falcons ability to disguise coverages has confused some of the best quarterbacks in the league the Falcons intercepted brothers Peyton and Eli Manning, with three Super Bowl victories between them, a total of five times in two victories. But Samuel deserves credit not only for his three interceptions a relatively small total, but not bad considering how rarely opposing quarterbacks throw in his direction but for a multitude of other reasons. First, judge how the Falcons fared in the only game in which he did not play any snaps: They turned in their worst performance of the season in a 30-20 loss to Carolina, and Panthers wide receiver Steve Smith totaled 109 yards. In addition, Samuel has proven himself an invaluable insurance policy. In Week 1, the Falcons lost cornerback Brent Grimes a Pro-Bowler in 2010 for the season to injury. If the Falcons had to go the entire season with Robert McClain, Christopher Owens or Dominique Franks playing one of the starting corner spots and one of the others at the nickel corner, theres a good chance the Falcons would not be 12-2 and, possibly, would not be in position for a first-round bye. It was a move that we felt like was going to help us, Smith said. Obviously, we felt having three corners that were capable of being No. 1 was kind of our thought process with all of the (three-wide-receiver formations) we see, but it was a very good move in terms of the way the season has played out. Asante has been a great addition to our defense not only our defense but to our team. As Smith hinted, Samuel has brought something of a cultural change with his brashness and confidence, particularly on defense, that previously lacked in that department. To be fair, his antics during practice his sharp tongue does not spare his teammates, offensive coaches or general manager and after games are not something every coach or organization can stomach. But the Falcons, feeling the need for a playmaker on defense and with enough of an accommodating culture, were willing to go along. Put simply: the Falcons are willing to take the good with the bad and have reaped the rewards. Samuels interception on the second play from scrimmage in Sundays 34-0 win over the Giants was typical of his big-play ability and set the tone to help the Falcons steamroll the defending Super Bowl champions. Whats the bad? From the Eagles point of view, it was possible that Samuel, at 30, was slowing down, which seems laughable now. He also has a tendency to freelance, an aspect Eli Manning noted last week in a conference call with Atlanta players, saying Samuel kind of has his own style a little bit, his own technique. But that freelancing also has saved the Falcons. In a 23-20 win over Oakland, safety William Moore called the wrong defense on one play, but the savvy Samuel recognized the mistake and intercepted a pass that he returned 79 yards for a touchdown. Eagles coach Andy Reid denied all of this when he spoke with the Atlanta media preceding the Falcons 30-17 win over the Eagles on Oct. 28, saying the trade was made in Samuels interests to be closer to his ailing mother in Florida. Samuel later said this was only a factor in selecting a destination once the Eagles told him they wanted to move him. More than anything, Reid, and his straight-laced personality, might have had his fill with Samuels antics and decided to rid himself of a personality who can be abrasive. Not that its a direct correlation, but the Eagles defense ranks 26th in scoring at 26.8 per game. The team fired its defensive coordinator midway through the season and generally has been in a state of disarray. For his part, Samuel seems to have taken the Eagles decision personally. When the team fired defensive coordinator Juan Castillo in the middle of the season, Samuel taunted Reid via Twitter. Then after defeating the Eagles, he poured salt in the wound, saying among other things that the difference between the Eagles and Falcons was the coaching. We got really good coaching, we run the ball, he said. Time of possession is real good. Even after defeating the Giants, Samuel was not asked about the Eagles, but he referenced them anyway. I was shipped from Philadelphia to make plays for this team, he said. Im accustomed to playing the Giants two times a year and that experience helped me make plays today. Every player needs to find ways to motivate himself. Clearly, Samuel has found his to the Falcons benefit and, it seems, the Eagles detriment.
Original Story:
http://www.foxsportssouth.com/12/19/1...
THE BACKYARD
BEST OF MAXIM
RELATED ARTICLES
Eagles Look To Play Spoilers In Week 16 By SBRForum.com No one could have expected that the Philadelphia Eagles would have had such a terrible second half to the season.  After starting out with a 3-1 record, the team fell relatively quickly into obscurity, losing almost every game since then. They are currently at a 4-10 record with no chance of making the playoffs. They do have...
Eagles CB Nnamdi Asomugha was asked whether or not he would be willing to renegotiate his contract to remain in Philadelphia beyond this season. "Yeah, I mean all I can say right now is I really wouldn't want to be anywhere else," said Asomugha, via Philly Mag: Birds 24/7. "I definitely want to be back here." Asomugha is set to make a staggering base salary of $15 million...
With nearly one-third of the NFL coaching jobs expected to be vacant by year's end — including sweet gigs like the Philadelphia Eagles, San Diego...
Eagles head coach Andy Reid told reports that Michael Vick will be the team's No. 3 quarterback for this weekend's game against the Washington Redskins, per Jeff McLane. Vick has finally recovered from the concussion symptoms that he had been dealing with for a number of weeks now, but this decision is clearly designed to minimize distractions for the team.Philadelphia will keep...
LeSean McCoy will return to the lineup for the Philadelphia Eagles on Sunday against Washington after missing four games with a concussion. Meahwile, quarterback Michael Vick will be the Eagles' No. 3 quarterback behind starter Nick Foles and Trent Edwards and might not be uniform Sunday, The Philadelpia Inquirer reported Wednesday. Vick has sat out five games because of a...
DeSean Jackson posted this photo of himself, TI and Michael Vick to his Instagram account Wednesday night at the rapper's album release party. TI just dropped his new latest, Trouble Man: Heavy is the Head. The New york Daily news is reporting that Michael Vick is considering playing for the Jets next season if their [...]
FLOWERY BRANCH, Ga. The most quotable member of the Atlanta Falcons was trying not to say anything at all. But he couldn't help himself and failed. As the team's open locker room session with the media came to a close, wide receiver Roddy White left for a meeting and announced, "I'm not talking until after we win home-field advantage." Enough said. With...
Fantasy Football News - Philadelphia Eagles Head coach Andy Reid has already stated that LeSean McCoy will start in their week 16 matchup versus the Washington Redskins. Coach Reid had this to say about Shady coming back and what his time on the field might look like, "It won't be a normal workload like you'd see during the season when he's fresh. He's coming off an injury...
Eagles RB LeSean McCoy has passed every test and is expect to return in Week 16.Fantasy Spin:McCoy will start and is expected to see the majority of the workload with Bryce Brown getting the change-of-pace work. The two-week dream run for brown is long gone and its back to reality as McCoy's backup.
Philadelphia Eagles running back LeSean McCoy and tight end Brent Celek returned to practice yesterday and there's a chance that both players suit up for this weekend's contest against the Washington Redskins, reports Jeff McLane of the Philadelphia Inquirer. "There's a chance he ends up playing for us this week," coach Andy Reid said on 610 (WIP-AM) during his radio...
HO HO HO! Merry Christmas everybody. This is the season for football, and what a marvelous season it has been so far. We have seen many things this 2012 season.It started with Bounty Gate and replacement refs, to field goals and touchdowns that weren't, to quarterback controversies, to the return of Peyton Manning and Adrian Peterson (who both are top contenders for MVP and Comeback...
Philadelphia Eagles running back LeSean McCoy has missed the past four games with a concussion he suffered in a loss to the Washington Redskins last month. On Monday afternoon, head coach Andy Reid said that an independent neurologist cleared McCoy and that he could be available to play on Sunday.   Rookie Bryce Brown has [...] [[ This is a content summary only. Visit my website...
NFL News

Delivered to your inbox

You'll also receive Yardbarker's daily Top 10, featuring the best sports stories from around the web. Customize your newsletter to get articles on your favorite sports and teams. And the best part? It's free!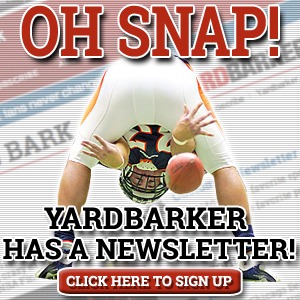 Latest Rumors
The Backyard

Today's Best Stuff

For Bloggers

Join the Yardbarker Network for more promotion, traffic, and money.

Company Info

Help

What is Yardbarker?

Yardbarker is the largest network of sports blogs and pro athlete blogs on the web. This site is the hub of the Yardbarker Network, where our editors and algorithms curate the best sports content from our network and beyond.