Found October 13, 2012 on 60 Max Power O:
The San Francisco 49ers and New York Giants square off once again this Sunday at Candlestick Park. And while most 49ers fans have their take on what to expect, there is always an element of the unknown when it comes to these high profile games. We know the Giants are playing well right now, we know that they are coming off a dominating win versus the Cleveland Browns, we know that Eli Manning is arguably the best quarterback in the two minute drill. But there is so much left unanswered of our opponents. To help aid us in our quest for knowledge, we head straight for the lion's den, to a New York Giants sports writer. Mr. Simon Garron-Caine at Giants101.com was gracious enough to answer a few questions we had concerning this weeks rematch.
Hakeem Nicks is listed as questionable as of now, any new information on his status? And given his time away and drop in the depth chart, is he to be considered a viable threat at wide receiver this Sunday?
"Nothing new, per se, but it's looking like he's going to play. He hasn't practiced since the knee situation arose, but he tested it out on Wednesday by doing some running and then felt good enough to practice on Thursday. He's even practicing today, which indicates the knee is responding well."
"We expect Nicks to play, and although he might be a bit rust and/or not see a full complement of snaps, "viable threat" is a gross underestimation of what you're up against. Nicks really is the complete package: long arms, good strong hangs, the physicality to beat press coverage and the speed to get over the top. He's not your average diva receiver; hard-nosed football player."
With only four sacks allowed on the year, the offensive line for the Giants has been outstanding. If there is a weakness to exploit on that unit, what would it be?
"That the Giants have allowed only four sacks might be a bit misleading. It's probably more a testament to Eli Manning's ability to get rid of the ball than anything…the offensive line has been a weak spot. Eli has spent too much time running for his life this year and the offensive line showed a horrible inability to pave way for a running game early on."
"But they may have turned a corner: Will Beatty's return to the left tackle position from a back injury may have settled the line, allowing Andre Brown to run for over 100 yards in Week 3 and Bradshaw to run for 200 yards last week. That said, they haven't really looked dominant at all and our gut says they are really overmatched by the Niners front seven. If the Giants have a specific weakness along a line that's shown quite a few so far this year, it's faster pass rushers against the guards and center."
Would it do the 49ers well to increase the passing attack, with the dominant defensive line the Giants have, and where should they look for completions within the Giants defense?
"Much like the offensive line's performance hasn't quite lived up to what the stats say on paper, the defensive line hasn't lived up to their resume. In fact, they've easily been the weakest link this year. Chris Canty remains on the PUP. Rocky Bernard, who's been starting in his place, is out. Backup defensive tackles Marvin Austin and Markus Kuhn aren't really ready to play. Running backs and mobile quarterbacks have used Osi Umenyiora's upfield move against him. And Justin Tuck's been all but invisible. There's been so many problems along the line it has overshadowed a secondary that has had injuries to every cornerback, both starting safeties and suspensions to two backup safeties."
"The 49ers would do themselves a huge favor by giving Frank Gore and Kendall Hunter take over this game; DeMarco Murray and LeSean McCoy torched us for over 100 yards and DeAngelo Williams and Trent Richardson would have too if their teams hadn't fallen behind and had to throw. If the Niners can run the ball well, they shouldn't have a problem attacking the linebackers underneath and over the middle and keeping Smith out of situations where he has to try and make plays to the sidelines and down the field."
"X-factor: Colin Kaepernick. We haven't seen much of him, but we've seen enough to know he's the kind of weapon that our front seven has had so much trouble containing. If Smith's finger really is banged up (and even if it isn't), this is the week for the Niners to lean on Gore, Kaepernick and the ground game as much as possible."
Eli Manning has been spectacular this year, where do you think the advantage lies in disrupting his performance, more blitz packages or double teaming certain wide receivers?
"Eli Manning may be good at avoiding pressure (despite not having great wheels), but the way to beat him is still to knock his timing off. It may sound like a cliche, but Eli really does hit the open man instead of locking onto favorite targets."
"Case in point: The Giants have four guys who have had games over 100 yards this year (Nicks, Cruz, Hixon, Barden) and rookie Reuben Randle had 82 last week in a breakout performance. If I'm coordinating a defense, I'm making a game plan aimed at putting Eli Manning (playing behind a far-from-great offensive line) in the dirt, not blanketing the field with defensive backs."
The Giants win if…
"The Giants win if they keep the 49ers from running wild and they win the battle of the last drive.
The 49ers should be able to really take control of this game if Gore and Kaepernick can start running all over them, keeping a worn down defense on the field and Eli Manning off of it. If the Niners run like other teams have against the Giants, the tough Niners D should be able to keep Manning from saving the day the way he's done in all three of the Big Blue's wins. The Giants seem to only play games that come down to the last few minutes of the 4th quarter and look for one drive from Eli or one defensive stand to save the day. If the Niners run like we're afraid they can against our underperforming defensive line, Eli Manning won't even get a chance. But more than likely he or Alex Smith has the ball in their hands late with the chance to win the game, and this one will come down to which team makes the crucial sack, the crucial pass or the crucial penalty."   
Be sure to check out other great articles at Sports Media 101.
Original Story:
http://www.60maxpowero.com/patriots/c...
THE BACKYARD
BEST OF MAXIM
RELATED ARTICLES
The last time a player disputed San Francisco 49ers coach Jim Harbaugh's judgment about the player's readiness for action, Harbaugh cut him. That was last year, when wide receiver Braylon Edwards never fully came back from knee and shoulder injuries. Edwards suggested he'd miss a game or two, but instead of telling Harbaugh, he told the media. Harbaugh eventually released...
San Francisco 49ers left tackle Joe Staley has been knocked out of today's game against the Giants with a concussion.This is a big loss for the Niners, Staley is one of the NFL's best left tackles.
The San Francisco 49ers enter this weekend's rematch of last season's NFC Championship Game against the New York Giants healthy. The team had three players listed on their injury report, but all are expected to play. Alex Smith sprained a finger on his throwing hand last weekend against the Buffalo Bills, but it didn't hamper him this week during practice. Smith...
WELL THAT'S A RELIEF
49ers cornerback Carlos Rogers has backed off his threat that he would steal Giants wide receiver Victor Cruz's patented salsa dance when the teams meet on Sunday.
San Francisco 49ers coach Jim Harbaugh says the comments Giants offensive coordinator Kevin Gilbride made about All-Pro defensive end Justin Smith are ''outrageous'' and ''incendiary.''
San Francisco 49ers head coach Jim Harbaugh responded Friday to New York Giants offensive coordinator Kevin Gilbride's comments on the way 49ers defensive end Justin Smith plays.Gilbride told reporters:"Smith is a beast on the inside.  He's strong, he does a good a job of grabbing a hold of offensive linemen and allowing those twists to take place."He never gets...
According to Ebenezer Samuel of the New York Daily News, San Francisco 49ers cornerback Carlos Rogers has told him that he "definitely" won't do Victor Cruz's salsa dance if he has the opportunity to.Earlier in the week Rogers was flirting with the idea of doing Cruz's dance and Cruz has already made it clear that it's not something he's very fond of.Rogers says he...
San Francisco 49ers cornerback Carlos Rogers told the New York Daily News that he will stop mimicking the salsa dance of Giants receiver Victor Cruz, according to a Daily News report. Cruz began performing his salsa touchdown celebration as a tribute to his late grandmother, Lucy Molina, who died recently. Molina had taught Cruz the dance when he was a child. Cruz performs the...
When former New York Giants wide receiver Mario Manningham signed with the San Francisco 49ers this past offseason, his new teammates told him that he wa's wearing their Super Bowl ring."Players were talking about it, like, 'You got my ring on,'" Manningham told USA TODAY Sports. "I'm like, 'Yeah, whatever.'"49ers tight end Vernon Davis says the loss from last...
Alex Smith, Carlos Rogers and Kyle Williams acknowledge what some of their other San Francisco teammates might not: Sunday's rematch with the New York Giants absolutely means a little more to the 49ers.
SAN FRANCISCO -- The New York Giants had to work overtime to beat the San Francisco 49ers 20-17 in the NFC Championship Game last season. In the rematch Sunday at Candlestick Park, the defending Super Bowl champion Giants took care of business early, handing the 49ers a convincing 26-3 defeat in a battle of NFC heavyweights. The Giants intercepted 49ers quarterback Alex Smith...
49ers News

Delivered to your inbox

You'll also receive Yardbarker's daily Top 10, featuring the best sports stories from around the web. Customize your newsletter to get articles on your favorite sports and teams. And the best part? It's free!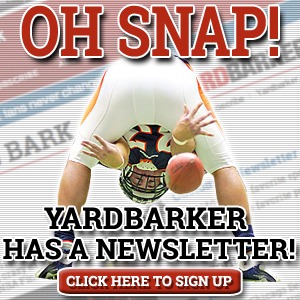 Latest Rumors
Best of Yardbarker

Today's Best Stuff

For Bloggers

Join the Yardbarker Network for more promotion, traffic, and money.

Company Info

Help

What is Yardbarker?

Yardbarker is the largest network of sports blogs and pro athlete blogs on the web. This site is the hub of the Yardbarker Network, where our editors and algorithms curate the best sports content from our network and beyond.