Found November 19, 2012 on Turn On The Jets:
Stat line: 15/20, 178 yards, 1 TD, 0 INT; 75% completion pct., 118.3 QB Rating Season Stats: 168/314, 2,038 yards, 11 TD, 9 INT; 53.5 completion pct., 73.4 QB Rating We've gotten to a point – and maybe rightfully so – where Mark Sanchez can do no right in the eyes of some Jets fans. Yesterday, Sanchez played a smart, effective, efficient, well-rounded game. He was sharp, confident, decisive and consistent through four quarters. He played turnover-free football. Yet, lots of chatter on Twitter and the like after the game was, "MEH, SANCHEZ STILL SUCKS." I'm not here to be reductive, and as a matter of fact, analyzing Mark Sanchez is the same thing as analyzing the Jets' season. At this point, you have no choice but to take it one game at a time. So regardless of how you feel about the Jets quarterback in a big-picture sense, you can't deny that he played well yesterday. That was good enough to get a floundering team to 4-6 and keep the lights on for at least three more days. The Best: Our esteemed editor has pointed out the pump fake as one of those infuriating Sanchez habits that needs to be broken. Yesterday though, Sanchez looked comfortable and under control in the pocket. The pump fake wasn't a frantic sign of indecision, but rather a tool Sanchez used to move safeties and wait for the play to develop down the field. The touchdown throw to Chaz Schilens was opened up by a feigned screen into the right flat. Sanchez pumped, the defense bit, and Schilens got open behind the defense. The Jets scored a touchdown on a similar play in week 1 against Buffalo. Perhaps the most encouraging part of yesterday's game for Sanchez was that on more than one occasion, he went through his progressions and found his second or third receiving options. One of Sanchez's glaring weaknesses has been tunnel vision and staring down his primary receiver, but he made strides in the right direction in that area yesterday. The Worst: Very little went wrong for Sanchez yesterday, though they did need a little bit of luck early on. Sanchez was sacked and stripped on the first drive of the game, but the ball bounced right back into his waiting arms. Disaster averted. The Key Moment: The Jets were up 13-7 and driving late in the third quarter when they faced a 3rd and 3 from the Rams' 23 yard line. Off of a playaction fake, Sanchez looked to his right for Stephen Hill on a quick slant, but pulled the ball down and instead dumped it in the left flat to a wide open Konrad Reuland. How many times have we seen Sanchez double-clutch in that situation, only to not get rid of the ball and take a sack? Instead, a simple dump off pass to his safety valve led to Bilal Powell's first touchdown three plays later. When you hear coaches and quarterbacks talking about "positive plays", this is exactly what they mean. Credit Sanchez for being patient here, getting 18 big yards, and setting up a key score. So now, Sanchez needs to do it again, in three days. Yesterday's success is no indicator of future performance, and like the team, Sanchez will be evaluated one game at a time.
Original Story:
http://turnonthejets.com/2012/11/sanc...
THE BACKYARD
BEST OF MAXIM
RELATED ARTICLES
Joe Caporoso - Sanchez. Sanchez. Sanchez. Simply put, the Jets cannot win this game unless Mark Sanchez protects the football and makes a few plays down the field against a suspect New England secondary. He has been boom or bust against the Patriots in the past. If the Jets want to make a late season playoff run and Sanchez wants any semblance of job security for next year, it...
The Jets look to keep their playoff hopes alive with an upset over the Patriots. Miami hosts the Seahawks, while the Bills try to corral Andrew Luck.
New York Jets head coach Rex Ryan, usually boisterous as can be whenever it's time to take on the New England Patriots, isn't really in the mood for trash talk, seeing that his team is not the contender he thought them to be. Fresh off of convincingly beating the St. Louis Rams, they're not getting ahead of themselves, and rightly so. St. Louis just isn't a good...
Mark Sanchez was efficient all day and the New York Jets defense stopped their old offensive coordinator. The beleaguered Sanchez presided over a turnover-free performance and the Jets came up with three takeaways against Brian Schottenheimer's new team, snapping a three-game losing streak with a 27-13 victory over the St. Louis Rams on Sunday. ''I thought `Schotty...
4-6 is not the type of record to go celebrating in the Meatpacking District over. The way New York athletes often do after big victories. Ending a three game skid and moving beyond a "Terrible Tim" storm that threatened to derail focus on the Rams is. The Jets win over St Louis has seemingly calmed the Florham Park madness down for the time being but more importantly, has moved...
For at least one day, the New York Jets halted the downward spiral. Mark Sanchez was solid for the first time in several weeks, the unquestioned No. 1 quarterback presiding over a turnover-free offense in a 27-13 victory over the St. Louis Rams on Sunday. The beleaguered Sanchez was an efficient 15 of 20 passing for 178 yards and a touchdown, while Tim Tebow was merely a footnote...
The New York Jets may have saved their season. For now. And may have saved their head coach his job also. For now. In coming to St. Louis and slapping the Rams around the Edward Jones Dome 27-13, the Jets have given themselves a reason to celebrate and keep the New York media off their backs. For now.Here are five things we learned from the game on Sunday:1. New York quarterback...
JETS OFFENSE KICKS IT INTO HIGH GEAR AS DEFENSE STIFLES SCHOTTY'S RAMS OFFENSE. The Jets managed to put aside the gigantic off-the-field distraction of yet another anonymous player bashing teammates for a convincing win in St. Louis Sunday. Further more, they left their three-game losing streak in the review; riding a trio of running backs and a smothering defense on their difficult...
The New York Jets are holding on to the slimmest of playoff hopes thanks to last week's victory over the St. Louis Rams and the general mediocrity of the AFC. An upset over the New England Patriots this Thursday night could set the table for a late season playoff run, aided by an alarmingly weak schedule the rest of the way. The Jets don't play a team with a better current record...
The New York Jets season received a shot of life with a 27-13 win over the St. Louis Rams. However, it will take an upset over the New England Patriots this Thursday night to truly make them relevant in the AFC playoff picture again. Here is a collection of early thoughts - 1. The big injury news this week is that Patriots tight end Rob Grokowski will not play because of a broken...
This week we're featuring another sweetheart, 4-team teaser that offers 13 points per game. New England + 6 @ NY Jets Atlanta + 12 v. Tampa Bay New Orleans + 15.5 v. San Fran Green Bay + 16 @ NY Giants Why we like these games: The Pats have lost only 3 games this season, and each loss has been by two points or less. Although they just lost Gronk, a 6-point cushion against...
Joe Caporoso - 12 Pack  Chris Gross -  Jets 23-Rams 17: Can New York turn a week of internal turmoil into enough motivation to grab a road victory in a must win situation? At what point does this team develop a chip on their shoulders for all the doubters and perceived negativity they are subject to, week in and week out? If I am Rex Ryan, my pregame speech is similar to Lou...
Jets News

Delivered to your inbox

You'll also receive Yardbarker's daily Top 10, featuring the best sports stories from around the web. Customize your newsletter to get articles on your favorite sports and teams. And the best part? It's free!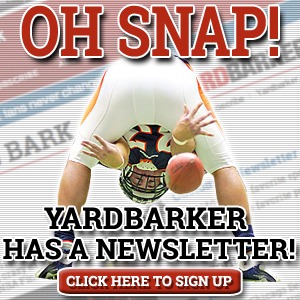 Latest Rumors
Best of Yardbarker

Today's Best Stuff

For Bloggers

Join the Yardbarker Network for more promotion, traffic, and money.

Company Info

Help

What is Yardbarker?

Yardbarker is the largest network of sports blogs and pro athlete blogs on the web. This site is the hub of the Yardbarker Network, where our editors and algorithms curate the best sports content from our network and beyond.