Found July 21, 2012 on Fox Sports Arizona:
PLAYERS:
Peyton Manning
,
Demaryius Thomas
,
Rahim Moore
,
Quinton Carter
,
Mike Adams
,
Brian Dawkins
,
Jacob Tamme
,
Dallas Clark
,
Jeff Saturday
,
Pierre Garcon
,
Joseph Addai
,
Reggie Wayne
,
Eric Decker
,
Jason Peters
,
Michael Vick
,
Kurt Coleman
,
Jaiquawn Jarrett
,
Nate Allen
,
Mychal Kendricks
,
DeMeco Ryans
,
Trent Cole
,
Jason Babin
,
Nnamdi Asomugha
,
DeSean Jackson
TEAMS:
Denver Broncos
,
Philadelphia Eagles
,
Tampa Bay Buccaneers
,
Green Bay Packers
,
Washington Redskins
,
New England Patriots
,
Indianapolis Colts
,
Dallas Cowboys
To get you fully prepared for the unofficial start of the 2012 NFL season, we're ranking every team from worst to first in the weeks leading up to the opening of training camps. Every day, we'll be previewing two teams, one from each conference, analyzing them from top to bottom and giving you all you need to know to be an informed fan. What's the major storyline heading into camp? What's the key training camp battle to watch? Who's the young guy to watch? Is there any hope? Today's two teams: The Denver Broncos and the Philadelphia Eagles. No. 10: Denver Broncos Training Camp Site: Paul D. Bowlen Memorial Broncos Centre, Englewood, Colorado Training Camp Start Date: July 25 BetOnline.com Preseason Super Bowl Odds: 12-1 What I Like About You: Theres an elite NFL starting quarterback in town. And a darn good defense. Top to bottom, the Broncos have the most talented roster in the AFC West. What I Dont Like About You: Peyton Manning hasnt been hit in a football game in 18 months, and there are questions on the offensive line, in the backfield and the safety spots. The Burning Question: Will Peyton be Peyton? The doctors have cleared him, hes looked wonderful in minicamp, and all the Broncos receivers are floating on air this summer (Note: I was with Demaryius Thomas last week and couldnt wipe the smile off his face). But Manning hasnt been in a real game since the 2010 season. He hasnt played with this offensive line or these receivers. He hasnt been sacked yet. Is Manning going to be the 90 million man the Broncos franchise expects him to be? Or will he be a shell of his former self? Well find out awfully fastDenver opens with Pittsburgh, Atlanta and Houston, three punishing defenses. Key Training Camp Battle to Watch: Free and strong safety: Rahim Moore vs. Quinton Carter vs. Mike Adams: There are two spots to fill here, which could cause some concern in Denver this summer. Adams was a quiet free agent pickup who may end up starting at one of the spots on opening day. Both Carter and Moore were 2011 draft picks that had their moments, but also showed glimpses of inconsistency. With no more Brian Dawkins setting the tone, it means that everyone in the defensive backfield will be expected to step things up another notch. The New Veteran in Town: Jacob Tamme, tight end: Everyone expected a mass exodus of former Colts to join Manning in Denver, but that wasnt the case. Dallas Clark went to Tampa, Jeff Saturday went to Green Bay, Pierre Garcon went to Washington, Joseph Addai went to New England and Reggie Wayne stayed put in Indy. The one guy who did get aboard the Manning Express was Tamme, the young tight end who had great success with Manning in the teams 2010 campaign. The Young Gun To Watch: Eric Decker, wide receiver: There are no two happier men in the state of Colorado this month than Decker and teammate Demaryius Thomas. Though both players have been respectful in comments about their time with Tebow, theyre both set for giant statistical bumps in receiving categories, across the board. Since his rookie season, Manning has never failed to have at least one Pro Bowl receiver on his team. Decker had 50 receptions a year ago his first healthy season as a pro and could near the century mark this season. Hes got good hands, solid speed and incredible toughness across the middle. Schrager Prediction: This team will go as far as Manning takes it, and anything short of the AFC championship game has to be viewed as a failure. Tebow got these guys to the divisional round a year ago. By signing Manning for 90 million, the Broncos essentially pushed all their chips to the middle of the table. The pressures on. I think they edge out the Chargers in the AFC West but fall to either the Steelers, Ravens, Texans or Patriots in the playoffs. Final Prediction: First place, AFC West No. 9. Philadelphia Eagles Training Camp site: Lehigh University, Bethlehem, Pa. Training Camp Start Date: July 25 Preseason BetOnline.com Super Bowl Odds: 10-1 What I Like About You: The Eagles finished the 2011 season incredibly strong, bring just about everyone back and are flying under the radar this offseason. What I Dont Like About You: An inconsistent offensive line without its best player (Jason Peters) for the season, a lack of depth at wide receiver and the inevitable Michael Vick injury to be named later. Burning Question: Is this the year we actually see "The Dream Team?" The much-publicized 2011 "Dream Team" Eagles got off to an even more highly publicized rocky start and found themselves staring at an all but definite losing season at the start of December. And then they went on a tear, winning their final four games, including backbreaking losses for the Jets and Cowboys. Now, all the talk about the NFC East seems to be centered around the Super Bowl champion Giants, the revamped Dallas Cowboys and the RG3-led Redskins. All the while, the Eagles bring just about everyone from last years squad back, have had a full offseason to prepare and arent saying a word. Training Camp Battle to Watch: Strong safety, Kurt Coleman vs. Jaiquawn Jarrett vs. O.J. Atogwe: The Eagles have one of the leagues best young free safeties in Nate Allen. His counterpart at the strong safety position is currently anybodys guess. Colemans a fine player and got a lot of action last year, but is by no means a shoe-in for the starting gig. Jarrett was a second round pick in 2011, but he hasnt played like one either in actual game action or practice. The wildcard is the veteran, Atogwe, a guy they picked up off the scrap heap last month. Hes been around the block, but still might have some good football left in him. Watching tape, he was actually pretty darn good on Washington last season. New Veteran in Town: Demetress Bell, offensive tackle: The Eagles offensive line was terrible through the first few weeks of the season, only to pick it up and finish strong in 2011s second half. Jason Peters played at an All-Pro level throughout. Alas, Peters injured his Achilles, meaning hes out for the 2012 campaign. Insert Bell, a guy who had a nice, albeit quiet, career in Buffalo. Hell start at left tackle and will be expected to pick up Howard Mudds blocking scheme right away. The Young Gun to Watch: Mychal Kendricks, outside linebacker: The Eagles linebackers were awful last year. This offseason, the team focused on upgrading the position, trading for DeMeco Ryans to man the middle and drafting the versatile Kendricks early in the second round of Aprils draft. Kendricks could be a star. A 6-foot, 240-pound tackling machine, he played all over the field for Cal in 2011, ending up as the Pac 12 conferences Defensive Player of the Year. Dont be shocked if hes starting opening weekend. Schrager Prediction: This is a young, motivated and incredibly talented NFL team. Across the board whether its Trent Cole and Jason Babin, or Nnamdi Asomugha and DeSean Jackson there are Pro Bowl-level players just about everywhere. It took a while for Philly to get going last year, but once it happened, the Eagles were one of the best teams in all of football down the stretch. I think they'll pick up where they left off last December and be real Super Bowl contenders in 2012. Final Prediction: Second place, NFC East
Original Story:
http://www.foxsportsarizona.com/07/21...
THE BACKYARD
BEST OF MAXIM
RELATED ARTICLES
TIME OF NEED
Peyton Manning has reportedly called the hospital where several victims from the Colorado shooting are being cared for to speak with them one-on-one.
Denver Broncos quarterback Peyton Manning has been calling those victims of the Aurora, Colorado theater shooting who are still in the hospital (Credit: AP Photo/Ed Andrieski) Denver Broncos quarterback Peyton Manning is calling those victims of the Aurora theater shooting who are in the hospital to lift their spirits. A spokeswoman for the Medical Center of Aurora says that Manning...
This commercial has been out for a few days but if all the mainstream sites like Yahoo can be three days behind with the Michelle Jenneke video (blatant page view grab) than I can be late with this. It's Peyton Manning's new Buick commercial.
A spokeswoman for the Medical Center of Aurora said future Hall of Fame quarterback Peyton Manning on Sunday called several patients being treated for injuries they sustained during Friday's massacre at the midnight premiere of "Dark Knight Rises." Sinister lunatic … Continue reading →
Earlier in the year, the Denver Broncos moved on from one of the most well liked players in the league at the quarterback position. Peyton Manning has, by most accounts, blended in well with the rest of the Broncos team, and today the Associated Press reports that Manning is now reaching out to the heartbroken community of Aurora, a community on the East side of the Denver area....
Four at a time T, four at a time... Eric Decker is an up and coming WR in the NFL and the ladies are already flocking. With Peyton Manning at QB this will be Decker's chance to shine in 2012. He and Peyton have had a nice rapport early on, so Decker could be a very highly regarded sleeper headed in to the season. 2012 WR PPR Rankings Ryan Mathews Has A Trolley
Peyton Manning, one of the best QBs of all time, is coming of multiple neck surgeries, has not played a game in over a year, and is playing with a new team. Still, with those questions looming over him, I have Peyton Manning ranked only behind Rodgers, Brady and Brees. Of the QBs you could select ahead of Peyton, you can find a way to question each of them as well. Cam Newton...
NBA star Kevin Garnett, NFL quarterback Peyton Manning, and a group of Denver Broncos players have reassured us that sports role models aren't made by their actions on the court or field, but rather their actions in society. Following the horrific, terrifying, and disturbing events of the Colorado movie theater shooting last week, Garnett and Manning have taken action to try to...
We are here for the people T... With the tragedy in Aurora being the focal point of the weekend, the Broncos players showed some serious class by visiting many of the victims today. Peyton Manning also personally called many of the victims as well. Well done guys. Stevie Johnson Is Kid Friendly Eric Decker Is A Chick Magnet
The Broncos acquired four-time NFL MVP Peyton Manning in the offseason. They signed him to a five year, $98 million contract. They got rid of temporary franchise quarterback Tim Tebow. They basically put all of their chips on the table for Manning. So when you look at things at face value, you'd think with potentially the greatest passer in the history of the NFL leading...
HOOVER, Ala. -- Peyton Manning's passing camp annually invites top high school quarterbacks, wide receivers and running backs from across the country to his home state of Louisiana, offering instruction and an opportunity to meet the University of Tennessee and NFL legend. Top college quarterbacks are invited as counselors, with this year's class featuring a particularly...
Be sure to follow me on Twitter for more Broncos updates throughout the day. Denver Broncos News 2012 Training Camp Schedule Released | DenverBroncos.com The Broncos announced the 2012 Training Camp schedule on Monday that features 18 practices that will be open to the public free of charge. Denver Broncos Training Camp Primer | Denver Post When most of the football-loving world...
NFL News

Delivered to your inbox

You'll also receive Yardbarker's daily Top 10, featuring the best sports stories from around the web. Customize your newsletter to get articles on your favorite sports and teams. And the best part? It's free!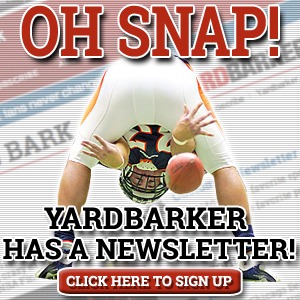 Latest Rumors
The Backyard

Today's Best Stuff

For Bloggers

Join the Yardbarker Network for more promotion, traffic, and money.

Company Info

Help

What is Yardbarker?

Yardbarker is the largest network of sports blogs and pro athlete blogs on the web. This site is the hub of the Yardbarker Network, where our editors and algorithms curate the best sports content from our network and beyond.