Found December 10, 2012 on Fox Sports Detroit:
PLAYERS:
Jim Schwartz
,
Joique Bell
,
Tony Scheffler
,
Nick Fairley
,
Brandon Pettigrew
,
Jacob Lacey
,
Ndamukong Suh
,
Aaron Rodgers
,
Matthew Stafford
,
Kris Durham
,
Stefan Logan
TEAMS:
Detroit Lions
,
Green Bay Packers
ALLEN PARK, Mich. -- Detroit Lions coach Jim Schwartz has consistently praised reserve running back Joique Bell this season. Those days might be changing, at least for a while. Bell was the one responsible for the Lions getting a 15-yard penalty for celebrating their second touchdown, when they took a 14-0 lead early in the second quarter. The penalty was enforced on the kickoff, giving Green Bay good field position and leading to a long field goal that helped give the Packers a jump-start in their 27-20 victory Sunday night. I think maybe Ill start to check some of my compliments for Joique Bell, Schwartz said Monday during his weekly news conference. Thats a young player whos done some really good things for us this year and has done a good job of capitalizing on an opportunity. But its a bad decision like that that could potentially limit his opportunities. We certainly dont want to see that happen. Receiver Tony Scheffler scored the touchdown and was in the middle of a lengthy celebration, which included pretending to shovel snow on a snowy night at Lambeau Field. Bell, who played college football at Wayne State in Detroit, joined Scheffler for the snow-shoveling move, which automatically drew the flag. Not very smart, Schwartz said. The league has always given leeway for guys that make plays, as long as youre not taunting or suggestive or anything like that. One person can Lambeau leap. When you get into choreographed stuff, then they draw a line. The line is specific in the rule book. You cant have two people with any kind of choreographed thing." Schwartz doesn't want to take away the emotion of his players. He just wants them to be smarter. Emotion, excitement is part of this game," he said. "If your guys make a touchdown and nobody high-fives each other and they walk off the field, everybodys probably saying, Hey, theyre playing with no emotion. Theyre not even happy. Theyre not even celebrating. Theres certainly a line there. We crossed that line. INJURY REPORT Defensive tackle Nick Fairley, who has been playing extremely well in recent weeks, sustained a shoulder injury late in Sundays game. Schwartz said Fairley needed to undergo tests to determine the extent of the injury. The same was true for tight end Brandon Pettigrew, who injured an ankle. Schwartz also indicated that cornerback Jacob Lacey re-aggravated his footAchilles injury in the final minutes. Schwartz added that Lacey previously had returned to play after he got kicked on one play in a spot you dont want to get kicked. Asked who kicked Lacey in the groin, Schwartz said it was a Green Bay player before clarifying that it wasnt intentional. He got hit in a spot you dont want to get hit, Schwartz said, correcting his choice of words. EXTRA POINTS Schwartz, on the personal foul against defensive tackle Ndamukong Suh for a late shove on Green Bay quarterback Aaron Rodgers: The quarterbacks out of the pocket. Usually get a little more leeway. Its a bang-bang call. The way that Rodgers scrambles around, if he pulls that ball down and starts scrambling, you sit there and say, How come you pulled up on the guy? Didnt hit him in the head, didnt hit him with his head, pushed him. They called a penalty. Weve got to live with it. Schwartz, when asked if any of the Lions were among the NFL players who reportedly have turned in their guns to team security since the murder-suicide involving Kansas City's Jovan Belcher: Im not going to comment on that here. Schwartz, on quarterback Matthew Stafford throwing an interception when he and receiver Kris Durham werent on the same page on a pass route: It comes down to the price you pay for losing three receivers. Thats Kris Durhams first game hes played. Hes practiced an awful lot with Matt, played with him a little bit in college.We didnt have him in training camp. We didnt have him in the off-season program. Those are things that come from a long time together, seeing things exactly the same way. That certainly cost us. Schwartz, on Stefan Logan slipping when he had a large opening on a kick return in the second half: 'Looked like there was a lane there might be an understatement. There was a big opportunity there. That was obviously a big play. They had just scored. We got a chance to either get a really long return or even break one. Field conditions were slippery. Got to find a way to keep our feet there, stay under control. It would have just been the kicker to beat.
Original Story:
http://www.foxsportsdetroit.com/12/10...
THE BACKYARD
BEST OF MAXIM
RELATED ARTICLES
Detroit Lions WR Kris Durham was promoted from the practice squad this week to replace WR Ryan Broyles and WR Titus Young, both of whom were put on the injured reserve this week.Durham certainly made his case to stay on the roster for next season with this catch.  He laid out for this ball and reeled it in with such ease, that it rivals Calvin's one-handed catch from last week...
 Watch as Detroit Lions receiver Kris Durham lays out to make an outstanding grab during the second quarter of Sunday Night Football. The man who threw him the ball was none other than Durham's college teammate and roommate at the University of Georgia, Lions quarterback Matthew Stafford. Via Bleacher Report.
The weather conditions at Lambeau Field wreaked havoc on Lions quarterback Matthew Stafford on Sunday.Watch as Detroit's signal caller gets an untimely case of butterfingers midway through the second quarter against the Packers. The ball seems to slip out of Stafford's hands like a of bar soap when he drops back to pass on this play. One would assume that the snow and cold...
Matthew Stafford scored on a 4-yard bootleg, and the Detroit Lions had a 7-0 lead over the Green Bay Packers after the first quarter Sunday night. The Packers are playing with only four defensive lineman, and the Lions wasted no time taking advantage. Using big tackle Riley Reiff as an extra blocker, they ran the ball nine times on the first drive. The Packers managed to stop Mikel...
Looking to end two streaks Sunday night in Green Bay, the Lions head into Week 14 looking relatively healthy with only a few question marks. Corner back Louis Delmas continues to be hampered by an injured knee and was limited all week during preparation which is a step above what could be said about Corey Williams. The Lions veteran defensive tackle also has been bothered by a knee...
The Detroit Lions had just scored to take atwo-touchdown lead early in the second quarter on a snowy night Sunday at Lambeau Field in Green Bay. Maybeit would be the end of two long decades of road losses to the Packers. Tony Scheffler was celebrating his touchdown with teammate Joique Bell. They looked as if they were pretending to shovel snow off of the Frozen Tundra. What they...
Green Bay stuck with its nickel and dime packages, even while being gashed by Lions running backs Mikel Leshoure and Joique Bell. The second half was a different story, as the Packers slammed the door on the run game and made the Lions one-dimensional.
The Detroit Lions travel into historic Lambeau Field Sunday night to do battle with the Green Bay Packers. The Frozen Tundra has been a house of horrors for The Detroit Lions as they continue to battle ghosts of the past and present. Detroit hasn't won in Green Bay since George H. Bush was President all the way back on December 15th, 1991 by a score of 21-17. This Packers team...
Detroit jumped out to a 14-point lead, then proceeded to give it away in a highly Lions fashion. The worst of the surrendering of points happened when Matt Stafford spluttered the ball out of his hands on an attempted screen pass that ended in a FAT GUY TOUCHDOWN. In terms of dominance from the line of scrimmage, the Lions controlled the first half. Of course, such things mean jack...
So it seems the NFL doesn't flex bad games out of the Sunday night slot anymore. This the second straight week of having lackluster contests in what is tacitly accepted as the league premiere timeslot. Wait, Monday night has the best game of the week? What is this, 2005? Because the Bears lost today, even if Detroit somehow pulls the upset on the road, it won't affect the current...
All this week we've heard about the tremendous losing streak the Lions have had at Lambeau Field. December 15th, 1991 was the last time the Lions beat the Packers in Green Bay by a score of 21 to 17. Whats pretty remarkable though about that game is the fact that two of the longest tenured players for each team weren't even playing and I'm talking about Jason Hanson for the...
With D-Jax out for the season, Avant has stepped up as a big time pass catcher for the Eagles.  Against the Cowboys in week 13 he had 5 targets for 4/79.  Against the Bucs he received 12 targets for 7/133, including the catch of the year candidate.  He has the Bengals and Redskins coming up in the next 2 weeks, so if you need a guy in PPR, Avant could be that guy. If You Need...
NFL News

Delivered to your inbox

You'll also receive Yardbarker's daily Top 10, featuring the best sports stories from around the web. Customize your newsletter to get articles on your favorite sports and teams. And the best part? It's free!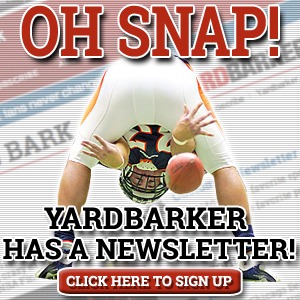 Latest Rumors
The Backyard

Today's Best Stuff

For Bloggers

Join the Yardbarker Network for more promotion, traffic, and money.

Company Info

Help

What is Yardbarker?

Yardbarker is the largest network of sports blogs and pro athlete blogs on the web. This site is the hub of the Yardbarker Network, where our editors and algorithms curate the best sports content from our network and beyond.