Found December 12, 2011 on Optimum Scouting:
PLAYERS:
Jeff Ireland
,
Tom Brady
,
Peyton Manning
,
Drew Brees
,
Aaron Rodgers
,
Dan Orlovsky
,
Bill Parcells
,
Chad Henne
,
Jake Long
,
Brandon Marshall
,
Cameron Wake
,
Karlos Dansby
,
Daniel Thomas
,
Charles Clay
,
Sam Houston
,
Blaine Gabbert
TEAMS:
Miami Dolphins
,
New England Patriots
,
Indianapolis Colts
,
New Orleans Saints
,
Green Bay Packers
,
Jacksonville Jaguars
,
North Dakota State Bison
In what will be one of the final Scouting Notebook's of the 2011 Season (BUT, similar, mini-pieces multiple times a week will be coming), I'll take a look at the type of football player I really don't look forward to discussing: the ESPN ratings boosters, meaning Tim Tebow. I'll take a look at what his abilities as a quarterback means to future scouting the position.
Also, I'll look at the decision to fire Tony Sparano but KEEP GM Jeff Ireland in Miami, in-depthly looking at his draft history. And, with the FCS semi-finals and D2 and D3 championship games this weekend, I'll get prepped with the top small school NFL prospects still in action.
And Finally, I take a look at the Top 10 Ideal attributes of a team looking to draft a quarterback.
I Gotta Do It: Scouting Tebow at Quarterback
When OptimumScouting.com was completed added to the Bloguin network, one of my first thoughts was "This site isn't going to be a generic, educated opinion site on the players everyone's already talking about.". And I hope (for many of you at least), that I personally and the scouts/writers we have here have made Optimum Scouting into a unique location for real scouting, high football knowledge, and unique outlooks. But, this week, I must indulge and dissect something that ESPN has over-indulged and dissected like a frog in 6th grade bio class: Tim Tebow. Because what he's been able to is remarkable. It's more than just "It's so cool he's winning". It's more than just "This is a great story". To me, it's another sign that the quarterback position in the NFL is rapidly changing. Since the emergence of lots of athletic, quick-footed quarterbacks in the late 90s (others were around before, I know, but not in the same quantity ), the quarterback position was changing. Sure, big, strong, pocket passers who see over the line and riffle the ball all over the field were still going to be coveted. But even in the last 4 years especially, a first round quarterback NEEDS to be mobile. Guys like Tom Brady, Peyton Manning, Drew Brees, Phillip Rivers, they'll soon be the exception, not the rule. The days of Aaron Rodgers, Big Ben,  Cam Newton,  and soon Robert Griffin are almost completely here. Even last year's draft alone: Newton, Locker, Gabbert, Ponder, Kaepernick, all ran sub 4.65 40 times at the NFL Combine. But a new "change" is coming to evaluating NFL quarterback prospects. It's not something totally new, but it's not a common, glaring strength on a scouting report either. They're may not even be a real word for it. But the "it" factor. And if ANY quarterback has EVER displayed the 'it" factor, it's Tebow. He's won 5 of his last 6 games, only one win by more than 7 points, and most were 4th quarter comebacks. His stats before those last 3-4 drives are generally horrendous, making Dan Orlovsky's scrambling safety look like an adequate pass play. But that last quarter, he just knows. Maybe the word is clutch. Maybe it's moxie. Or more importantly, maybe he's just so confident, so poised, so real, so genuine, the opposing team can't help but fear it. Maybe that's Tebow's quality. Everyone is scared he'll beat them too, and playing scared or hesitate is just enough to lose in the NFL. So what does this mean for future NFL quarterback prospects? On the surface, maybe very little. We'll likely NEVER seen a Tim Tebow again in our lifetime. He's one in infinity, completely unique, and let's enjoy him. But the next time I grade a quarterback, and have the chance to see him live, to talk to him about non-football things, to see his face and body language when it's his time to shine, I'll be thinking of Tebow. Does Robert Griffin have some "Tebow" in him? Can Kirk Cousins show some "Tebow" late in games in the NFL like he hasn't in college? Does Landry Jones have the "Tebow" focus and confidence to make plays under-pressure. It may seem like very little, but the success and wonderment of Tim Tebow may have just finally epitomized the "it" factor once and for all.
-------------
Dolphins Fire HC  Sparano, but Keep GM Jeff Ireland: Smart
I tweeted about this the other day when the news broke, but I thought it might be better to get it all out there on paper (well, computer screen) too. The Dolphins fired head coach Tony Sparano after four years, a task that needed to be done. I have respect for Sparano and many players on that Dolphins team do as well, and if there was some way he could stay on staff, it'd be great. But the next team to get him will be lucky. However, another guy hired the same time as Sparano was GM Jeff Ireland. Formerly 2nd in charge (realistically speaking) behind Bill Parcells (former VP), Ireland was retained at his position, and will be the Dolphins GM in 2012. Many Dolphins fan don't like the maintaining of Ireland. I, however, disagree. First and foremost, getting a franchise quarterback is OUTSTANDINGLY difficult. Only 1, maybe 2 really standout guys are future franchise quarterbacks in each NFL Draft. And if you're trying to build a team to be successful, you're likely hopeful you won't end up in the Top 5, where those quarterbacks get picked. He drafted Chad Henne in the 2nd round his first year (2008), and for a few years, Henne looked promining. Still, no quarterback long-term. But, outside of that position, Ireland has done a very under-rated job in his four years as the GM. He's drafted 1 Pro Bowler (Jake Long), 6 solid starters, and 5 more fringe/spot starters. He traded for Brandon Marshall, a Top 5-10 WR in the NFL, for two 2nd round picks. However, not only did he get great value for Marshall, but the two years of 2nd round picks he traded away (2010 and 2011), he managed to STILL get a 2nd rounder in both those drafts. Ireland found Cameron Wake in 2008, and by 2009, Wake was a Pro Bowler and an elite outside pass rusher. And he spent for Karlos Dansby, one of the more talented ILBs in the NFL. Ireland inherited a 1-15 team. If you look back at that roster (believe me, it's ugly), he really had little to work with. And in just four years, he has only TWO leftovers from that 2007 team. Two out of 53 players. He has the 8th youngest team in the NFL. He's got a Pro Bowl worth left tackle, center, and two solid guards. He's got great defensive line depth, some running back talent, and depth at receiver. The key word(s) there is DEPTH. Every great team has depth, especially on the OL, DL and at WR and CB. Ireland has that in place in Miami. And now that it's just him this past year as the lead War Room guy, the Dolphins had a promising 2011 Draft, with Pouncey paying instant dividends at center, Daniel Thomas getting acclimated at running back, Charles Clay adding some versatility, and Clyde Gates showcasing his raw athleticism. Sure, this team isn't built to win a championship quite yet. If going form 1-15 to AFC Title contender in 4-5 years is expected though, then we really need to pump the breaks on expectations. This team still needs a quarterback, but there isn't a team close to as built for and ready to draft a young quarterback and win with him. Matt Barkley makes sense for this team, but regardless, this team has the talent and depth to be competitive each and every year, and the promise and potential to be great with the right quarterback at the helm.
-----------
FCS Playoff Match-Ups: Top Prospects Still Left
The FCS Playoffs are again on this weekend, and with only four teams remaining in the mix. Sam Houston State, the number one seed still in the bracket, doesn't have any NFL prospects surprisingly, but they have loads of talent for the future. However, their opponent Montana does have some potential NFL talent. Cornerback Trumaine Johnson is a well-known small school prospect, and he has quick hips, great ball skills, and could be a Top 3 rounder. Also, athletic tight end Kavario Middleton is a Washington transfer, and both offensive tackles Jon Opperud and Charles Burton have a shot as UDFAs if they can play well. For the other FCS Match0up, it's more of the same. The number two seed, Georgia Southern, is still very young, especially on offense, but their triple option attack is lead by Jaybo Shaw at quarterback. He's not a great passer, but has the athleticism to possibly get a look elsewhere in the NFL. As for their opponent North Dakota State, running back DJ McNorton has a very good chance at getting drafted, and is one of the Top 15-20 small school prospects in the country. Also, Austin Richard at guard and Coulter Boyer at defensive end are both in the upper echelon of the non-FBS for their position. And while we're talking about some playoff match-ups, the Division II and III Championships are also this weekend. The D2 match-up of Wayne State vs. Pittsburg State only has one NFL prospect, cornerback Jeremy Jones of Wayne State, who's got a shot to be a nickel or dime CB in the NFL. In the D3 game, the usual Mount Union vs. Wisconsin-Whitewater match-up, two offensive linemen may get looks in undrafted free agency. Mount Union center Brett Ekkens and Wisconsin Whitewater guard Logan Allemand both have the size to get NFL looks. -----------------------
Top 10....Most Important Parts of a Team Ready to Draft a QB
(Picture at Left of Blaine Gabbert. Jaguars Violated 8 of these 10 Rules. THAT'S Why Gabbert is struggling.)
10. Depth at WR/TE
-Multiple weapons for a young quarterback can make a world of difference. Not necessarily a great receiving corps is needed, but having 4-5 targets that can be adequate receivers helps a lot. 9. Redzone RB
-Having confidence in the red-zone is one of the most overlooked parts of developing as a quarterback. It takes timing, confidence, and pre-snap reads that even many NFL QBs don't have. A redzone runner makes it easier within 5-10 yards 8. Overall Young Team
-Why does the age of a team matter? For some quarterbacks, it may not. But the quarterback is the leader of your team (or at least should be one of them), and having a young nucleus that don't have a sense of entitlement quite yet could help make the quarterback the leader on and off the field. Tampa Bay and Josh Freeman are prime examples of this. 7. Adequate - to - Good Defense
-A defense can be a quarterback's best friend at times and drastically make the offense simpler and opposing teams easier to exploit. Just as Tim Tebow and Andy Dalton. Both defense's rarely put either quarterback in positions where they don't have options. 6. Smart, Play-Calling Offensive Center
-Making pre-snap reads in the back 7-8 is hard enough for a young NFL quarterback, but reading the blitz well enough to set-up protection is a rare attribute. Having a center who can make those calls and take that pressure off the quarterback once again, makes the young QBs job simpler. 5. Left Tackle Protection
-It's always said that after quarterback, left tackle may be the most important part of a football team long term. But similar to how having a center calling protections makes it easier on the quarterback, having that security of the backside being blocked well can increase the pocket presence and confidence. 4. Feature, #1 Receiver
-Developing chemistry is the first thing any quarterback and receiver want to do, but having that connection with a receiver that has elite talent can quickly establish a sense of confidence and composure for a young quarterback. 3. Stable Head Coach
-It's rare that this is ever an issue, but it's happened in recent years and it's almost unfair to a young quarterback. Having stability at head coach means that the rookie QB has the confidence that he's "the guy" long term. A head coach looking over his shoulder leads to a lack of focus on QB and a need to win now, and a fired head coach could mean scrapping the young quarterback altogether. 2. QB Depth Chart to Fit Readiness
-Maybe a little hard to explain, but in short, every rookie quarterback needs a unique situation. Some quarterbacks need time to sit and develop for a season. Some for 7-10 games. Some only 3-4 games. And some NEED to play as soon as possible. It depends on the QBs technique, athleticism, football IQ, and overall confidence. Guys like Cam Newton, Andrew Luck need to play early. Guys Blaine Gabbert and Colin Kaepernick need a veteran in front of them for a solid year. 1. Offensive System Fit
-If you've noticed, in the past 4-5 years, there have been very few quarterback busts in the top two rounds of the draft, and a lot of that has to do with team's doing a better job of putting the quarterback in a chance to succeed. Instead of fitting a talented quarterback into a "proven" system, teams are bringing in offensive staffs designed to allow a QB to succeed and be comfortable early. Cincinnati, Tennessee, Atlanta (when they took Ryan) are prime examples.  
Original Story:
http://www.optimumscouting.com/scout-...
THE BACKYARD
BEST OF MAXIM
RELATED ARTICLES
Now that the Dolphins are guaranteed to finish the 2011 campaign with a losing record, the spotlight for criticism returns to its usual suspects, coach Tony Sparano and general manager Jeff Ireland, both of whom have been on the hotseat since the year began. Based on the following conjecture, one of the aforementioned will receive his walking papers, while the other gets another...
Dolphins general manager Jeff Ireland rarely has a slip of the tongue. He has occasionally misled listeners, such as when he talked about selecting a defensive player the year the Dolphins selected left tackle Jake Long with the No. 1 pick in 2008, but Ireland generally says what he means. And when he drops hints, it is usually intended.
DAVIE, FL Tony Sparano was fired Monday as headcoach of the Miami Dolphins. The only shock was that it took so long. Now, Dolphins fans anxiously wait to see if general manager Jeff Ireland loseshis job. Ireland should be the next to go so that the Dolphins' house-cleaning and roadto redemption will be made complete. But apparently that's not going to happen. "Jeff...
The expansion Miami Dolphins were understandably terrible as a fledgling franchise, losing more games than they won and missing the playoffs in four consecutive seasons from 1966 to '69 before Don Shula came on the scene in 1970.
Miami Dolphins General Manager Jeff Ireland doesn't have many slips of the tongue. That's something I've picked up during his four-year tenure in South Florida. He'll try a couple slight of hand tricks from time-to-time, but Ireland generally says what he means. And when he drops a hint it is usually intended. That's why the most revealing tell from Monday's firing of...
There they were late Monday afternoon, announcing the end of Tony Sparano's career with the Dolphins and introducing Todd Bowles as an interim coach. There they were, discussing how the Sparano firing was a decision they made together. There they were, talking about how they will search together for the best available replacement.
There they were late Monday afternoon, announcing the end of Tony Sparano's career with the Dolphins and introducing Todd Bowles as an interim coach. There they were, discussing how the Sparano firing was a decision they made together. There they were, talking about how they will search together for the best available replacement.
Tony Sparano will be out as coach of the Miami Dolphins at the end of the season. The Miami Herald reported that while Sparano will be dismissed, general manager Jeff Ireland is expected to return. There was speculation that Sparano's job could be saved after the Dolphins won four of five games following an 0-7 start to the season. The lone defeat in that span was a one-point...
It's best to let things digest for a couple of hours before trying to break it down, regurgitate what you've just swallowed. That approach keeps us from come to any hard and firm conclusions. It also allows us to avoid foot in mouth disease. Those who have followed me for a while should know I'm not a knee jerk kind of guy. Jerk maybe….but not knee jerk. I have to dissect...
Two meaty Miami Dolphins Talking Points to jumpstart your Wednesday: 1. Dolphins need to find a way to keep Mike Nolan. Even though general manager Jeff Ireland is still here and Stephen Ross hopes that next season won't be a rebuilding year, many changes are inevitably coming to the Dolphins. A new head coach will [...]
First off, here at Phins Phocus we would like to wish all the best for Tony Sparano in the future as he was a great man and someone you could respect, unfortunately he was a pretty bad NFL head coach. We have lived through the fist pump, through the conservative play and really a complete lack of understanding how to manage a football game however Tony Sparano was still able to...
Another year, another awkward press conference starring Dolphins owner Stephen Ross. Last winter, Ross sat next to Tony Sparano and G.M. Jeff Ireland to try to explain to the media why it made sense to give Sparano a contract extension despite openly going after Jim Harbaugh for the team's head coach.  (The picture of that…
NFL News

Delivered to your inbox

You'll also receive Yardbarker's daily Top 10, featuring the best sports stories from around the web. Customize your newsletter to get articles on your favorite sports and teams. And the best part? It's free!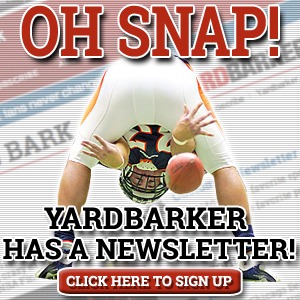 Latest Rumors
Best of Yardbarker

Today's Best Stuff

For Bloggers

Join the Yardbarker Network for more promotion, traffic, and money.

Company Info

Help

What is Yardbarker?

Yardbarker is the largest network of sports blogs and pro athlete blogs on the web. This site is the hub of the Yardbarker Network, where our editors and algorithms curate the best sports content from our network and beyond.