Found August 27, 2012 on 60 Max Power O:
Last week, I started things with scouting Sean Weatherspoon. Now it's time to look at the Falcons only major pre-draft off-season addition still with the team: Asante Samuel, and what skills he brings to the table in 2012.
Pros: Samuel is an instinctual cover corner with good ball skills, awareness, and excellent anticipation. Does a good job challenging throws when he's in position, and makes quarterbacks have to work to complete passes against him. Will jump slants and outs, able to make the big play. Does a solid job working in both man and zone coverage. Plays balanced and has good hips to match up man to man. He's comfortable playing in space. Hard to beat deep due to his ability to play deep zones. Does a nice job covering crossing routes as well. Does his best work when he's allowed to play off coverage, which allows him to keep things in front and read the quarterback.
Cons: Is lacking and lazy in run support. Is a poor tackler with bad technique, as he tends to duck his head and rarely wraps up. Relies too much on chopping legs of defender in open field, which is effective at times but very inconsistent. Doesn't work to get off blocks, and tends to shy away from run support assignments, letting the other 10 guys on the field do most of the work. Too often gives up too much cushion when working in off coverage. Can be attacked on the deep posts for those reasons. Will get caught looking in the backfield at times, and give up the easy completion. Can get burned due to his gambling ways, biting on double moves. At times will leave his safety out to dry because he'll bite on the underneath pattern and leave his safety on an island deep. Can be effective in press, but not good when asked to try and jam receivers at the line.
2012 Outlook: Samuel is a ball-hawk that has earned a strong reputation over the years for his ability to create turnovers and make the big play. While he's not always the most disciplined corner, that reputation has allowed him to get away with things that lesser corners probably could not. This means he's a "field-tilter" because opposing quarterbacks tend to shy away from him, and effectively takes his man out of the play, allowing his teammates to channel things to the opposite field. His struggles in run support are well-known and well-documented, but the Falcons are hoping that limiting his exposure there by playing him in the nickel will streamline his production.
Samuel gets away with a lot because of how dangerous he is to throw on. He's capable of matching up with the league's top receivers and over the past few years in Philadelphia has been one of the league's most consistent producers. Akin to Brent Grimes, essentially teams fear him and don't throw at him as much. The Falcons hope that having two guys like that on the outside will make a significant improvement to their pass defense. This of course is only going to be effective if the defenders in the middle of the defense carry their own weight as well. So while Samuel certainly should elevate the play of his own position, it can potentially have a detrimental effect to other players on the field because they are going to be worked a lot more. And if they are unable to do their jobs and elevate their own play, the added benefit is negated.
This is the problem the Eagles ran into a year ago, namely because players like Joselio Hanson, Dominique Rodgers-Cromartie, and Nnamdi Asomugha struggled at times with the added workload. The Falcons will try to avoid that problem. While Grimes is no stranger to a lot of work (see 2010 season), the Falcons must beware of how much it effects Dunta Robinson who will be playing the slot.
But overall, I have very little issue with Samuel doing his job and whether he by himself will be a very effective corner. If the other pieces fall into place, then his presence could really upgrade the Falcons pass defense and get them a few steps closer to achieving their goals against the league's top passing attacks.
Be sure to check out other great articles at FalcFans.com.
Original Story:
http://www.60maxpowero.com/patriots/c...
THE BACKYARD
BEST OF MAXIM
RELATED ARTICLES
FLOWERY BRANCH, Ga. For every Kurt Warner (1994) or Tony Romo (2003), there are far more Doug Johnsons (2000) and John Parker Wilsons (2009). This year, the Falcons Dominique Davis is trying to be that rare quarterback who goes undrafted and lands a roster spot yet then defies the odds not only to earn one of the 32 prestigious starting jobs in the NFL but also has a measure of...
  In watching the preseason action so far this summer, I think the Falcons could potentially have a dilemma on their hand. Well, dilemma may be an overly strong word for the situation. They have a 'situation' in which they have two potential viable options to start this season at right guard. Garrett Reynolds has gotten most of the first-team reps at right guard throughout...
Is Schillinger on the bubble? Earlier, I broke down many of the position battles and how the roster could break on the offense. Now I'm going to turn my attention to the defense which seems to have a lot less question marks. Most of the roster spots seem relatively sewn up, but the last few spots at each position group still seem to be up in the air. And guys will have one last...
The Atlanta Falcons waived quarterback John Parker Wilson and placed defensive tackle Corey Peters on the reserve/non-football injury list because of a foot injury on Sunday to get down to the 75-player limit. Wilson has spent the past two seasons as the Falcons third quarterback. Peters has started 30 of 31 career games the past two seasons, while recording 73 tackles, including...
Quite the shocking possibility that an NFL team may not be completely forthcoming with injury news, I know, but every offseason we find out about a player's true injury.  How many knee surgeries has Ray Edwards had?  I've lost count.  That situation reminds me of when Michael Jenkins had a "shoulder" injury expected to keep him out four to six weeks that left...
   When facing up against someone in your fantasy football league this season, hope they do not have a lot of players from the Atlanta Falcons. This could be the year that Matt Ryan emerges as a top-five quarterback, supported by multiple weapons that will make Atlanta one of the best offenses in the league.      Sports Illustrated has already anointed Ryan as the frontrunner...
Corey Peters has missed about 3 months with a stress fracture in his foot and he'll miss even more time, specifically, the first 6 weeks of the season as the Falcons have transferred him from the active/PUP to the reserve/PUP list. Peters, an important part of the Falcons' defensive tackle rotation, was slightly below average as a pass rusher and slightly above average as a run...
For every NFL player, fan and even us media types, there will always be that one player we watched growing up that helped us gain a bigger appreciation for the game of football beyond its X's and O's. For me that player was Atlanta Falcons defensive tackle James "Jumpy" Geathers. Now when I say we gain a bigger appreciation for the game, I'm talking about that point in...
  I want to go position by position and discuss which players I believe will make the Falcons final 53-man roster come Friday. For this first part I want to look at the offensive players. Later I will discuss defensive battles. Typically an NFL roster is going to consist of 25 offensive players, 25 defensive players, and 3 special teams players. Those numbers can be tweaked...
Everyone that plays Fantasy Football player is looking for the next unheralded super-star. We all have players like Drew Brees, Andre Johnson, Ray Rice and Calvin Johnson on our first round draft boards, but not everyone will have Falcons WR Julio Jones that high on their boards. Well they should; WR Julio Jones is on the cusp of being the next Pro-Bowl NFL receiver. This is Jones...
In the NFL, GMs value draft picks extremely highly. Moreso, probably, than they should. This past offseason, Asante Samuel was traded for a 7th round pick. Now, Samuel has his limitations, and is not a particularly strong tackler, but he's one of the better corners in the league. Last season, only Darelle Revis had a better (lower) opposing quarterback passer rating when throwing...
NFL News

Delivered to your inbox

You'll also receive Yardbarker's daily Top 10, featuring the best sports stories from around the web. Customize your newsletter to get articles on your favorite sports and teams. And the best part? It's free!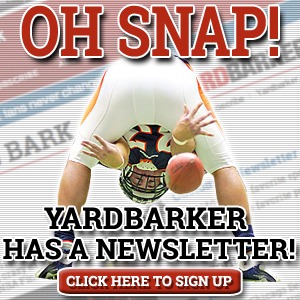 Latest Rumors
Best of Yardbarker

Today's Best Stuff

For Bloggers

Join the Yardbarker Network for more promotion, traffic, and money.

Company Info

Help

What is Yardbarker?

Yardbarker is the largest network of sports blogs and pro athlete blogs on the web. This site is the hub of the Yardbarker Network, where our editors and algorithms curate the best sports content from our network and beyond.