Found November 05, 2012 on NorthWest Sports Beat:
PLAYERS:
Clinton McDonald
,
Alan Branch
,
Bobby Wagner
,
K.J. Wright
,
Earl Thomas
,
Sidney Rice
,
Zach Miller
,
Matt Hasselbeck
,
Marshawn Lynch
,
Russell Wilson
,
Mike Holmgren
,
Leon Washington
,
Pete Carroll
TEAMS:
Seattle Seahawks
,
Tennessee Titans
,
Cleveland Browns
Growin' up before our eyes Boxscore | Play-by-Play | Q's Post Game Recap Last week the offense played well enough to win, but the defense gave the game away.  This week the offense held the ball for 1o minutes and 53 seconds of the fourth quarter, including the final 5:27, where they converted on two 4th downs, to put the game away. In all fairness, the defense tightened up and played great during the second half, after giving up 228-yards during the first half. Almost 200-yards on the ground alone! The Seahawks defense held the Vikings to just 59 second half yards. The atmosphere I have to be honest, there wasn't very much energy at CenturyLink on Sunday.  Half the stadium was seated during the Detlef Schrempf 12th Man introduction. I don't think I have ever seen the fans go through the motions like that in the 70+ games I have been to. During the raising of the 12th Man Flag, the crowd kinda got loud, but quieted down before the opening kickoff. There were a few plays sprinkled in when the fans got loud.  There is a reason the Vikings didn't have any false starts Sunday, we just didn't bring it. Defense The run defense was terrible, especially during the first half.  It can all be traced to poor execution on the part of the players. Clinton McDonald and Alan Branch were getting blown off the line of scrimmage.  Bobby Wagner kept creeping up into the trash inside.   That caused him to be out of position for his gap responsibility. After the injury to K.J. Wright, backup LB Mike Morgan kept losing containment, and Earl Thomas was getting juke'd out of his cleats when he wasn't missing tackles. The Seahawks were outstanding in the passing game.  They allowed just 44 yards through the air, the entire game. Including 4 sacks, that came at the most opportune time. Offense The top two quarterback in the game played for Seattle, as far as QBR and quarterback rating are concerned anyway.  Sidney Rice's 25-yards pass to Zach Miller gave Rice a game high QBR of 100 (100 is perfect) and a quarterback rating of 118.8.  Meanwhile Russell Wilsonled with a quarterback rating of 127.3, and he had a 82.8 QBR. Quietly Sidney Rice has caught 4 TD's this year. (Photo: AP Photo/John Froschauer) The last time Matt Hasselbeck had a quarterback rating above 127.3 in a game was December 9, 2007. (Speaking of Matt. Did you read my post on Hass vs. Wilson vs. T-Jack last week?) Wilson had his second straight multiple touchdown game, and the second 3 touchdown game of his career.  On the season, Russell has a quarterback rating of 87.2. Matt Hasselbeck has only had 4 seasons with a better ratting in his career. Quietly Sidney Rice has caught 4 touchdowns this season.  Sunday was the second game in a row that Rice scored, the last time he did that was 2009.  Nine games into the 2012 season, he has already had arguably the second best season in his career. On Sunday, the Seahawks ran for a season high 195-yards.  Marshawn Lynch went over 100-yards for the third straight game, 5th time this season. Lynch also scored a touchdown for the second consecutive game. I was left wishing the Seahawks had aired a couple balls out during the second half, but in the end, they never needed to.   Like any game, there are positives to take away and negatives to work on. As the season continues, I get more and more excited about Russell Wilson.  He still has a lot of growing to do, but he is having the best season a quarterback has had with the Seahawks since Mike Holmgren was the head coach. Go Seahawks! Fun Vikings vs. Seahawks Tweets VIDEO Week 9 Review: Gradual improvements on offense, smart adjustments on defense, & wow AP. (2:31) shwks.com/ubnl #MINvsSEA — Seattle Seahawks (@Seahawks) November 5, 2012 Lynch, I love you like a brother, but you have to stay in bounds during the two minute drill! I don't care who you are! — Brett Bivens (@NWProSports) November 5, 2012 Leon Washington has really been feast or famine. Some great runbacks and some real ugly ones. — Mike Salk (@BrockandSalk) November 4, 2012 A subtle element to Russell Wilson's terrific day was the way he drew the Viking DL offsides with hard counts on a few timely occasions. — mitch levy (@kjrmitch) November 5, 2012 Man twitter jail is stupid. Mid-3rd quarter is a new record for me — Danny Kelly (@FieldGulls) November 4, 2012 RG3 may be getting the pub, but RW has two more wins, 5 more TDs, and is ascending as RG3 is scuffling a bit. OROY still possible for RW. — Brian Nemhauser (@hawkblogger) November 5, 2012 I'm not really complaining about Earl Thomas' defense…but DAMN has he dropped a lot of interceptions this season. — Brandon Choate (@NWSBBrandon) November 5, 2012 AcrofreakinBATIC TD Tate #Seahawks — Q Smith (@NWSBQ) November 4, 2012 Pete Carroll is challenging the spot where Peterson went out of bounds. This seems like another "hormonal" challenge. — Curtis Crabtree (@Curtis_Crabtree) November 4, 2012 CLICK HERE TO CHECK OUT THE SEAHAWKS BLOG PAGE IN OUR CLUBHOUSE SECTION AT NWSB!
Original Story:
http://www.nwsportsbeat.com/seahawks/...
THE BACKYARD
BEST OF MAXIM
RELATED ARTICLES
This was a great play that was drawn up, and pretty much everyone on the defense bit on the wide receiver screen.  The execution was even more impressive and while it wasn't the greatest throw of all-time, Seahawks TE Zach Miller made a hell of a catch off the pass from Sidney Rice.  It's just a shame that this one didn't go for six, otherwise it would be the play of the day.Via: SB Nation
Seattle Seahawks running back Marshawn Lynch set the standard for what is known as "beast mode".What it means is that a runner is running with such ferocity and power, that the very Earth trembles beneath it every time they carry the ball.I chose those words on purpose, because for me the first time I saw Lynch go "beast mode" was in a Wild Card playoff game following...
Run-stuffing defensive end Red Bryant and linebacker Leroy Hill will both be game-time decisions for the Seattle Seahawks entering Sunday's big NFC matchup at Chicago. Coach Pete Carroll said Friday that Bryant was held out of practice for a third straight day with a foot injury. Hill went through a workout to test his sore ankle, but how the injury responds will determine if...
It appears that Seahawks wide receiver Golden Tate is putting together a solid game against the Minnesota Vikings as he already have two touchdowns. Check out his second score as he flips over a Vikings defender: (Courtesy of The Big Lead)
Adrian Peterson is a hell of a running back (losing K.J. Wright early hurt the run defense in a big way), but it's hard to win games when your quarterback only manages to throw for 62 yards. More importantly, the Seahawks offense was able to overcome some bad drops early on and move the chains when it needed to most, thanks in large part to a good performance by Russell Wilson...
SEATTLE -- The feet of Seattle Seahawks quarterback Russell Wilson and running back Marshawn Lynch were enough to overcome those of Minnesota Vikings running back Adrian Peterson. Wilson's scrambling and Lynch's rumbling helped Seattle take a 30-20 win over the Vikings on a clear and unseasonably warm afternoon Sunday at CenturyLink Field. The Seahawks (5-4) snapped a...
Seattle returned home to end a two-game losing streak, while the Cardinals once promising season continues to slip away.
The Seahawks are predicated on a strong running game, a solid defense and feeding off momentum at home. We review Seattle's strengths and weaknesses on a position-by-position basis.
Stopping Peterson & Harvin Likely Key After what was probably the worst defensive outing of the season for the Seattle Seahawks, the team will hope to rebound this Sunday when the Minnesota Vikings roll into town. The job doesn't get any easier for the Seahawks defense, as they will have to shut down a pair of Pro Bowlers in Adrian Peterson and Percy Harvin if they want...
NFL News

Delivered to your inbox

You'll also receive Yardbarker's daily Top 10, featuring the best sports stories from around the web. Customize your newsletter to get articles on your favorite sports and teams. And the best part? It's free!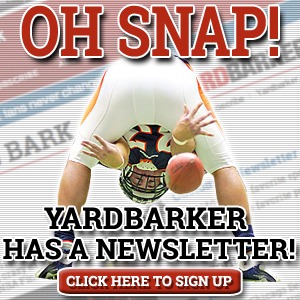 Latest Rumors
Best of Yardbarker

Today's Best Stuff

For Bloggers

Join the Yardbarker Network for more promotion, traffic, and money.

Company Info

Help

What is Yardbarker?

Yardbarker is the largest network of sports blogs and pro athlete blogs on the web. This site is the hub of the Yardbarker Network, where our editors and algorithms curate the best sports content from our network and beyond.