Found October 01, 2012 on NorthWest Sports Beat:
PLAYERS:
Marshawn Lynch
,
Russell Wilson
,
Zach Miller
,
Sidney Rice
,
Doug Baldwin
,
Trumaine Johnson
,
Anthony McCoy
,
Bradley Fletcher
,
Pete Carroll
,
Tom Cable
,
Breno Giacomini
,
Steven Jackson
,
Sam Bradford
,
Richard Sherman
,
Greg Zuerlein
,
Leon Washington
,
Rocky McIntosh
,
Danny Amendola
,
Johnny Hekker
,
Bobby Wagner
TEAMS:
Seattle Seahawks
,
St. Louis Rams
The better team won I should re-phrase that, the team that played better on Sunday won.  Hats off to the St. Louis Rams for the big divisional win.  The Rams coaching staff put together a great game plan that put the team in position to win.
The players executed the plan and that is why they won.  On the other side of the field, the Seattle Seahawks entered the Edward Jones Dome like they expected the Rams to roll over and concede.
Offense There is no doubt the Seahawks are a running offense. Despite the fact that teams are loading the box, the Seahawks offensive line group is opening lanes for Marshawn Lynch to run through on a consistent basis.  For the second time in three games, Marshawn ran over 100-yard (118).  Lynch's 155 all-purpose yards were just 5-yards shy off Russell Wilson's passing yards for the game. Once again, Russell had trouble finding wide open receivers.  At this point I am starting to question wether he is missing them because he is a rookie, or if he is missing them because he is too short. Case in point:  On 3rd down and 4-yards to go, from the Rams 12 yard-line, Wilson rolled out to the right where he had Zach Millerat the at the 7 yard-line.  Courtland Finnegan left Miller open to pursue Wilson. Wilson's receivers are not giving him a lot of help. At that point Russell should have thrown the ball over Finnegan to Zach, who was open,  for an easy touchdown.  Instead he threw to a well covered Sidney Rice, in the back of the end zone, and it sailed about 5 feet over his head. So, I am left wondering, did the  5'10″ Courtland Finnegan block Wilson's view of his tight end, or is he having trouble reading the field and knowing where his receivers are because he is a rookie? It is not all Russell's fault His receivers are not giving him a lot of help.  Last years sure-handed receiver, Doug Baldwin, dropped another pass Sunday, this time he dropped it right into the hands of Trumaine Johnson for an interception. No quarterback would have been able to anticipate Anthony McCoy slipping, and falling down, on the quick out that led to the game ending interception.  The ball was placed well, timed perfectly, but Anthony didn't keep his foot under his body and it slipped out as a result. This caused McCoy to fall to the turf and the ball sailed into the arms of Bradley Fletcher. The Seahawks offensive game-plan has been limited, due to starting a rookie quarterback.  I understand trying to protect Russell Wilson, and the team for that matter, by not putting too much on his plate. I get the fact that Pete Carroll does not want to put Wilson in a position to cost the team a game.  Despite all the precautions, the lack of production from the quarterback position cost the Seahawks the game. How about giving him a fair chance to win the game? On a side note, what was up with that 3rd down and short pitch outside to Marshawn?  Who thought that was a good idea?  You have a nasty offensive line, perhaps the toughest running back in the NFL, and you decide to be cute? Tom Cable has run call responsibilities, but it felt more like something Darrell Bevell would do, I did go back and watch Darrell call the play into the quarterback. That was one of many bone headed play calls. Don't even get me started on my feelings toward having a 22% efficiency rating on 3rd down, or the stupid penalties on Breno Giacomini.  There is being nasty, and then there is being stupid, far too often Breno crosses that line. Defense Once again the Seattle Seahawks defense held Steven Jackson under 100-yards rushing.  In fact, the Seahawks held the Rams to only 75-yards rushing all day. For the most part the Seahawks passing defense did well.  They held Sam Bradford to 221-yards passing with no touchdown and Richard Shermanintercepted a pass. The Seahawks got caught in a trap game. (AP Photo/Tom Gannam) That said, the secondary had trouble adjusting to the speed and quickness of the Rams' receivers.  It seemed like every time the Rams needed a play, the receivers were able to create separation. Special Teams Wow, Greg Zuerlein of the Rams have sure can kick.  4/4 on field goal attempts.  He broke the Rams' previous record long field goal on two out of the four attempts. Leon Washington had a great kick return of 69-yards, unfortunately Russell Wilson literally threw that one away two plays later (Rocky McIntosh). The Rams called a great play when they decided to fake the field goal.  The Seahawks were completely caught off guard, that is a coaching mistake as well as player mistake. Danny Amendola was left standing outside the numbers by himself and Rams' holder Johnny Hekker had no trouble finding him.  When it all boiled down, without that touchdown the Seahawks win the game and the Rams are talking about how they let a game slip away. Instead, the Seahawks got caught in a trap game. Now the 12th man is forming two camps Those who say "stay the course" and those who want to go "all in with Flynn".  It is starting to sound like the players are becoming frustrated as well, after listening to interviews after the game. If I were Pete Carroll I would get a bunch of mirrors and hand them out to everyone on the team.  Players as well as coaches. I'd grab one of my own, then I would simply same "That is who to blame, if you want to correct it, start there" and I would walk out of the room. I would not tell anyone the meeting was over, I would just leave and let them think about it.  The way I see it, every player and coach led to that loss.  Even the 12th man can shoulder some of the blame. We talk them up all week and they start listening to us telling them how much better they are then their opponent.
Maybe some of them start buying into it. Maybe not.
Every player carries a number twelve inside their jersey, they wear 12 feathers on their pants and the neck of their jersey. All so that we are with them.  That means through all wins AND loses. We can look in the mirror too, and ask ourselves "How can I improve?  How can I help my team prepare for next weeks game against the Panthers?" © Brett Bivens for North West Sports Beat, 2012. | Permalink | No comment | Follow NWSB on Twitter or join US on Facebook for real-time updates OR... | Share This on Twitter | Share NWSportsBeat.com on Facebook Post tags: Anthony McCoy, Bobby Wagner, Breno Giacomini, Danny Amendola, Doug Baldwin, Greg Zuerlein, Marshawn Lynch, MMQB, monday morning quarterback, Pete Carroll, Russell Wilson, Seahawks, Seahawks Monday Morning Quarterback, Seahawks vs. Rams, Seattle Seahawks, Week 4
Original Story:
http://www.nwsportsbeat.com/seahawks/...
THE BACKYARD
BEST OF MAXIM
RELATED ARTICLES
Of all the quarterback battles coming into the 2012 NFL season, the Seattle Seahawks had one of the more peculiar competitions.  During the offseason the team managed to land Matt Flynn who was projected to be the starter ahead of incumbent Tarvaris Jackson.  Despite signing Flynn, the Seahawks took Wisconsin signal caller Russell Wilson in the third round of the NFL draft. ...
Despite Seattle's offensive struggles in its first four games, the Seahawks are sticking with rookie Russell Wilson as their starting quarterback. Coach Pete Carroll told The News Tribune of Tacoma, Wash., that Matt Flynn, the team's big offseason acquisition, wasn't ready to play because of an elbow injury that has limited him in practice. But Carroll later backtracked...
Last week: 17 (+0) As they always do, the Seahawks fell flat on the road last week. Now there are calls for Russell Wilson's job after his 3 pick performance (none of which were ruled touchdowns strangely) just a few weeks after he was the media darling who "beat the odds." They've got a great defense and they're great at home, but their offense isn't very good and they...
Through three weeks of play, the Seahawks have showcased an impressive number of top-flight abilities.  One of the stoutest run defenses in the league?  Check.  An intimidating, physical secondary?  Check.  Great special teams play regardless of whether they're on the giving or receiving end of things?  Check.  A pile-driver of a run game?  You better believe that's a...
Despite the continued struggles of the Seattle Seahawks offense and the worst passing game in the NFL, Pete Carroll is not ready to make a switch from rookie Russell Wilson at quarterback. Any decision to perhaps go to backup Matt Flynn is also complicated by the Seahawks being unsure whether a sore elbow that limited Flynn at the end of the preseason would be fully able to handle...
Playing to their level The Seattle Seahawks went into St Louis on Sunday looking to make a name for themselves in the NFC West. After starting off the year with a heartbreaking loss at division rival Arizona, the Seahawks couldn't afford to lose their second division game of the year. Leave it to the Seahawks, though, and they'll surprise you in many ways. After looking stellar...
Silence of the lambs With everything going right in the Seahawks world going into Sunday's divisional matchup with St. Louis, the Hawks sure picked a bad time to let their true colors show. Now the world can really see that the win the previous week was a fluke, and we are the the laughing stock of the NFL community. Sure, there are worse teams that us, but to ride high with...
NFL News

Delivered to your inbox

You'll also receive Yardbarker's daily Top 10, featuring the best sports stories from around the web. Customize your newsletter to get articles on your favorite sports and teams. And the best part? It's free!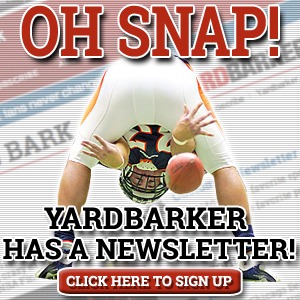 Latest Rumors
Best of Yardbarker

Today's Best Stuff

For Bloggers

Join the Yardbarker Network for more promotion, traffic, and money.

Company Info

Help

What is Yardbarker?

Yardbarker is the largest network of sports blogs and pro athlete blogs on the web. This site is the hub of the Yardbarker Network, where our editors and algorithms curate the best sports content from our network and beyond.