Found March 08, 2012 on NorthWest Sports Beat:
Number 23 will be missed
A Washington native, and alumni of Washington State University, Marcus Trufant was drafted by his hometown team Seattle Seahawks in the 1st round of the 2003 draft.
There's nothing more fulfilling as a sports fan than seeing one of the local products getting drafted and making an impact on the local pro sports team. And Marcus Trufant definitely made an impact with the Seahawks.
Trufant had played his whole career with the Seahawks, a total of nine years, but all of that came to an end on Wednesday.
The Seahawks cut the veteran CB after he missed much of last year with an injury.
On Wednesday via Twitter Seahawks coach Pete Carroll had this to say:
Marcus Trufant has been a great player in this organization for years, and we're so grateful for his class & commitment to this community

— Pete Carroll (@PeteCarroll) March 7, 2012
Pretty hefty words of encouragement for a player he just cut, but that is what Trufant meant to Seattle as a member of the Seahawks.
And with that said, I give you the top five moments in time for Marcus Trufant as a member of the Seattle Seahawks.
Number 23 Will Be Missed.
#1. Draft day
Marcus Trufant was selected #11 overall by the Seahawks in the 2003 draft. As a local boy makes good kind of story, Trufant played as well as any other corner back in the history of the Seahawks.
With 21 career interceptions (6th all time) and 541 solo tackles (7th all time), he was a man on the move in the Seahawks secondary. And will go down as one of the greatest defensive backs to ever wear a Seahawks uniform.
#2. 2008 Pro Bowl starter
Trufant was named a starter for the 2008 Pro Bowl representing the Seahawks along with four other Seahawk starters for the NFC. During the season leading up to the '08 Pro Bowl, Trufant had a career high 7 interceptions, and recorded 85 tackles.
#3. Member of the Seahawks 35th anniversary team
This is an honor of a lifetime to many players, but I'm sure it felt that much sweeter for Trufant, being a Washington native. Trufant joined eleven current and past teammates on the commemorative roster that marked the franchises first 35 years in Seattle.
#4. The 78 yard interception return in the playoffs
By far his biggest play for the Seahawks, Trufant returned a interception against the Washington Redskins in the 2008 playoffs.
Forever A Seahawk! Thanks Marcus!
Trufant was just in the right place at the right time on the badly over-thrown pass, and got a couple of key blocks before turning on the burners and reaching the end zone.
#5. Trufant Family Foundation
Ever since he arrived in Seattle as a member of the Seahawks, Trufant and his family wanted to give back to the communities of Seattle and Tacoma for being so supportive of him on his quest to become a NFL player.
In 2003, the Trufant Family Foundation was created. The foundation gives a number of different scholarships in Trufant's name to local students wanting to further their education.
As well as the scholarships, the foundation also offers donation programs, sponsor a child for summer camp programs, and the Tru-Fitness For Life program.
It's always nice to see a player perform well on the field, and Trufant didn't disappoint us fans there, but it's even more impressive to see a player give back to his community by offering all of these amenities to the youth of the area.
Marcus Trufant has always been a class act, and I hope that he continues his career in the same fashion that he played here in Seattle. So long Marcus, it has been an honor watching you play.
Please don't go play for a NFC West team.
Check out >> Marcus Trufant remembered here in our NW Athlete Profile…
CLICK HERE CHECK OUT THE SEAHAWKS BLOG PAGE AT NWSB!
© Clinton Bell for North West Sports Beat, 2012. | Permalink | One comment |
Follow NWSB on Twitter or join US on Facebook for real-time updates OR... | Share This on Twitter | Share NWSportsBeat.com on Facebook
Post tags:
Cougars
,
Free agents
,
Holmgren tribute
,
Marcus Trufant
,
Moments In Time
,
NFL free agency
,
NFL News
,
NFL rumors
,
NFL Transactions
,
Pete Carroll
,
Seahawks
,
Seahawks Gossip
,
Seahawks History
,
Seahawks News
,
seahawks news online
,
Seahawks roster
,
Seattle Seahawks
,
Seattle Seahawks Blog
,
Seattle Seahawks Headlines
,
Super Bowl 40
,
Super Bowl XL
,
Trufant Family Foundation
,
WSU Cougars
Original Story:
http://www.nwsportsbeat.com/seahawks/...
THE BACKYARD
BEST OF MAXIM
RELATED ARTICLES
First reported by Danny O'Neil on the Seattle Times Seattle Seahawks blog. Cornerback / Defensive back Marcus Trufant is being released by the Seahawks Wednesday. Trufant, 31, or "TRU" as he's called by fans and teammates was chosen by Seattle in the first round of the 2003 draft out of Washington State. He is the longest-tenured member of the team having...
The Seattle Seahawks released veteran cornerback Marcus Trufant on Wednesday. A back injury limited Trufant to only four games in 2011 - his ninth season with the Seahawks. The longest-tenured member of the team, Trufant was scheduled to make more than $7 million. The 31-year-old Trufant was the No. 11 overall pick of Seattle in the 2003 draft. He has 21 career interceptions,...
DIAMONDS IN MY TEETH
Seattle Seahawks running back Marshawn Lynch had to find someway to blow part of his new four-year, $31 million contract. And if the four year deal wasn't a sign of a commitment to the Seahawks, his new purchase definitely is. The Pro Bowl running back had some jewelry made for his mouth - a custom-made Seahawks grill. The Seahawks grill will be Lynch's "go-to grill...
There is nothing bigger in the NFL right now than Peyton Manning. Now that he has been released, every team that doesn't have an all-star QB is licking their chops at the chance to sign him, because if Manning can play at the best of his abilities he can make a bad team good, and an
Hot News for CB Marcus Trufant
The Seattle Seahawks have committed to Marshawn Lynch and he has the smile to prove it. Lynch and Seattle agreed the other day on a 4-year contract worth around $31 million. The first big purchase by the running back is a grill.  Not a Weber Grill.  Fake teeth that say "Seahawks".  He also sports a set that says "Beast Mode".
Seahawks News | Links Hey there folks and Happy Wednesday to you! Surfing around for your Seahawks coverage for today? Looking for Seattle Seahawks, News, Links, Gossip, links, Analysis and observations? CLICK HERE TO CHECK OUT THE SEAHAWKS BLOG PAGE IN OUR CLUBHOUSE SECTION AT NWSB! We all love the Seahawks right? But we all don't have the time to go thru the web to try to find...
Two days ago, Seattle Seahawks running back Marshawn Lynch signed a four-year deal to stay in Seattle and decided to use some of that cash to buy a grill. Now, we're not talking about a barbecue but the jewelry teeth worn by many famous rappers such as Paul Wall and Lil Jon. Below the folks over at the NOC followed Lynch in his attempt to purchase a Seahawks version...
They say all great things must come to an end, and Wednesday marked the end of the greatest era in Indianapolis Colts history. Peyton Manning's career with the team officially came to an end. Watching the press conference, where both the player and the owner of the team shared their memories and goodbyes with each other and the city was definitely very emotional. With the divorce...
I once dressed as Paul Wall for Halloween by carefully attaching two Double Mint gum wrappers to the upper and lower fronts of my teeth as to give the appearance of his famous "grill". Obviously that was before Seattle Seahawks star running back shot this video for NOC where he gives you the step by step process for getting a real blinged out grill.
Manning In Blue & Green? Should the Seattle Seahawks sign Peyton Manning As I am sure you are well aware of the Indianapolis Colts have decided to release superstar quarterback Peyton Manning.  Few weeks, even months Seahawks fans around the globe have been discussing the possibility of Peyton Manning becoming a Seattle Seahawks starting quarterback. Let me start by saying...
12th Man Pros & Cons If you have read my bio you know that I originally got my Seattle Seahawks season tickets when I moved to Seattle in 2006. Since then I have witnessed some of the greatest moments in the new stadium. I do wish I had been able to attend the NFC Championship game but instead I watched it with my family at my parents house and we made our own memories that we...
NFL News

Delivered to your inbox

You'll also receive Yardbarker's daily Top 10, featuring the best sports stories from around the web. Customize your newsletter to get articles on your favorite sports and teams. And the best part? It's free!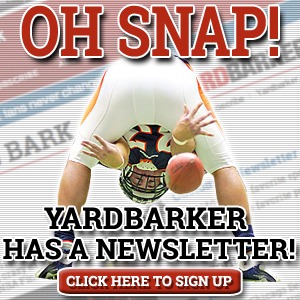 Latest Rumors
The Backyard

Today's Best Stuff

For Bloggers

Join the Yardbarker Network for more promotion, traffic, and money.

Company Info

Help

What is Yardbarker?

Yardbarker is the largest network of sports blogs and pro athlete blogs on the web. This site is the hub of the Yardbarker Network, where our editors and algorithms curate the best sports content from our network and beyond.