Found December 20, 2012 on NFL Trade Rumors:
The Seattle Seahawks placed DL Jason Jones on season-ending injured reserve Thursday because of a knee injury that he's dealing with this season. Seattle signed Hebron Fangupo off of their practice squad to place Jones on their active roster. Pete Carroll mentioned that Jones' knee flared up him following last weekend's win over the Buffalo Bills. He finishes the 2012 season with four sacks and is set to become an unrestricted free agent for the second time in as many seasons. We have Jones listed as the No. 41 best available player in our Top 50 Free Agents list. The post Seahawks Place DL Jason Jones On Season-Ending I.R. appeared first on NFL Trade Rumors.
Original Story:
http://nfltraderumors.co/seahawks-pla...
THE BACKYARD
BEST OF MAXIM
RELATED ARTICLES
Russell Wilson, Marshawn Lynch and the Seattle Seahawks are the team that no one in the NFL wants to play right now. They are on an unbelievable roll. After going into Solider field and winning a game against the Chicago Bears that no one gave them a chance to win, The Seahawks' 150 points scored over the last three weeks are tied for third most by a team in any...
We all knew it would come to this, right? We didn't want to believe it but, deep down inside, we knew better. We all knew that one of the many bungled calls made by those replacement refs, who simultaneously entertained and enraged us the first three weeks of the 2012 season, would come back to haunt us. It's almost divine providence that their most infamous call could, if the...
The Seattle Seahawks have made the biggest jump on our power rankings this week rising from 13 to 7 and it isn't hard to see why. Their 108 points over the past two weeks are about the biggest statement a team can make at this time of the season and it comes as they are in the heat of a playoff race for both the NFC wildcard and the division crown. Depending on their seeding Seattle...
I'm going to be pretty peeved if the world ends before I get a chance to see the Seahawks and 49ers rematch on Sunday. The Mayan apocalypse can wait until after we see what is shaping up to be one of the best games of the season. The implications of the game are huge; if the 49ers win the game, they claim the NFC west … if the Seahawks win, there's still a chance that they'll...
Offensive lineman are giving and receiving some odd gifts this Christmas season. Example: Arian Foster gave his linemen Segway scooters — a departure from the common steak dinners and gold watches. Today, Seattle Seahawks tackle Russell Okung tweeted a photo of a gift to offensive line coach Tom Cable. Looks like there's potential for a naughty Christmas in the Cable household...
Start 'em & Sit 'em Week 16 Fantasy Football – Seattle Seahawks Week 16 predictions The Seattle Seahawks are on fire! They have scored 50+ points in two straight games – amazing. But that said it hasn't translated into a whole lotta Fantasy love unless you were one of the brave souls that started Russell Wilson last week! In Week 16 the Hawks face one of the best defenses...
Another blow out! Two wins on the road for our Seahawks, quite a nice little surprise if you ask me. Now though, our fate is not in our hands for the divisional race, thanks to the New England Patriots letting us down on Sunday night. Yep, even when we beat San Francisco this coming Sunday night, the Seahawks faithful will have to rely on the lowly Arizona Cardinals to get a win...
They told him he couldn't play QB  in the NFL, after all he was too short to look over his offensive lineman. When Seattle Seahawks QB Russell Wilson declared for the draft it didn't matter what his film showed, he was often cast aside by scouts and front offices because of his size. It would be generous to call Russell Wilson 5″11, yet he comes out and proves every week and...
When the Seattle Seahawks took a risk by not only starting a rookie quarterback, but by starting him over their prized free agent acquisition, many thought Pete Carroll had lost his mind. Much to the same tone of thought when he took Bruce Irvin at 15th overall in the NFL Draft, when he was graded as a mid to late 2nd rounder at best. This trend continued many times in the early...
San Francisco vs. Seattle Betting? Headline: Seahawks Look to Remain Perfect at Home; Host Division Foe San Fran in Week 16 The Seattle Seahawks return home this week after marching into Toronto and registering their second straight convincing 50 point performance. Their task this week – to beat a San Francisco team that beat the New England Patriots in impressive fashion in...
Pay up, Seahawks. The Green Bay Packers have put the Inaccurate Reception behind them, and they've done their best not to begrudge Seattle the win that really wasn't. But karma has a way of coming back around, and the Seahawks have a chance to put things right this weekend. ''Without looking in the past, we have to root for a team we fell short to,'' Clay...
      Hello Followers.  Hope you've had a great week. By the time that you all read this, I'll be somewhere near the great state of Virginia, waving to our good friend Tony Bennett en route to the brood's Holiday breeding grounds know as… MIAMI, Florida!!!!! Last year, Mrs. Sutra and I got carried away with the drive and buried Little...
NFL News

Delivered to your inbox

You'll also receive Yardbarker's daily Top 10, featuring the best sports stories from around the web. Customize your newsletter to get articles on your favorite sports and teams. And the best part? It's free!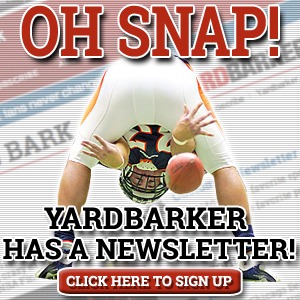 Latest Rumors
Best of Yardbarker

Today's Best Stuff

For Bloggers

Join the Yardbarker Network for more promotion, traffic, and money.

Company Info

Help

What is Yardbarker?

Yardbarker is the largest network of sports blogs and pro athlete blogs on the web. This site is the hub of the Yardbarker Network, where our editors and algorithms curate the best sports content from our network and beyond.