Found October 19, 2012 on NorthWest Sports Beat:
PLAYERS:
Russell Wilson
,
Golden Tate
,
Marshawn Lynch
,
Robert Turbin
,
Evan Moore
,
Braylon Edwards
,
Aaron Rodgers
,
Tom Brady
,
Frank Gore
,
Alex Smith
,
Jim Harbaugh
TEAMS:
Seattle Seahawks
,
Green Bay Packers
,
New England Patriots
,
San Francisco 49ers
This one hurt The Seattle Seahawks were in prime time again Thursday, heading to San Francisco to take on the division rival 49ers. It was a battle of top defenses and a battle for first place in the division, two races the Seahawks lost over the course of the night. It was a painful loss as the Seahawks had several opportunities to extend their lead or to take the lead back from the 49ers. They couldn't pull it off, though, and flew back home to Seattle with it's most painful loss of the season. The Seahawks broke down in areas they have been strong in all season long. It was very unlike this team who seems to have played at the level of their competition until this game. There was very little to love and plenty to hate in this one, so let's get to it! Love 'em Russell Wilson Russell Wilson was the unsung hero of the night. While morons are chiding him today for his height or low numbers, Wilson gave the Seahawks several chances to win this game. 9 for 23 is not super impressive, I agree, but when you consider there were 5+ drops by receivers and numerous passes he had to throw away because of poor route running, poor play making by receivers, and little to no protection at times, Wilson played smart football. Golden Tate had one of many Seahawks dropped passes. (Photo by Thearon W. Henderson/Getty Images) He gave his receivers several chances at glory and highlight reels after he placed his passes where only his receivers could make the grab in most cases. The best part about this guy? In the press conference after the game, he took blame like he normally does despite the fact that it should be every receiver who dropped a pass in the game who should be apologizing. Marshawn Lynch Everyone knew this was going to be a physical game. Hard hitting defense and big, bruising running backs running right at you. Marshawn Lynch came prepared and did his job more than effectively. The ground game was going to be the biggest factor in this one and Lynch earned every single yard he got – all 103 yards. While he was kept out of the endzone, Lynch did his job in this one. He ran physically, wore down the defense and hit the holes he was given with full strength and power we have come to know from Beast Mode. How about that run in the beginning of the game where he lowered his head into the chest of ex-Husky Dashon Golson and drove him 4 yards to get the first down? Now THAT'S Beast Mode. Hate 'em Butterfingers This one goes out to all those who dropped passes in the game. Because of you, the game was lost and Russell Wilson is taking the blame and criticism FOR you. Robert Turbin, while I love the guy, dropped arguably the best pass in the game. Wilson hit him in stride with a wide open lane to the end zone. Had he caught that ball, the game would've swung in the Seahawks favor. Evan Moore dropped a perfect pass, as Wilson hit HIM in stride, right in his hands. Yes, he was closely covered, but the defender did not knock the ball out. Wilson hit Moore in his hands and Moore dropped the ball. Plain and simple. Golden Tate dropped a first down pass on 3rd down and short. Marshawn Lynch dropped a pass with running room in front of him. And while Braylon Edwards may not be credited with a drop, he deserves to be on this list, too. Gore owned the middle of the field, making the staunch Seahawk defense look weak (Photo by Kyle Terada-US PRESSWIRE) Middle field defense Like I said in my 5 who must impress, the linebackers needed to cover the middle of the field more than ever in this game. After being picked apart by Aaron Rodgers and Tom Brady up the middle, the Seahawks should have known opponents were going to start going to that area. Why cover the middle of the field? So Frank Gore can't rip off 30+ yard runs to pad his stats. So that Alex Smith can't dump pass to his running backs and own the middle of the field. Opponents are going to key in on driving down the middle. Until the linebackers step up and cover the middle, Seattle is going to have to bend over backwards to avoid giving up points. Bend don't break This bend but don't break defense is getting old. Yes, they are holding opponents to field goals instead of touchdowns. But how bout zero points instead? If the team makes the stand when opponents are in their own territory or at mid-field, the Seahawks wouldn't have to be so good in the red zone defense. Because they play this bend don't break defense, teams are able to put up 3 points on a lot of drives. If they had stopped the 49ers last night at mid-field, they would not have made it past 7 points in the game. Yes, our defense is superior and one of the best in the league. But if they allow teams to get some ticky tack yardage to put themselves into field goal range, it will doom this team, much like it did last night. Jim Harbaugh I just hate the guy. I hated him at Stanford and I hate him even more now that he is in San Francisco. He's a giant baby and a whiner. Man, I hate Jim Harbaugh. Who's with me? I agree 100% with Q. https://twitter.com/NWSBQ/status/259412015641161728 CLICK HERE TO CHECK OUT THE SEAHAWKS BLOG PAGE IN OUR CLUBHOUSE SECTION AT NWSB! © Brandon Choate for North West Sports Beat, 2012. | Permalink | No comment | Follow NWSB on Twitter or join US on Facebook for real-time updates OR... | Share This on Twitter | Share NWSportsBeat.com on Facebook Post tags: Braylon Edwards, Evan Moore, Golden Tate, Marshawn Lynch, Robert Turbin, Russell Wilson, Seahawks, Seahawks Blog, Seahawks vs. 49ers, seattle, Seattle Seahawks, Seattle Seahawks Blog, Seattle vs. San Francisco
Original Story:
http://www.nwsportsbeat.com/seahawks/...
THE BACKYARD
BEST OF MAXIM
RELATED ARTICLES
Photo from @davidlombardiSeattle Seahawks cornerback Richard Sherman gained some fame this week after mocking Patriots quarterback Tom Brady on Twitter.Now you have check out the truck that his Mother drives. Talk about impressive.Stanford and Seahawks fans, you'll love what Richard Sherman's mom's truck looks like twitter.com/davidmlombardi…— David Lombardi (@davidmlombardi...
The Seattle Seahawks will be without two players for their Thursday night matchup with the San Francisco 49ers; offensive lineman John Moffit (knee), and reserve defensive back Byron Maxwell (hamstring). However, Seattle has announced that safety Kam Chancellor will play despite being limited this week by an ankle injury, reports the Associated Press. Seahawks coach...
While he and his team might be playing the 49ers in a nationally televised game on Thursday night, Seahawks cornerback Richard Sherman already has achieved a fair level of notoriety on the interwebs this week after he tweeted a photo of himself appearing to taunt Patriots quarterback Tom Brady following Seattle's impressive 24-23 victory over New [...]
Bump in the Road I'm sure most people out there are as frustrated as I am with that disappointing Seahawks loss to the 49ers on Thursday night. Once again the defense did its job and the offense just never seemed to find its groove. The Seahawks are now 0-3 against NFC West opponents which is a problem, however let's just sit back and take our hands away from the panic button...
The Patriots found out the hard way that CenturyLink Field is a tough place to play football games. But does Seattle truly have the NFL's biggest home-field advantage? According to Andrew Mooney from the Harvard College Sports Analysis Collective, they do. According to the study, the Seahwaks gain the most from playing at home while the Patriots hardly gain anything...
HEART WASN'T IN IT
Following the team's win over the Seahawks Thursday night, 49ers guard Alex Boone said this about Seattle's defense: "We just kind of felt them start to give up a little bit."
The Thursday Night games have been pretty boring this year, with few reasons to watch other than fantasy and gambling implications. This week might be the exception, as the Seahawks travel to face the 49ers.  Every week I'm profiling one sparsely-owned player from Thursday's game that you can (notice I'm not saying should) pick up and start. Ya know, get your...
How the 49ers fared in keys to the game identified by NinersDigest before San Francisco's 13-6 victory Thursday night over the Seattle Seahawks.
The Seahawks put the final nail in their coffin on Thursday night when they were called for a holding penalty in their own end zone with under a minute left to play, giving the Niners a two-possession lead. Or, should we say, it would have given San Francisco a two-possession lead had Jim Harbaugh not declined the penalty. The play also happened to be 4th down, and Seattle came up...
After Frank Gore rushed all over the Seattle Seahawks defense last night, I thought to myself that is seems like Gore always owns the Seahawks defense. So I decided I would go look up Gore's stats against the Seahawks. Since taking over the full time role in 2006, he had 2 carries for 5 yards in 2005, Gore has rushed for 1210 yards on 224 carries (5.4 avg) and 4 touchdowns in 13...
Before the season began this looked like it may be a Thursday night match-up that would go fairly unnoticed. Now, almost to the half-way point of the season, this contest between both 4-2 squads looks like it will have major implications.  Implications that go beyond who wins the division and who goes to the playoffs.  Rather, a match-up that may determine who the next dominant...
NFL News

Delivered to your inbox

You'll also receive Yardbarker's daily Top 10, featuring the best sports stories from around the web. Customize your newsletter to get articles on your favorite sports and teams. And the best part? It's free!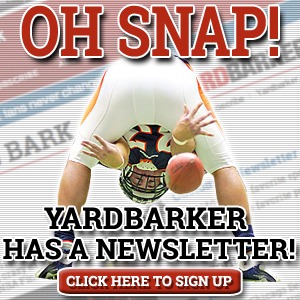 Latest Rumors
Best of Yardbarker

Today's Best Stuff

For Bloggers

Join the Yardbarker Network for more promotion, traffic, and money.

Company Info

Help

What is Yardbarker?

Yardbarker is the largest network of sports blogs and pro athlete blogs on the web. This site is the hub of the Yardbarker Network, where our editors and algorithms curate the best sports content from our network and beyond.