Found November 15, 2012 on NorthWest Sports Beat:
PLAYERS:
Russell Wilson
,
Marshawn Lynch
,
Doug Baldwin
,
Matt Flynn
,
Josh Portis
,
Richard Sherman
,
Mark Sanchez
,
Bruce Irvin
,
Golden Tate
,
Mike Pettine
,
Rex Ryan
,
Sidney Rice
TEAMS:
Seattle Seahawks
,
New York Jets
Seahawks win it in second half Seattle Seahawks 28, New York Jets 7 When: 1:05 PST, Sunday, November 11, 2012 Where: CenturyLink Field, Seattle, Washington What started out as an awful first half of football by both teams, lead to a second half of football that was the most complete half of the 2012 season for the Seattle Seahawks. The Seahawks showed that they are mean, they are nasty, and they have the attitude that they don't want to just beat their opponent, they want to dominate them. Russell Wilson #3 Of course, it was not all butterflies and rainbows for the young quarterback. He was sacked on back to back plays in the first quarter, he should have thrown the ball away on both plays. The second sack led to a fumble that the Jets returned for a game tying touchdown, 7-7. As a rookie, I don't expect him to be perfect, I don't even expect him to be near the quarterback he is. There are many things Russell Wilson did on Sunday that impressed me, but I would like to specifically write about a couple: Once again, Marshawn Lynch makes the list During pre-pre-game warm ups when he was throwing a pass to Doug Baldwin, who was running a slant route: Wilson delivered a nice ball, but apparently saw something in the route that wasn't up to Wilson's standards and he wanted to be perfect. Russell jogged over to Baldwin and started talking to him about the route, I couldn't hear the conversation but body language and hand signals made it pretty clear, Wilson was making sure that he was making sure that both players were on the same page. After the the other quarterbacks and receivers came out of the locker room: Wilson watched the receivers running their routes religiously while Matt Flynn and Josh Portis were taking reps. The impressive thing is that during simple warm up stuff, the same thing they do every day, he takes every mental rep he can. You simply cannot outwork the young man. Before the game I tweeted that it was clear to me that Wilson is the best quarterback the Seahawks have on their roster. Despite two fumbles during the game, and a couple sacks he didn't need to take, I completely stand behind my tweet. The Seahawks are his football team now, there is no doubt about that. Marshawn Lynch #24 I know it seems like Marshawn is always on this list, but he earns it every time. For the fourth week in a row, 6th time this season, Marshawn Lynch eclipsed the century mark. Lynch is one of only two running backs who have rushed for over 1,000 yards this season, he is also averaging over 100 yards per game. At his current rate, he will have the best year a Seahawks running back has had since 2005, the Super Bowl season. Lynch needs 199-yards to tie his single season career high. Richard Sherman #25 This was easily the easiest choice I had this week. On Wednesday, Richard Sherman was named the NFC Defensive Player of the week, an honor he definitely deserved. Richard Sherman took points of the board when he intercepted a Mark Sanchez pass at the goal line. Sherman is now tied for third place in the NFL in interception this season. Later in the game, he sacked Sanchez and forced a fumble. To be honest, Sanchez just dropped the ball, but Sherman still gets credit for a forced fumble and he now has the second most forced fumbles by a cornerback in the NFL. Bruce Irvin #51 BBBBRRRRRUUUUUUUUCCCCCCCEEEEEEEEE!  Was heard being chanted by the 12th man a couple times on Sunday, as Irvin had his third multiple sack game of the season. Interesting to note, every game that Bruce Irvin has had 0.5 sacks or more, the Seahawks have gone on to win. Bruce Irvin now has the most sacks of anyone out of the 2012 NFL Draft Class, and he is currently tied for 10th in the NFL with 7.0 sacks this season. Golden Tate, the new Mr. Reliable Golden Tate #81 Golden Tate has been an extremely frustrating player over the last couple seasons. Everyone could see flashes of the skills that he possessed but he was unable to make that translate on the field. In his third season, that has changed. I know, 2 receptions for 51-yards is not a great stat, but that is only a small piece of the puzzle. Every time Tate gets his hands on the football, defenses have to worry about him breaking a big one. He possesses the type of ability that gives opposing defensive coordinators nightmares. During the week leading up to the game, there is no doubt that Mike Pettine (Jets Defensive Coordinator), and Rex Ryan (Jets defensive-minded Head Coach) showed the Jets defense the play that Tate had against Minnesota, where he made a couple people miss, then leaped over a defender for a touchdown. While showing the film, there is no doubt they reminded the players how big of a threat he was when he had the ball and coached them to converge on him. That worked like a charm, for the Seahawks, when Darrell Bevell called Golden's number on an end-around pass to Sidney Rice. The Jets' defense was so focused on Golden Tate that when he stopped to throw the ball, Sidney Rice was open in the end zone for an easy touchdown. Tate had a receiving touchdown of his own earlier in the game. On The Seahawks Horizon Next week this piece will not be written, because of the bye week, but I will be writing other Seahawks pieces throughout the week to replace it. I know that it is tough to survive a week without Seahawks football, but it gives the players a chance to rest their bodies as well as their minds so that they are prepared to make a big playoff push. I have been hesitant to say it, but this is a playoff caliber team, even with a rookie quarterback.   Of course it doesn't hurt when your rookie quarterback prepares like a veteran and learns from every mistake he makes. Go Seahawks! CLICK HERE TO CHECK OUT THE SEAHAWKS BLOG PAGE IN OUR CLUBHOUSE SECTION AT NWSB!
Original Story:
http://www.nwsportsbeat.com/seahawks/...
THE BACKYARD
BEST OF MAXIM
RELATED ARTICLES
We wrote earlier today about Green Bay Packers CB Tramon Williams taking it upon himself to take ownership of the name "Optimus Prime" after Seattle Seahawks CB Richard Sherman already used it a few weeks ago. Williams told the Milwaukee Journal Sentinel "I'm definitely Optimus Prime," adding that  "guys like Brandon Browner and Richard Sherman, they...
Pete Carroll knows a little about the media pouncing on their prey. He took every attack the Boston media threw at him while he was head coach of the New England Patriots. After his dismissal from New England, he went back to sunny Southern California and built a powerhouse USC program that turned him into an icon in those parts. Carroll also knows young quarterbacks and Mark Sanchez...
Last week: 10 (+1) Record: 6-4 Remember two weeks ago when everyone thought the sky was falling for them when they were 4-4 after losing to Detroit. And two weeks before that everyone thought they were great when they were 4-2 and coming off a win against New England. Well, now they're 6-4 and everyone thinks they're great following a blowout win over the Jets. What happened...
Two in a row baby! Yes that's right, your Seattle Seahawks have won two games in a row, and now take that momentum heading into their bye week. Up next for the Seahawks is a show down in Miami against the Dolphins against another ex Pete Carroll star, Reggie Bush. With 6 games remaining, the Hawks look to be in a great spot, and should be able to get into the post season barring...
Grounded The Seattle Seahawks hosted the New York Jets Sunday in what was considered a must-win game for both teams. While there is great parity between the two teams' records, a lot was on the line for both. Seattle is fighting for a playoff spot while the Jets are fighting themselves and the media circus they've created. With that playoff spot in mind, Seattle players seem...
I know I just talked about how much I love The Real Rob Report, but this voting edition is so hilarious. In this video, we find out which Seattle Seahawks voted, who they voted for, why some didn't vote, and who they would have voted for if they would have voted…which they didn't. Also, Brandon Browner and Richard Sherman (briefly) comment on current coverage rules vs. the...
(Note: Since I was redoing my spreadsheets anyway, I went ahead and revamped the tables I've been using for the stats articles as well.  That part took a heck of a lot longer than I thought it would, but such is life.) Entering their bye week, the Seahawks' record stands at 6-4 with six games left to play in the season.  Last year, the team was 4-6 after ten games, and...
Louis Bacigalupi posts comments on the site as LouieLouie.  He's an accountant by trade and worked in a USFL front office.  He can be reached by email at Louie@fiercelyI.com. Don't talk about playoffs. Actually, let's talk about the playoffs.  We could get all hung up on tie-breaker scenarios and the what-ifs, but if the Seahawks can get to 10-6 they should be in the...
It's not easy for an NFL rookie to step right up and make an immediate impact, but this year's rookie class is churning out incredible performances on a weekly basis and bagging some victories in the process. Quarterbacks Robert Griffin III, Russell Wilson and Andrew Luck have combined for 15 wins under center in their first year so far while running backs Trent Richardson...
NFL News

Delivered to your inbox

You'll also receive Yardbarker's daily Top 10, featuring the best sports stories from around the web. Customize your newsletter to get articles on your favorite sports and teams. And the best part? It's free!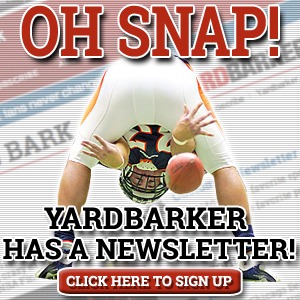 Latest Rumors
Best of Yardbarker

Today's Best Stuff

For Bloggers

Join the Yardbarker Network for more promotion, traffic, and money.

Company Info

Help

What is Yardbarker?

Yardbarker is the largest network of sports blogs and pro athlete blogs on the web. This site is the hub of the Yardbarker Network, where our editors and algorithms curate the best sports content from our network and beyond.