Found June 29, 2013 on isportsweb.com:
The Legion of Boom, compiled of the hardest hitting and BEST defensive backfield in the NFL. It is a nickname, but the actuality of it is all too real. L.O.B. is made up of Earl Thomas, Kam Chancellor, Richard Sherman and Brandon Browner. These four are what made the Seahawks the best secondary in the league last year.  It has a mixture of speed, power, length, and technique that is unmatched around the NFL.  Their 14 combined interceptions and 44 passes defensed doesn't tell the story of what they did in 2012. What they will do in 2013 is even scarier. Four all-pro caliber defensive backs is more than enough, but the addition to the superhero backfield got even better with the addition of Antoine Winfield. Winfield was rated the number 1 corner in all of football according to profootballfocus.com. Who was number 2? Richard Sherman. Winfield will provide an inside corner who will be able to help in the run game because of his sure tackling, and allow even more question onto who you test in the passing game.  Although Russell Wilson is the unquestioned leader in the locker room, the defensive backfield runs the show. They are loud, they are unabashed and will let you know they are there.  Off the field they are quite good friends it seems like. L.O.B. cannot be spotted individually anymore. Sherman, Thomas, Browner and Chancellor have been taking vacations together and will eat dinner at each others house most nights. They have been spotted in Vegas, Miami, Orange,TX (helping at ET's football camp), and front row at a Mariner's game. The Seahawks have been embracing Seattle as their own. Being visible, throwing out first pitches, and even walking around Pike's Place Market. It is this trust and friendship that will carry over to the field. No team has as much chemistry as the Legion of Boom, and no team will end up going farther in my opinion. It will be interesting to see who other teams go after. With Sherman talking the most it seems as if QB's want to shut him up, resulting in the QB getting burned most of the time. I expect Sherman to get picked on more than any other receiver. Seattle welcomes that. As the confidence grows so does his talent, he has something to prove and his play will show that. The Seahawks, playing single high safety most of the time are hard to burn over the top as well. Thomas possesses such great speed that it is almost impossible for him not to cover the ground needed to break up an intended pass. He is the engine to the defense and it is him who will be the defensive MVP in 2013. Chancellor and Browner will be the enforcers on the defense. Browner's ability to blow up bubble screens and short passes are what make him elite. He is physically imposing at 6'4 and makes his living bullying opposing receivers. Chancellor knows how to lay the big hit, he is a linebacker playing safety. His speed makes for a slower safety, but the way the Seahawks  can play with Thomas over the top  makes his enforcer role all the more effective. I expect greatness from this defense, there is no excuse. They are healthy, they are hungry, and they have a bigger chip on their shoulder from the year before. The team believes they are championship caliber and many will see this coming fall.
Original Story:
http://feedproxy.google.com/~r/isport...
THE BACKYARD
BEST OF MAXIM
RELATED ARTICLES
It is a familiar story that rings throughout the NFL, players with so much talent but can't stay healthy. For Seattle Seahawks offensive lineman James Carpenter, he's fitting that mold right now. He was drafted by the Seahawks as the 25th overall pick in the 2011 NFL Draft. Carpenter started 9 games in his rookie season before suffering a season ending ACL injury and being...
Detroit Lions defensive coordinator Gunther Cunningham isn't losing any sleep over defending the read-option. The arrival of running QB's Robert Griffin III, Russell Wilson, and Colin Kaepernick have changed the lanscape of offenses in the NFL. However, it does have its drawbacks and the worse case scenario is losing the QB to big hits. He has studied it and has...
One Seahawks player that really stood out to David Boling of the News Tribune this spring was wide receiver Doug Baldwin. All have looked good in the OTAs and minicamp, but a real standout at the position, in my opinion, was Doug Baldwin. And at times, rookie receiver Chris Harper was impressive, and, at 234 pounds, offers another unique option. So, a bigger question is how the...
Golden Tate is an interesting character. At only 5'10 and 202 lbs he doesn't scream outside receiver. When he gets onto the field however, he plays much bigger than he really is. Whether it be a perfectly timed jump or running after the catch, Tate seems to be a valuable part of the Seahawk's offense. But how will he fit in when Seattle brought in a better version of Tate in...
The Seattle Seahawks should feel pretty good about their offseason acquisition of cornerback Antoine Winfield even though he's 36 years-old. According to Pro Football Focus via The Seattle Times, Winfield hasn't allowed a touchdown in three years. Winfield checked in as the fifth-best cornerback against the pass in the league. Here's, in part, what PFF wrote about him: "His...
With only one year notched under his belt in the NFL, Seattle Seahawks quarterback Russell Wilson is making good on a plan that's been in the works since he was in high school. The Russell Wilson Passing Academy is slated to begin in five cities - Richmond, Raleigh, Madison, Spokane, and of course Seattle. "Over this two-and-a-half-week period, basically, I'll meet 1...
What does the future hold? With all of their offseason acquisitions, expectations for the Seattle Seahawks are sky high.  For some, anything less than a Super Bowl appearance will be considered failure. While collectively I don't think the Seahawks will meet such expectations, there are a few players I feel with have career years – and no, Russell Wilson is not on this list...
Different things drive different players. For Seahawks quarterback Russell Wilson, establishing a way to connect with inner-city kids was one of the things that drove him to succeed, and now, his NFL career has given him the means to give back. Russell Wilson is establishing his namesake passing academy in hopes of changing the lives of some inner-city kids in a positive way...
And a wildcard The Seattle Seahawks had a good tandem already of Marshawn Lynch and Robert Turbin with Michael Robinson leading the way for them. They added to their stockpile of rushing weapons when they drafted both Christine Michael (Texas A&M) and Spencer Ware (LSU). The roster is going to be tough to make for newcomers with the roster depth already quite impressive as it...
Last year's Seattle Seahawk team was fantastic. Expectations were exceeded and a new power was born in the NFC West, arguably the strongest division in football now. (OK, now would be the time to crawl out of you Mom's basement an hit me with a burning missive about how wrong I am about that last statement.)  The bottom line is this: The 'Hawks are poised for a great...
"Slump" Isn't in Russell Wilson's Vocabulary Hey there sports fans. We now find ourselves in the…interesting time of professional sports. The NBA season is over, we have a couple months until the NFL season starts, and we are approaching the MLB All Star break with the Mariners holding steady at third place in the AL West. But fear not – there is plenty of buzz around...
Seahawks News

Delivered to your inbox

You'll also receive Yardbarker's daily Top 10, featuring the best sports stories from around the web. Customize your newsletter to get articles on your favorite sports and teams. And the best part? It's free!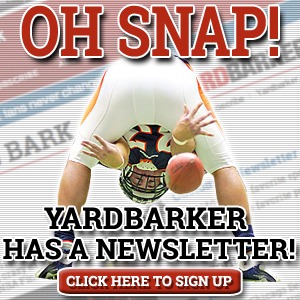 Latest Rumors
Best of Yardbarker

Today's Best Stuff

For Bloggers

Join the Yardbarker Network for more promotion, traffic, and money.

Company Info

Help

What is Yardbarker?

Yardbarker is the largest network of sports blogs and pro athlete blogs on the web. This site is the hub of the Yardbarker Network, where our editors and algorithms curate the best sports content from our network and beyond.