Found October 06, 2012 on NorthWest Sports Beat:
PLAYERS:
Cam Newton
,
DeAngelo Williams
,
Angelo Williams
,
Jonathan Stewart
,
Marshawn Lynch
,
Russell Wilson
,
Jon Beason
,
Charles Godfrey
,
Mike Tolbert
,
Jaye Howard
,
John Moffitt
,
Marcus Trufant
,
Brandon Mebane
,
Mike Pollak
,
Chris Gamble
,
Geoff Hangartner
,
Frank Alexander
,
Antwan Applewhite
,
Colin Jones
TEAMS:
Seattle Seahawks
,
Carolina Panthers
,
Minnesota Vikings
Going for broke On Sunday, the Seattle Seahawks take their number one ranked run game into NASCAR country to take on the Carolina Panthers. This game is a tale of two beasts in the backfield that will hope to lead their teams to victory as both QB's are having a rough go of it lately.
Matchup: Seattle vs. Carolina
Venue:Bank of America Stadium
Time: 1:05 PM (Local)
Date: October 7th 2012
Weather: High 60. Low 47. Scattered Thunderstorms
Team Records: Seattle (2-2) Carolina (1-3)
Standings: Seahawks 4th NFC West. Panthers 3rd NFC South
Game notes/How they match up As mentioned above, both the Seahawks and Panthers passing games are struggling early on this season, while both running games have been pretty good. Pretty good is an understatement for the Hawks though, as they head into their week 5 matchup with the best running game in the NFL. Cam Newton hasn't had the year his fans had hoped for early on. His TD to INT ratio is atrocious, and he isn't getting the rushing yards that he had last year either. Sophomore slump maybe? The Panthers have two excellent backs in DeAngelo Williams, and Jonathan Stewart that will try to finally beat the Hawks tough rush defense. The Panthers may just be the right defense to get Wilson on track with his passing game On our side of the ball, Marshawn Lynch will try to keep his league leading run game going, and hopefully will find the endzone at least once. What to watch: Seattle Two big things to watch for on Sunday for the Hawks are how can Russell Wilson come out in this game. Can he take over early with any sort of passing attack, or will he mainly rely on Lynch to carry the team forward down the field. The other thing to watch for is if the secondary can exploit the unsure arm of Cam Newton. Heading into this week, he already has 8 picks, so if our front line does its job with putting pressure on him, he will have to either run, or make ill advised passes. Either way this spells success for the Seahawks defense. What to watch: Carolina Cam Newton. Which player will show up this week, the one who awed us all as a rookie last year, or the one who is looking more and more like Tony Romo each week. The running game of the Panthers will be a thing to keep an eye on as well, as these are probably the best two backs the Seahawks have come up against in this early campaign. The Panthers have quite a few question marks on defense heading into this week too, they currently have 5 defensemen on the injury list, though they each (besides Jon Beason) participated fully during Friday's practice. Seattle O vs. Carolina D The Panthers could be without Beason on Sunday, which leaves a huge void to fill, and an ever bigger exploit to attack for the Hawks. Marshawn Lynch should be able to get some decent yardage against this defense, as he has already racked up tons of yards against four better defenses this season. Will Russell Wilson be able to challenge the Panthers secondary with any sort of regularity is a huge question, SS Charles Godfrey is a dangerous DB, so he will need to try to stay clear of him. Seahawks secondary may just get a chance to pick Newton once or twice this week The offense will most likely rely on the run game again, and if that sputters, we may be in trouble. Carolina O vs. Seattle D This will be all on DeAngelo Williams I think. With the way Newton has been throwing balls away, the Panthers would be better off trying to make something happen on the ground. The front four will have a field day with Newton if their run game stalls, which could be a big possibility as our defense has completely shut down our opponents run games this year. Steve Smith is always a threat down field, but Newton will have to be able to stay upright long enough to get him the ball. Veteran FB Mike Tolbert is a threat out of the backfield as well, so our linebackers will have to keep a keen eye on him on short passing downs. Injury Report Seahawks: Out: Jaye Howard, John Moffitt. Questionable: Marcus Trufant. Probable: Marshawn Lynch, Brandon Mebane. Panthers: Out: Mike Pollak. Doubtful: Jon Beason, Chris Gamble. Questionable: Geoff Hangartner. Probable: Frank Alexander, Antwan Applewhite, Colin Jones. Predictions
Seattle is the 3 point underdog in this one, most likely because of their offensive woes this season, as well as the curse of playing in the eastern time zone.
I'm going the other way though, and not giving them anywhere near the points that the bookies are. Seahawks 17 – Panthers 14 CLICK HERE CHECK OUT THE SEAHAWKS BLOG IN OUR CLUBHOUSE SECTION AT NWSB! © Clinton Bell for North West Sports Beat, 2012. | Permalink | No comment | Follow NWSB on Twitter or join US on Facebook for real-time updates OR... | Share This on Twitter | Share NWSportsBeat.com on Facebook Post tags: 2012 NFL Season, Cam Newton, DeAngelo Williams, John Moffitt, Marcus Trufant, Marshawn Lynch, Predictions, Russell Wilson, Seahawks, seattle, Seattle Seahawks, Seattle Seahawks vs. Carolina Panthers
Original Story:
http://www.nwsportsbeat.com/seahawks/...
THE BACKYARD
BEST OF MAXIM
RELATED ARTICLES
For as much promise as Cam Newton and the Panthers showed just a season ago, they've shown nothing but disappointment so far in 2012, dropping to 1-4 following today's loss to the Seattle Seahawks. Once again, Cam Newton couldn't find his rhythm, completing less than 50% of his passes on the day. The bad news is, help is not on the way. The Panthers have their bye...
The last few weeks have not been kind to Cam Newton. Underwhelming performances, coupled with a woe-is-me, sulking persona, has ignited criticism from fans, media, and even his own teammates. Just a year ago, Newton was tearing up the league as a rookie phenom. Now he's made a mockery of — in his own town, no less. He's found out the hard way that it's not easy playing quarterback...
Last season, rookie Carolina Panthers QB Cam Newton took the NFL by storm. He set records in his first two starts, throwing for the most passing yards ever by a rookie quarterback. He shattered the record for most rushing touchdowns by a quarterback and he seemingly raised the bar on how rookie quarterbacks would be judged going forward. Now, NFL fans are wondering if he has what...
Carolina Panthers starting quarterback Cam Newton needs a hug. I just have this mental image of him sitting down in front of a baby grand piano, scooching the bench a little closer, placing his fingers upon the keys, then letting go with a long, audible sigh.A small child, eyes bright with wonder, heart bursting with love, mind overloaded with a insatiable desire for knowledge of...
Goodbye Super-Cam, Hello Clark Kent. This season has been quite the roller coaster ride for Cam Newton and the Carolina Panthers. Over the first four weeks of the season, Newton's QBR has been 34.5, 88.3, 15.6, and 68.7. With 50 being the average in the QBR rating system, you can see how Cam's numbers fluctuated week by week. The Panthers are far from the electrifying offense...
Oregon's Time It has not been even two years since Cam Newton and the Auburn Tigers won the 2011 BCS National Championship, and yet, so much has changed. Newton is now a second-year NFL star with the Carolina Panthers while the Auburn Tigers are struggling to keep up pace with the rest of the SEC. Michael Dyer, once a budding college football running back made famous by his controversial...
I think we can officially be call Cam Newton's 2012 campaign a sophomore slump.  On Sunday the Panthers quarterback played his worst game as a pro, losing 16-12 to the Seattle Seahawks.  The Seattle defense utterly dominated the game, holding the Panthers to 190 yards total offense, and just three points scored by the offense. Cam Newton put up a monumental stink bomb in the...
The Seattle Seahawks need their tough defense to make things easier on rookie quarterback Russell Wilson. The plan worked perfectly against Cam Newton and the Carolina Panthers. Wilson threw the go-ahead touchdown pass to Golden Tate late in the third quarter, while the defense frustrated Newton and the Panthers throughout Sunday's 16-12 road win. Wilson threw for a season...
Superman's kryptonite It's week 5 for the Seattle Seahawks as they head into Carolina this weekend to take on the Panthers. The Seahawks will be looking to recover from a devastating loss against the Rams last week and will have their work cut out for them against Cam Newton and company. The offense sputtered last week for Seattle, who blew multiple chances to win the game against...
The Seahawks are on the road again this week taking on yet another opponent they should be able to beat in the Panthers.  The lynchpin of Carolina's offense is still Cam Newton, who through four weeks has been putting up similar numbers to those from his Pro Bowl rookie season.  He's getting plenty of help in the ground game from DeAngelo Williams, but his only...
CHARLOTTE, N.C. -- Seahawks quarterback Russell Wilson pieced together enough on Seattle's drives into Carolina Panthers territory to make it a happy homecoming. The Seahawks won 16-12 Sunday at Bank of America Stadium, where the Panthers couldn't overcome quarterback Cam Newton's struggles. It took one touchdown for the Seahawks (3-2) to win for the first time in...
NFL News

Delivered to your inbox

You'll also receive Yardbarker's daily Top 10, featuring the best sports stories from around the web. Customize your newsletter to get articles on your favorite sports and teams. And the best part? It's free!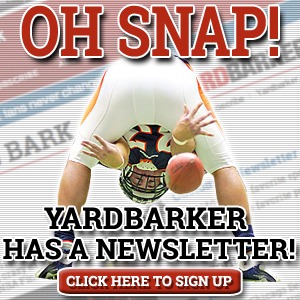 Latest Rumors
Best of Yardbarker

Today's Best Stuff

For Bloggers

Join the Yardbarker Network for more promotion, traffic, and money.

Company Info

Help

What is Yardbarker?

Yardbarker is the largest network of sports blogs and pro athlete blogs on the web. This site is the hub of the Yardbarker Network, where our editors and algorithms curate the best sports content from our network and beyond.