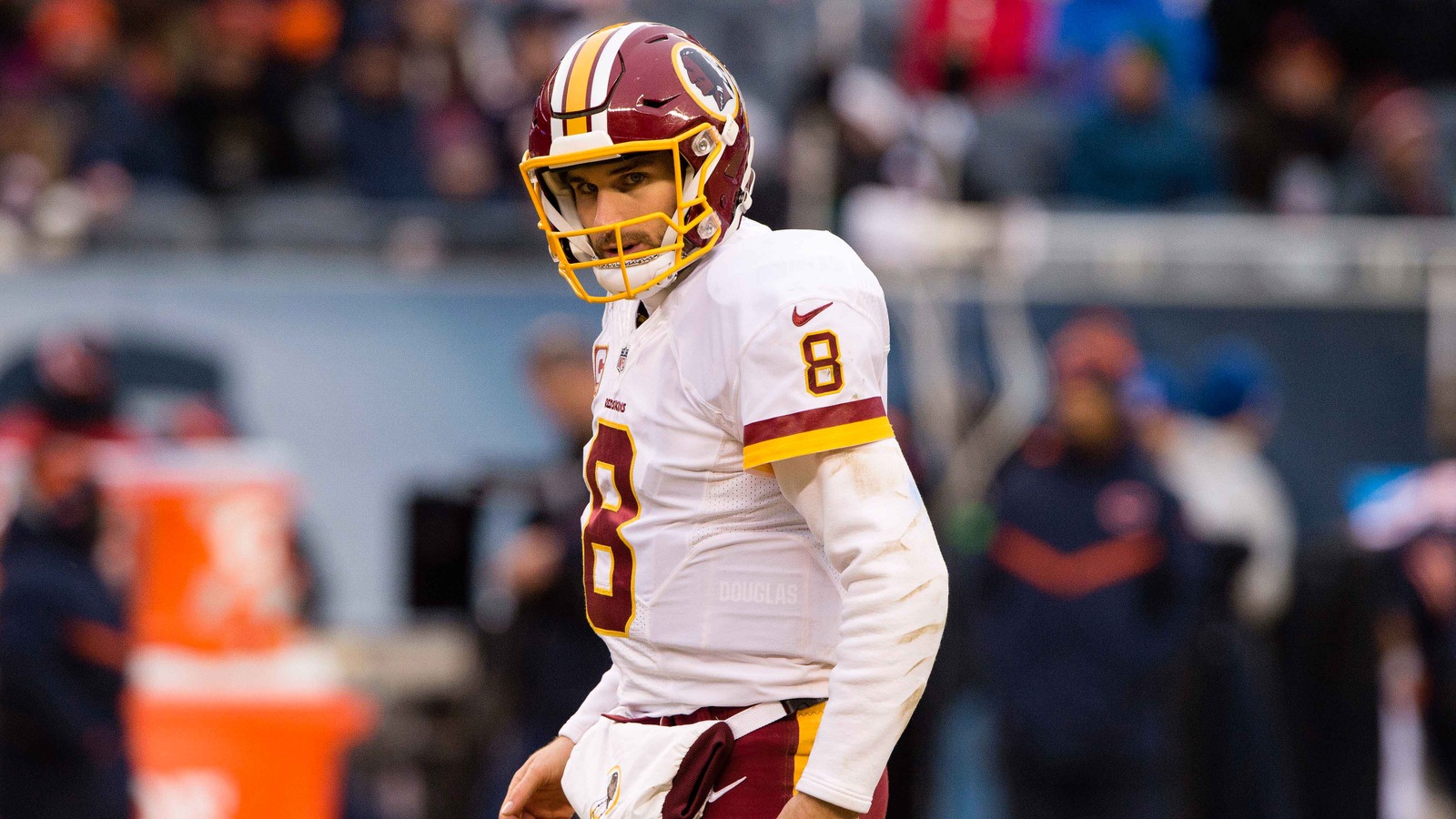 The Redskins trading away Kirk Cousins would certainly set off some draft-day fireworks.
Jerome Miron-USA TODAY Sports
We have seen some rather shocking trades around the NFL over the past few years. Remember when the New Orleans Saints dealt Jimmy Graham to the Seattle Seahawks in the first minute of free agency back in 2015? Absolutely no one saw that coming.
Then, last year, both the Los Angeles Rams and Philadelphia Eagles moved up to the top of the draft to select their franchise quarterbacks.
That was equally stunning considering neither Jared Goff nor Carson Wentz were considered the top pick in the draft.
Here, we take a look at seven potentially stunning NFL draft trade scenarios that could shake the league up big time this spring.
Will the defending champion New England Patriots remain active on the trade front? Maybe, they finally decide it's time to get something of substance for backup quarterback Jimmy Garoppolo.
Speaking of quarterbacks, Pro Bowler Kirk Cousins might not last too long in the nation's capital. Could the Washington Redskins look to get something for him before he likely departs in free agency next March?
These are among the seven stunning NFL draft trade scenarios that could take place over the next several weeks.
1. Patriots trade Jimmy Garoppolo to the Browns for 12th pick, third-round pick and 2018 second-round pick
The New England Patriots will not trade Garoppolo under any scenario. That's the information Bill Belichick and Co. have decided to leak to the media. It's also about as false as it gets. If the defending champions were to receive the right offer, they would move their backup in the blink of an eye.
New England has already exhausted draft capital in acquiring Brandin Cooks from the Saints. It also made two other moves that pushed the team down in the pecking order in the mid rounds.
If there's one thing that has defined New England's excellence over the past two decades, it's the team's forward-thinking mentality. Tom Brady isn't retiring any time soon. Garoppolo is set to become a free agent after next season. There's no real reason for the Pats to keep Garoppolo around unless they decide to move on from Brady here soon. That's not happening.
As it relates to the Browns, we already know they are enamored with Garoppolo. That's not a secret. The team has already discussed offering up the 12th overall pick for New England's talented backup.
After picking up a 2018 second-round pick in the Houston Texans' salary dump of Brock Osweiler, Cleveland can afford to offer up that pick and change to make this work. It might be a stunning trade in the grand scheme of things, but it also makes too much sense.
2. Browns trade first pick to the Saints for 11th pick, 32nd pick, second-round pick and 2018 first-round pick
Cleveland has been attempting to acquire as many picks as possible in order to build its roster from the bottom up. It's a strategy we have seen other teams utilize in the past. And it's worked out for the most part.
By sending three valuable picks to New England for Garoppolo, look for Cleveland (in this hypothetical scenario) to recoup some of its lost picks.
This is where a trade with the Saints comes into play here. Drew Brees has indicated he wants to play for a while. That's fine and dandy, but New Orleans needs to look to the future. It should do so sooner rather than later so Brees himself can help an unnamed young quarterback learn the nuances of the NFL.
It would be rather similar to what we saw between Brett Favre and Aaron Rodgers in Green Bay a decade ago. Bite the bullet earlier so you can create a seamless transition at quarterback. That surely worked out well for the Packers, didn't it?
In this hypothetical trade scenario, New Orleans moves up to the top spot in order to select a quarterback in Mitchell Trubisky that fits perfectly with what Sean Payton does on offense. It then uses the first-round pick the team acquired in the Cooks deal as leverage to move up to the top spot in the draft.
As it relates to the Browns, they would then be flush with two first-round picks in both 2017 and 2018. That's team building in its clearest form. It would also enable the team to target two immediate starters in this year's draft. Why the heck not?
3. Jets trade Sheldon Richardson to the Patriots for third-round pick in 2017 and second-round pick in 2018
There's definitely a scenario in play where this could work for both sides. With Muhammad Wilkerson and Leonard Williams on board, the Jets simply don't need Richardson anymore.
It's led to a ton of trade speculation in the recent past. We're definitely expecting the former first-round pick to be moved between now and the conclusion of this year's draft.
Now, flush with more picks under the hypothetical scenarios in this article, New England could offer up two earlier-round picks to grab the Pro Bowl-caliber defensive lineman.
The idea for Bill Belichick and Co. here would be to use Richardson in two different roles. He'd play inside as a pass-rush threat on passing downs while taking over for the recently acquired Kony Ealy on the EDGE in normal situations. It would add depth, beef and flexibility to a defensive line that's already looking pretty darn solid for the defending champs.
While moving a talent like Richardson within the division would seem a bit ridiculous, New York could stand to add more picks in order to build up a talent-stricken roster. New England will have those picks under this scenario, so that cross-cancels the idea of trading a starter to a team within the division.
4. Falcons trade Devonta Freeman to the Raiders for first-round pick
This one is a bit out of left field. Sure Freeman has played a huge role in Atlanta's offense over the past two seasons, putting up a combined 3,175 total yards and 27 touchdowns during that span. He's also set to earn just $1.9 million in 2017, the final year of his contract.
With Tevin Coleman proving himself more than capable of shouldering a three-down load, Freeman himself could become expendable at the right price.
Add in the fact that one high-profile member of the running back's entourage has shown displeasure with Atlanta handing out contracts to other players, and this is magnified even further. To be clear here, the husband of Freeman's agent wouldn't publicly question the Falcons unless there was something to this.
That's only magnified by the fact that his agent spoke out about the need for a long-term deal leading up to February's Super Bowl (more on that here).
If Atlanta is unwilling to offer up a long-term extension to Freeman, it makes perfect sense to move him right now. Get something in return rather than have a drama play out next March.
For the Raiders, this would just make too much sense. Recent reports suggest the team would welcome the idea of selecting Stanford product Christian McCaffrey in the first round of April's draft. Remember, the team just lost former starter Latavius Murray to Minnesota in free agency.
If that's the case, why not offer up this first-round pick in exchange for a running back with the same skill set as McCaffrey and who has proven himself in the NFL?
The idea of adding Freeman to the mix with Derek Carr, Amari Cooper, Michael Crabtree and Cordarrelle Patterson is just too darn sexy. It would make the Raiders' offense legitimately one of the top two in the entire NFL.
In terms of the dynamic here, the 127 receptions Freeman has put up over the past two seasons would act as yet another tremendous threat for Carr and Co.
5. Redskins trade Kirk Cousins to 49ers for third-round picks in 2017 and 2018
Despite what the Redskins might want us to believe, it wouldn't be stunning if the team were to trade Cousins prior to (or during) the draft. He's set to become a free agent once again in 2018, and it would cost the team nearly $35 million to franchise him. That's simply not a sustainable situation for Washington.
Cousins himself has reportedly indicated he's not even willing to talk extension as long as Bruce Allen remains the Skins' president. Meanwhile, it's well-documented that he wants to play for former Washington offensive coordinator Kyle Shanahan in San Francisco. And Shanahan himself seems to be all over that idea.
What makes this potential trade scenario stunning is the compensation the 49ers would give back to Washington. Some talk had previously included first-year general manager John Lynch and Co. yielding the second overall pick or swapping first-round picks with Washington. That time surely has passed.
While Cousins did sign his franchise tender, the Redskins really don't have much leverage in negotiations. San Francisco has signed Brian Hoyer to a two-year contract and is more than content riding out the Cousins' situation until the team can get him for "free" next March.
If that were to happen, the most Washington would receive following Cousins' departure would be a third-round compensatory selection in 2019. By offering up a third-round pick this year and a similar pick in 2018, San Francisco would be paying Washington take Cousins off the team's hands a year early.
After all, numerous reports have suggested that Cousins views himself as the 49ers' starter in either 2017 or 2018. Heck, Cousins himself has allegedly claimed this to be the case behind the scenes.
If Washington is intent on somehow ruining its long-term viability due to some drawn-out feud with Shanahan, that would be a mistake. Simply put, the time has come for the two sides to potentially part ways. San Francisco could offer up just enough to make this work.
6. 49ers trade second pick to the Titans for the fifth and 18th picks
This whole thing is linked. If New Orleans (or another team) trades up with Cleveland to No. 1 in order to select a quarterback, this would make the second pick all that much more in-demand.
Former Texas A&M pass rusher Myles Garrett is considered the consensus No. 1 overall player in the draft. He pretty much etched this in stone during the 2017 NFL Scouting Combine. If Garrett were to fall past the Browns at one, multiple teams would call San Francisco about the second pick.
Enter into the equation a Titans squad that boasts some of the best young talent in the NFL. It also has an additional first-round pick after trading out of the first pick last year. Why not use this to get an elite EDGE defender to go with the likes of Brian Orakpo and Derrick Morgan?
Based on what Tennessee has done this offseason by adding defensive backs Johnathan Cyprien and Logan Ryan, this would complete an overhaul of the team's defense. It would also give the squad an elite young talent in the front seven.
For the 49ers, this is rather simple. Sure, Lynch and Co. would love to add Garrett to the mix. But San Francisco isn't one defensive end away from being competitive. Prior to the start of free agency, this wasn't much more than an expansion team with a complete lack of talent.
Adding an additional first-round pick to the mix is something San Francisco has been rumored to be interested in. By trading down to just the fifth spot, the 49ers would then be able to potentially add a No. 1 receiving threat for the aforementioned Cousins. That could come in the form of Corey Davis or Mike Williams. It simply makes too much sense. It also works out to a T in regards to the NFL draft trade value chart. Imagine that.
7. Bills trade 10th pick and LeSean McCoy to the Giants for 23rd pick, second-round pick, third-round pick and 2018 first-round pick
At some point soon the Giants are going to have to think about finding an eventual replacement for Eli Manning under center. He regressed a great deal last season, even with the vast amount of weapons New York had on offense. That has to be of some concern for head coach Ben McAdoo and Co.
New York seems willing to go all in with Eli for the next two seasons. Adding Brandon Marshall to the mix is a prime example of this.
So why not go out there and offer up a few picks in order to acquire a Pro Bowl-caliber running back as well as a potential future franchise quarterback?
In this trade scenario, the Giants pick up LeSean McCoy from Buffalo as well as a top-10 pick. Assuming it is Trubisky No. 1 overall to New Orleans (again hypothetical), this would leave New York with an option to pick up Deshaun Watson, DeShone Kizer or Patrick Mahomes. Whoever New York targets as its future franchise quarterback would likely then be available at 10.
As it relates to Buffalo, the idea would be to pick up multiple resources as a team-building method. Trading down 13 spots in the first round while moving on from McCoy seems steep. That's until we realize the Bills would add a total of four early-round picks to the mix. It seems stunning, but that's surely something general manager Doug Whaley might consider.
MORE FROM YARDBARKER
NFL News

Delivered to your inbox

You'll also receive Yardbarker's daily Top 10, featuring the best sports stories from around the web. Customize your newsletter to get articles on your favorite sports and teams. And the best part? It's free!