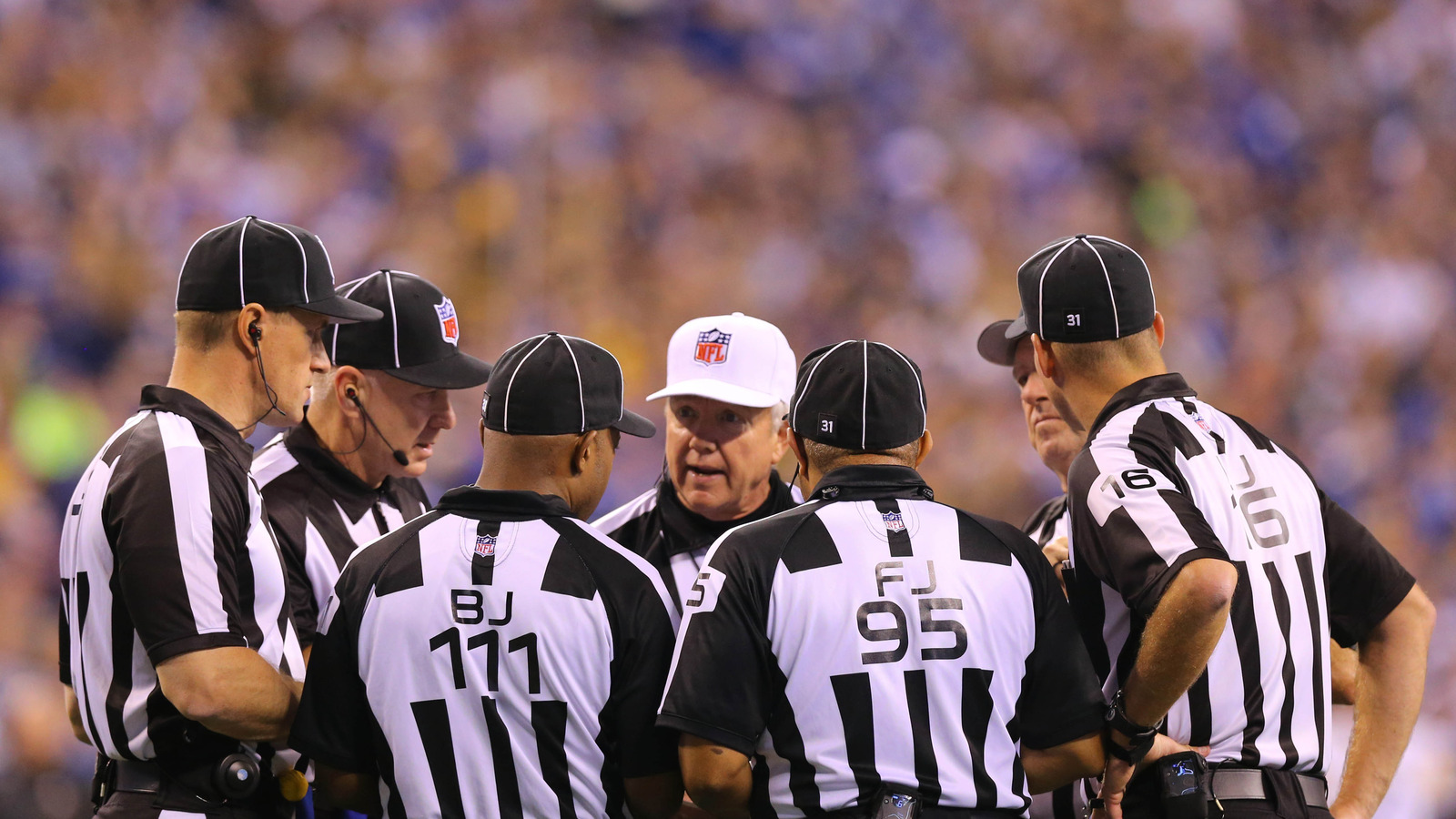 NFL officials huddle together during a stop in play at Lucas Oil Stadium. 
Aaron Doster-USA TODAY Sports
Those who don't like the current NFL overtime format got some good news on Monday. The current NFL overtime rules may be amended.
The bad news? The possible amendment isn't exactly eye-popping. In fact, it's pretty darn bland.
"The NFL's competition committee is considering a proposal to trim overtime sessions to 10 minutes during the preseason and regular season, according to a person familiar with the league's inner workings," Mark Maske of The Washington Post reported. "The reduction would save wear and tear on players. The potential downside is the possibility that it could increase the number of ties during the regular season."
Fortunately, we have other answers.
The NFL has long been the world's preeminent football league, but it hasn't always had the best ideas. Unfortunately, there's a long standing stubbornness that runs through that league. If it adopts another league's ideas, it's admitting that someone else had a better idea. For some reason, the NFL can't do that. So, it ends up putting its own spin on things and often only makes things worse.
We're not even asking for formal credit from Roger Goodell. All we want is for him to adopt one of the following rules and when nobody's watching, maybe send us 10 percent of his annual salary for a few years.
So, what are some of these better ideas?
How many modifications could be garnered from the NCAA system? Can the NFL do something similar to a shootout in hockey or soccer? Is it possible that no overtime is the best solution?
Here are seven possible ways to fix the NFL overtime rules.
1. Modified college version
The NCAA's overtime is superior to the NFL's. Unfortunately, it can't be directly transferred into the NFL. The kickers are just too good to give teams the ball when they're already well within field goal range.
But what about giving each team the ball on the opposite 25?
Someone getting loose for a 25-yard play can happen at basically any time. Naturally, it's a lot harder to do that for 75 yards. Also, the ball on the other 25 would mean that the offensive team has to gain at least 35 yards to have anything close to a decent field goal chance. That gives the defense a much more realistic chance to make a stop.
Also, if each team got the ball on a set yard line, punts would be out of the question. There'd be no risk in going for it and no value in pinning the opposing team deep when the following possession is going to start at a set spot on the field.
Really, the best element of this is that each team gets equal opportunities to possess the ball. When you only play 16 games, the perception that a coin toss had a huge hand in determining even one is a problem. So, each team getting a guaranteed crack at the ball is a nice change of pace.
It's also one of the perks of our next idea.
2. Regular football
This is similar to our first proposal, except there are no set starting positions. So, it's more strategic.
One team kicks off to start the overtime and they go from there. Each team possesses the ball an even number of times (at least once each) and the game keeps going until a winner has been decided.
The superiority in this plan comes in two ways.
One, it is more strategic. Teams couldn't simply go for it without any fear of failure. There would also be genuine value in punting.
Two, while it would be possible, it would be hard to win an overtime period without a competent offense, defense, and special teams.
In other words, it challenges the whole team. That should be something that the world's best professional football league should reward.
3. College, without kicks
Another spin off of the college rule. Only this time, starting on the defense's 25-yard line isn't such a big problem. In fact, there are a couple ways that this could be done. One of them would even move the ball up.
Option 1: Regular football, without field goals. Start on the 25 and using traditional rules, take as many plays as you need to score. Then, the other team gets the same chance and that's carried forward until there's a winner.
Option 2: Similar to the old XFL rule, start the ball on the 10-yard line, giving the offensive team a first-and-goal. But, for example if the first team to possess the ball scores a touchdown in two plays, then the second team gets only two plays to answer.
That way, each team gets a chance, but much of the excitement that can come with sudden death would be amplified.
4. College rules, with no early kicks
This would look similar to the NCAA game. The only difference is that if the first offense failed to generate any points, the second offense couldn't come out to kick a field goal on first or second down. It would have to wait until fourth.
If we left it at that, there would be one problem. A team could hold it's opponent, then have the offense come out, take three knees, and kick a roughly 45-yard field goal to win. That's by no means a chip shot. But in domes or early season games not impacted much by weather, it's one that NFL kickers should make far more often than not.
Fortunately, we've got that base covered as well.
We could add a rule that if a play results in negative yards, the defense can choose to decline the down. Obviously if a play resulted in a loss of 15 yards, the defense would be more inclined to take it. But in a situation like the one detailed above, it would be more likely to make the offense pick up yardage.
5. One full quarter
This idea would be advantageous for the networks.
Most of what we've detailed here is closely related to the college game. No doubt, college overtimes are exciting. But they're time consuming. Worse than that, the timing of NCAA overtimes is extremely unpredictable.
A team could score on its first offensive play, come out, force a turnover on its initial defensive play and end the game. In that scenario, the overtime would only take a matter of minutes. But the two teams could have several exchanges where they match each other. In those situations, overtimes can take the better part of an hour. In some cases, they can run even longer.
For a network looking to move its schedule along, that's a nightmare.
It's not such a big deal for the nationally televised prime time games on Thursday, Sunday, and Monday nights. But think about the Sunday games on CBS and FOX.
When the first wave of games are coming to an end, the networks need to get to the second wave. When those games are ending, they need to get to their prime time schedules. Remember, Sunday night is a huge night for regular television, as well.
Now, this probably isn't anything that the average NFL fan thinks too much about. Each of the above overtime options are fair in that both teams get the ball, and they're incredibly exciting.
But the concerns of the networks can't be ignored. These are multi-billion-dollar partners for the NFL, after all. Games going over allotted time happens. But it's nice for the networks to know that when that happens, the contests will still end at a reliable time.
Additionally, this isn't exactly unfair from a football perspective. It's true that it wouldn't guarantee an even number of possessions. But the current system can leave an uneasy feeling that a coin toss had a direct impact on the winner.
If each team gets a guaranteed full quarter — and a quarter where they're both worried about clock management, to boot — the coin toss is much less impactful.
6. Kicking contest
When the Seattle Seahawks and Arizona Cardinals squared off in October, the game finished in a tie. That did not sit well with Russell Wilson. Fortunately, Wilson had an idea.
"Let's say we're the away team. We win the coin toss, we get the ball on the 35-yard line going in. You kick one field goal. You can't do anything else but a field goal. You make the field goal, the game's over. If you miss the field goal, the game's over and the other team wins," Wilson said, via Sheil Kapadia of ESPN. "I just think that if you play that long, you're putting your lives on the line. You should find a way to win. I don't like ending in a tie."
This gives us something to work with, but we have to tweak it.
If a team gets the ball at the 35, it's kicking a 53-yard field goal. In a dome or in the early season, that benefits the kicking team too much. In a cold weather game, it benefits the other team, too much. Either way, it creates a feeling that the game was decided by a coin toss.
But we could do something similar.
First of all, a kicking contest has to come after at least one round of any of the other scenarios detailed above. From there, each team sends its kicking unit out on to field and the two trade off, similar to a game of H-O-R-S-E. Start from a designated yard line and move back five yards until a winner is decided.
It would not only prevent ties, but would end overtime contests fairly quickly.
7. No overtime
Right off the bat, we'll address the problems with this.
One, with no overtime, a tie is far more likely. Those are not popular.
Two, something like a kicking competition should realistically not be done in a playoff game, but it's at least theoretically possible. But a postseason game can't end in a tie. So, these rules would have to be different in the playoffs.
With those problems in mind, this is also a very exciting option.
If you're old enough to remember the AFL before the 1970 merger, the USFL, or even college before its overtime rules were in place, then you remember a fun scenario.
A team trailing by seven points scores a touchdown to go down by a point in the final seconds. What does that team do? Does it play it safe and kick the extra point. Or, does it play for the win and go for two. Most of the time, the coach would play for the win.
To be fair, this hasn't entirely deserted us. We still see it in college bowl games (Boise St. over Oklahoma) and on occasion, we'll see it in the NFL. But it's rare. In the NFL, it's even rarer to see it in a game that doesn't feature at least one terrible team.
It's a throwback option and would certainly lead to more ties. But for networks looking to move the schedule along and fans looking for edge of the seat excitement, no options would be better.
MORE FROM YARDBARKER:
MORE FROM YARDBARKER
NFL News

Delivered to your inbox

You'll also receive Yardbarker's daily Top 10, featuring the best sports stories from around the web. Customize your newsletter to get articles on your favorite sports and teams. And the best part? It's free!