Found January 23, 2013 on BlackSportsOnline:
In the wake of the Manti Te'o catfish story, there are a lot of stories now coming out at an alarming rate about other athletes almost being duped. Jeff Darlington of NFL.com is reporting that several Washington Redskins players were almost duped by a female with a fake online identity who was trying to contact the players. Darlington reports that Redskins director of player personnel Philip Daniel's put up a sign or memo in early December telling his players to avoid @RedRidnH00d on twitter. The players were given the direct order to stay away from her at all cost. "Once we found out the person wasn't real, we went from there," Daniels told NFL.com when contacted about the situation late last week. So basically around the same time Manti Te'o was in the cusp of his catfish ordeal, at least four Redskins players were headed for the same fate. NFL security reportedly did a thorough investigation into the identity of one  fake female named Sidney Ackerman, who used the pictures of porn star  C.J. Miles to establish a relationship with the players. The person running the scheme took down the Twitter and Facebook account of Ackerman after learning that this story was soon to be published. According to reports, most of the conversations between the supposed woman and the players took place on twitter. "If you think about it, a lot of them are single guys, and they see somebody who looks good in a picture or something," Daniels said. "In many cases, it involves someone who is a fan of the team, so they'll start talking about the team. You have to recognize that something just isn't right. "But you're talking about a lot of guys who are single. I don't fault the guys. I fault the people who are doing this crazy stuff, causing these problems." "I think it was all about attention," Daniels said. "I don't think it was any of the other stuff. It was just about being able to talk to them, pretending to be someone they aren't. It was never a situation where guys were giving money or anything like that." On different occasions, those Redskins players attempted to arrange meetings with "Ackerman," but none of them succeeded, Daniels said. Those failed attempts led to suspicion, and Daniels then received some  information about the possibility that "Ackerman" was indeed a fake. The only good thing to come from this story is that none of those unnamed players fell or were emotionally involved with the hoax.  
Original Story:
http://feedproxy.google.com/~r/blacks...
THE BACKYARD
BEST OF MAXIM
RELATED ARTICLES
Several Washington Redskins players were duped in the same manner that emerging linebacker Manti Te'o was according to a report that is currently running on NFL.com Though the unnamed players never fell in love with or lied to the media about this person that the report calls Sidney Ackerman, they were played just the same. Please Click Here To Read This Story The post Four...
POLICE BLOTTER
The ex-NFL cornerback was arrested and charged with DUI in December after being pulled over by police. During processing, the police report indicates he peed his pants.
IT'S A HOAX
Manti Te'o isn't the online athlete to deal with a prankster. Several Redskins report that they were duped by a fake person.
According toThe Washingtonian former Redskins cornerback Fred Smoot was arrested back on December 30th for driving under the influence. A Metropolitan Police officer arrested Smoot—who played seven seasons at corner back for the Redskins between 2001 and 2009—at around 3:30 AM on December 30 near the 100 block of Massachusetts Avenue, Northeast, US Capitol Police officer Seth...
Washington Redskins cornerback DeAngelo Hall told the media that he's open to restructuring his contract. The 29 year-old Hall is scheduled to make $7.5 million in 2013, which is too much money for a player that doesn't consistently play at a high level. I think if the Redskins could get Hell to lower his salary to $4-$5 million for next season, that would be fair.  We'll...
Former Vikings and Redskins DB Fred Smoot got into an argument with his lady. That led to him getting into his vehicle allegedly under the influence. Luckily, no one was hurt on injured, but there definitely was a salty janitor at the police station. During the traffic stop, the officer smelled "a strong odor of an alcoholic beverage emitting from [Smoot's] breath and person...
Washington Redskins cornerback DeAngelo Hall underwent surgery to repair a fracture in his right pinkie finger, according to Mike Jones of The Washington Post. Redskins cornerback DeAngelo Hall had surgery Tuesday to repair a fractured right pinkie finger, a person with knowledge of the situation said Wednesday. Beyond repairing the fracture, Hall also had ligament damage corrected...
According to Mike Jones of The Washington Post, Redskins cornerback DeAngelo Hall underwent surgery on Tuesday to repair a fractured right pinkie finger. Hall, a nine-year veteran, had ligament damage corrected and had pins placed in the finger as well. It's expected that the pins will be removed in two to three weeks and Hall will wear a splint for about a month before beginning...
Manti Te'o isn't the first athlete weren't duped into having fake online relationship. If you believe his version of the events, Manti Te'o's situation isn't even the most elaborate tail of online deception of an athlete. It Just happened to be the one to get an entire college football team and the media caught up. He wasn't even alone with it happening last season...
When it was discovered that Washington Redskins quarterback Robert Griffin III sustained an injury similar to the one Minnesota Vikings running back Adrian Peterson endured prior to his monster 2012 campaign, the comparisons started pouring in. However, Peterson told reporters, including Andy Fenelon of NFL.com, that it's not fair to compare the injuries of the two players. ...
The Big Leagues Seriously, guys?
Redskins News

Delivered to your inbox

You'll also receive Yardbarker's daily Top 10, featuring the best sports stories from around the web. Customize your newsletter to get articles on your favorite sports and teams. And the best part? It's free!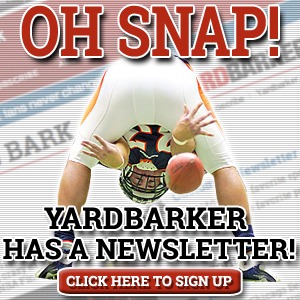 Latest Rumors
Best of Yardbarker

Today's Best Stuff

For Bloggers

Join the Yardbarker Network for more promotion, traffic, and money.

Company Info

Help

What is Yardbarker?

Yardbarker is the largest network of sports blogs and pro athlete blogs on the web. This site is the hub of the Yardbarker Network, where our editors and algorithms curate the best sports content from our network and beyond.