Posted November 26, 2012 on AP on Fox
PLAYERS:
Pete Carroll
,
Richard Sherman
,
Brandon Browner
,
John Moffitt
,
Allen Barbre
,
Winston Guy
,
Kam Chancellor
,
Earl Thomas
,
Marcus Trufant
,
Byron Maxwell
,
Jeremy Lane
TEAMS:
Seattle Seahawks
Seattle Seahawks coach Pete Carroll expects to have his starting cornerbacks available this Sunday in Chicago. After that is anyone's guess. Carroll said Monday he plans on Richard Sherman and Brandon Browner playing this week against the Bears, despite the possibility they could be facing four-game suspensions for violating the NFL's policy on performance-enhancing drugs. Carroll didn't say much regarding the duo at his regularly scheduled media availability, trying not to violate league rules. But his belief is that Sherman and Browner will be able to play in potentially Seattle's most important game of the season. ''As of right now, I'm planning on those guys playing,'' Carroll said. ESPN.com first reported Sunday afternoon, following the Seahawks' 24-21 loss at Miami, that Browner and Sherman are facing suspensions and are in the process of appealing. The team said Sunday night it was aware of the report and according to the league's collective bargaining agreement, players can continue to play until the appeal is heard and settled. The team is limited in what it can say regarding the possible suspensions and Carroll eventually said he wouldn't comment further until there is some resolution. ''Because it's so important we do this properly I'm not going to comment on anything about it. That's the best way to do this because these are league issues,'' Carroll said. ''At this point I'm going to keep it there and hope you can respect that this is the way we have to do that, and we can talk about it later on.'' In a phone interview with Seattle reporters after Carroll's press conference finished, Browner's agent Peter Schaffer said that his client only received notice of the failed test last week. ''Brandon Browner has no knowledge of how any illegal substance could have gotten into his system,'' Schaffer said. ''He is an outstanding person and a very good football player. He takes tremendous care of his body and he is very careful with what he puts into it. We're exploring all avenues to try and figure out how any substance out of the ordinary would be in his system.'' Schaffer added that the league typically schedules appeals within 20 days of the notice being received, depending on circumstances. He did not provide specifics on when Browner's appeal would take place. ''It's too early to tell what we're going to need, what witnesses and evidence and experts are going to be required, so there is no way to even guess at this point,'' he said. Sherman, an active participant in social media, posted on his Twitter account late Sunday night after arriving back in the Northwest, ''This ... issue will be resolved soon and the truth will come out. Not worried.'' If Browner and Sherman are found guilty of violating the league's policy, they would be the fourth and fifth Seahawks players in the last calendar year to be violators. Guard John Moffitt was suspended four games late last season. Reserve offensive lineman Allen Barbre was suspended for the first four games of this season before being released by the team once his suspension was up. And just last week, rookie safety Winston Guy was handed a four-game suspension after taking an over-the-counter product that had a banned substance in the ingredients, according to his agent. None of those suspensions could have the impact of Browner and Sherman, and it could not come at a much worse time with the Seahawks trying to hold on to the final wild-card spot in the NFC. The Seahawks (6-5) are tied with Tampa Bay and Minnesota, but hold the tiebreakers. Seattle's defense is predicated on the ability of its cornerbacks to play man coverage and lock up receivers. Sherman and Browner allow strong safety Kam Chancellor to play closer to the line of scrimmage in run support and give free safety Earl Thomas the chance to roam the secondary with his speed. If the duo does miss time, Seattle would turn to veteran Marcus Trufant and a trio of youngsters -- Walter Thurmond, Byron Maxwell and Jeremy Lane -- to fill the spots. Trufant was a starter until getting injured during the 2011 season, while Seattle has hoped Thurmond would develop into a key contributor, but he has been slowed by injuries. Thurmond has yet to be active for a game this season after starting the year on the physically unable to perform list. ''They've been special in their effectiveness and a lot of it has to do with the way we ask them to play. It suits them very well. It fits. They've been a big factor for us. We love the way they're playing. ... How it develops in the future with our guys when they get a chance they can play at the level and style that we want,'' Carroll said. ''We still try and tailor our expectation of our play to the athlete and what he can do and what they're capable of doing, and we've always looked at it that way. Some guys play a little different than others and we have a pretty good group of guys to battle and give us versatility, I think.''
Original Story:
http://msn.foxsports.com/nfl/story/Pe...
THE BACKYARD
BEST OF MAXIM
RELATED ARTICLES
DUAL OFFENDERS
Seahawks starting cornerbacks Richard Sherman and Brandon Browner have both been suspended by the NFL for four games. See what they did to earn the ban.
DRINK THE KOOL-AID
Seahawks cornerback Richard Sherman, who faces a four game suspension for violating the NFL's policy on PEDs, claims that he unknowingly drank the Adderall that led to the punishment.
Adderall seems to be the most popular banned substance across the NFL at the moment, as it seems we have a new player suspended each week for taking the drug. One of the latest is Seattle Seahawks cornerback Richard Sherman. His alleged excuse is hilarious. According to a "person informed of Sherman's explanation" who reportedly spoke to USA Today on condition of anonymity...
The Richard Sherman suspension is taking turns left and right. First the Seahawks' star cornerback denied taking Adderall, despite a report saying that his failed test stemmed from taking the prescription drug. Then, a report came out from Mike Garafolo of the USA Today that said Sherman accidentally drank from a bottle that his teammate had poured crushed Adderall into. Now...
Seattle may find its playoff hopes impossible as both starting corner-backs recently tested positive for performance-enhancing drugs. Richard Sherman and Brandon Browner both face four-game suspensions for the violation. Sherman and Browner both intend to appeal the test. The exact substance for which the players tested positive for has not been identified. The loss of Sherman and...
The Seattle Seahawks may lose their two starting cornerbacks for four games.  Both Richard Sherman and Brandon Browner were busted for violating the NFL's performance-enhancing drugs policy.  They are facing four-game suspension, but both will be appealing the suspension. According to Adam Schefter of ESPN, both cornersbacks tested positive in random tests.  But deny using...
It's a cold world when your friends start to turn their back on you, and the same can be said when teammates throw you under the bus. Seattle Seahawks cornerback Richard Sherman violated the leagues substance abuse policy and was nabbed for taking adderall. Shermans' excuse was he shared a [...]
Richard Sherman is at the center of what could be a massive distraction for the Seattle Seahawks as they try to hold the last playoff spot in the NFC. Yet the talkative cornerback said Wednesday that this week is the same as always, despite news leaking out of failed drug tests by Sherman and fellow starting cornerback Brandon Browner. Sherman spoke for the first time since news...
As if the loss to Miami wasn't bad enough, word has now gotten out that the NFL is planning on handing out suspensions to both of Seattle's starting cornerbacks, Brandon Browner and Richard Sherman, for violating league rules prohibiting the use of performance-enhancing drugs.  Sherman responded to the news by vehemently denying using the drug in question, Adderall, and...
With all of the hoopla surrounding Adderall and its related consequences, Bears receiver Brandon Marshall brought to light another performance-enhancing drug: the little blue pill. Speaking at his weekly press conference, Marshall claims he's heard of players using Viagra to gain a competitive advantage on the field. "I don't know too much about Adderall," Marshall...
Coming into Sunday's game against Miami, the Seahawks were the third best pass defense in the league. They had allowed just 196 passing yards per game in 2012, much to the credit of the physical secondary in corners Richard Sherman and Brandon Browner, as well as safeties Earl Thomas and Kam Chancellor. That'll all change in Week 13 against the Bears. Seahawks CB's Richard...
Football has a dark side in more ways than one.College players make millions upon millions of dollars for the BCS, NCAA, and their corporate sponsors.  Bowl games used to mean something - the stamp of a successful season. Now every team that has won six games gets into a lavishly sponsored, yet borderline meaningless bowl game. How well your fan base travels, rather than team quality...
Seahawks News

Delivered to your inbox

You'll also receive Yardbarker's daily Top 10, featuring the best sports stories from around the web. Customize your newsletter to get articles on your favorite sports and teams. And the best part? It's free!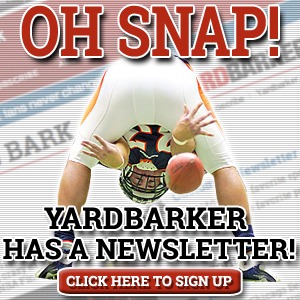 Latest Rumors
The Backyard

Today's Best Stuff

For Bloggers

Join the Yardbarker Network for more promotion, traffic, and money.

Company Info

Help

What is Yardbarker?

Yardbarker is the largest network of sports blogs and pro athlete blogs on the web. This site is the hub of the Yardbarker Network, where our editors and algorithms curate the best sports content from our network and beyond.