Found June 25, 2012 on NorthWest Sports Beat:
My word is stronger than OAK!
Remember this?  "I got a shelf life of ten years, tops. My next contract's gotta bring me the dollars that'll last me and mine a long time. $hit, I'm out of this sport in 5 years.

What's my family gonna live on? Huh? "  - Rod Tidwell
Sound familiar?
The Seahawks held their mandatory three-day minicamp last week, and defensive end Chris Clemons was not in attendance.
(Perhaps he was playing his C. C. drinking game)
Not only that, but he has barely been a presence this offseason. Pete Carroll is very invested in Clemons, and has said many times that bringing him back is a "top priority".
Clemons is due $4 million in 2012, although it has been said that he is seeking a contract extension.
According to a report by the Sports Xchange, Clemons received a new contract through 2014 that would add two more years with a base salary of $4.5 million in 2013 and $5.5 million in 2014.
Help me…help you. Help me, help you!!
The Seahawks have not received a formal rejection on the offer and they continue to negotiate with Clemons.
Clemons has started every game in the last two seasons, accounting 11 sacks each year.
He has been a major presence on Seattle's defense as he has constantly been the only pass rusher able to constantly get to opposing quarterbacks.
This contract dispute could be a dangerous one because the Seahawks need all the help they can get on the outside of the defensive line.
Don't worry, he's not gonna do what you all think, you know, FLIP OUT!
Chris Clemons will be 31 next season. Although this could be a dangerous age for a defensive end, I suspect there is still a lot of talent to be seen.
Clemons has played well the past few seasons and I think it is appropriate for him to consider a new contract with the team.
The market for defensive ends around the league is a steep one.
Although the Seahawks gained a huge upgrade with the pass rush by obtaining Bruce Irvin (The same Irvin who plays for the Redskins!) in the draft a few months ago, they would still need another.
Losing Clemons due to contract dispute does not seem wise for Pete Carroll and the Seattle defense.
There has been an ongoing trend this off-season for players to holdout from camps and offseason activities due to contract disputes.
That is normally seen every year, but the rate of absent players has gone up. Clemons knows he is talented, but he is no superhero.
He needs to finish out his contract and continue to play well.
Tidwell AKA Chris Clemons. When players hit their 30′s, contracts are short-term
If he can have another great season (which is very likely), then he will have even more contract leverage.
The fact that he got Pete Carroll to offer a higher salary is absurd, for he is getting older and still has one year left on his other contract!
And now you want Arizona dollars?
"When players hit their thirties, it is common for the contracts to be more short-term!" (So says Glen Frey)
It makes sense that these players are more susceptible to injuries and fatigue, so why invest in an unstable player.
Like I mentioned before, Clemons should have a lot of gas left in his tank – at least for the next three or four seasons.
He should, however, finish out this next season before making another financial move.
I expect this dispute to resolve with Clemons agreeing to the initial salary raise, or he will finish out his last year.
Expect Clemons to be playing come Week 1 of the regular season.
Whether or not he's making big sweet dollars, or "the QUAN" we won't know for a while yet.
Agree? Disagree? Does this contract stalemate remind you of Jerry Maguire at all? Comment below.
CLICK HERE CHECK OUT OUR SEAHAWKS BLOG AT THE NWSB!
© Matt Church for North West Sports Beat, 2012. | Permalink | No comment |
Follow NWSB on Twitter or join US on Facebook for real-time updates OR... | Share This on Twitter | Share NWSportsBeat.com on Facebook
Post tags:
2012
,
Bruce Irvin
,
Chris Clemons
,
Chris Clemons Drinking Game
,
Contract
,
Glenn Frey
,
Jerry Maguire
,
John Schneider
,
matt church
,
Pete Carroll
,
Rod Tidwell
,
Seahawks Blog
,
Seahawks contracts
,
Seattle Seahawks Blog
,
Seattle Seahawks news
,
Seattle Seahawks Roster
,
Sports Xchange
Original Story:
http://www.nwsportsbeat.com/seahawks/...
THE BACKYARD
BEST OF MAXIM
RELATED ARTICLES
If the Seattle Seahawks will be successful this season, a huge part of it will come from Marshawn Lynch. Yes, the NFL is a QB driven league. If you have an elite QB you are going to win games. But don't forget how big the run game still is. The ability to pound the ball through the hole, and steam [...]
Can the stops keep coming? The Seattle Seahawks played very impressively on defense last season. A great season came with great marks – Seattle finished seventh in total points allowed and ninth in total yards allowed. If the defense can make big plays this upcoming season, they have the ability to carry the 2012 version of our Seahawks into the playoffs. D-Line The defensive...
Bruce Irvin was drafted by the Seattle SEAHAWKS with the 15th pick in the 2012 NFL Draft. Irvin is in a Seattle SEAHAWKS locker room when he starts to be asked questions about being drafted by the SEAHAWKS. Then this happened.   If I give Bruce Irvin the benefit of the doubt, what happened was he was getting Seattle, Washington and Washington Redskins and John Schneider...
Incumbent starter Tarvaris Jackson is No. 1 on the Seahawks' depth chart over high-dollar free agent signee Matt Flynn and third-round draft choice Russell Wilson. For now, coach Pete Carroll is standing by what he said in minicamp: Jackson will take snaps with the first unit while Flynn and Wilson prove they're ready to run offense. Carroll said Jackson earned those...
When the Seahawks drafted Bruce Irvin with the 15th overall pick in the 2012 NFL draft, many took it as a surprise. Irvin was a guy that many didn't have on their boards in the first round, but rumblings of the Jets drafting him made the Seahawks pounce early on the defender from West Virginia University. In this video, Irivin appears to forget what team he was drafted by. Being...
Getty Images During an interview inside the Seattle Seahawks' locker room, rookie linebacker Bruce Irvin momentarily forgot who drafted while telling his draft day story. Irvin was asked if he was surprised on draft day. "I was surprised man,  even when Washington traded I was outside talking to my family," said Irvin.  "And I seen a Washington number.  'I'm like...
Seahawks News | Links Hey there folks and Happy Monday to you! Surfing around for your Seahawks coverage for today? Looking for Seattle Seahawks, News, Links, Gossip, links, Analysis and observations? We all love the Seahawks right? But we all don't have the time to go thru the web to try to find the latest news and the articles from the best writers on the planet. The men that...
NWSB Insider and Seattle Seahawks blogger Matt Church weighs in with a Seahawks post about the five easiest 2012 NFL matchups that await the team this season. The Seahawks match up with the Rams in week four should be an easy win, if the secondary can shut down Sam Bradford that is. Another easy game with division implications is the week twelve match up with the Arizona Cardinals...
Whoooooooops? Slip of the tongue EH Bruce? Classic moment in the Seattle Seahawks lockerroom this week. Michael Robinson the Seahawks pro bowl full back and his TV website the Real Rob Report found out Bruce Irvin doesn't exactly play for the Seahawks after all, but the REDSKINS? Whoa Whoa... Cmon Bruce. Say it isn't so. Robinson asked Irvin how surprised he was to...
The running assumption was that Tarvaris Jackson would be knocked back a slot on the depth chart once Matt Flynn showed up, but not so fast, says Pete Carroll. Plus, Mike Lynn's multi-million dollar deal lives on, Matt Forte could hold out and Anthony Hargrove was suspended for lying.
Getty Images According to Rotoworld.com, ESPN's John Clayton indicated on SportsCenter that Tarvaris Jackson will be the Seattle Seahawks' starter going into training camp, since Matt Flynn hasn't been that impressive so far. "(Flynn) hasn't wowed anybody in all the offseason program. And because of that, when they start training camp, Tarvaris Jackson will be taking the...
  Where does  Marshawn Lynch rank in our FantasyPPR.com 2012 fantasy football running back  rankings? While we at FantasyPPR.com specialize in PPR fantasy football we also realize that many fantasy owners still elect to play in standard scoring leagues only. Therefore, in order to meet the needs of standard league fantasy owners as well, we have produced our 2012 fantasy...
Seahawks News

Delivered to your inbox

You'll also receive Yardbarker's daily Top 10, featuring the best sports stories from around the web. Customize your newsletter to get articles on your favorite sports and teams. And the best part? It's free!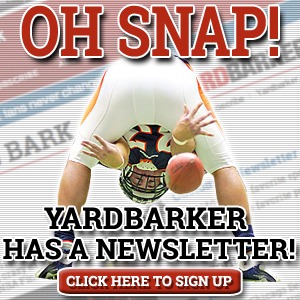 Latest Rumors
Best of Yardbarker

Today's Best Stuff

For Bloggers

Join the Yardbarker Network for more promotion, traffic, and money.

Company Info

Help

What is Yardbarker?

Yardbarker is the largest network of sports blogs and pro athlete blogs on the web. This site is the hub of the Yardbarker Network, where our editors and algorithms curate the best sports content from our network and beyond.