Found October 04, 2012 on Know Your Dallas Cowboys: The Blog:
The Cowboys have at least one star. You know, someone who tackles opponents and generally does his job all the time. That kind of star.
The stat sheet isn't looking good for this Cowboys team.
Tony Romo is the 23rd rated passer in the NFL, just behind Sam Bradford. He leads the league now with eight interceptions.
DeMarco Murray ranks 18th in rushing, but he has a per-run average of just 3.9. He also has only one run of 20 yards or more.
Jason Witten and Dez Bryant both have 21 receptions to lead the team, but they both have more drops than we care to count.
Felix Jones ranks 27th in average kickoff returns. I've barely ever heard of half the guys ahead of him.
So the positive stat? Sean Lee has 46 total tackles to lead the league. He is now one ahead of San Francisco's NaVorro Bowman. If there is a single Dallas player who should even watch the Pro Bowl this year, it's Lee.
DeMarcus Ware is tied for third in the league with 5.0 sacks. That's good, too.
Then there are more bad stats, as in the 20 players with more interceptions that the entire Dallas defense combined. As we know, it only takes two picks to surpass the entire Dallas defense.
As a team, Dallas ranks 16th in total offense, averaging 364.0 yards per game. The defense still ranks 4th, allowing 277.5 yards per game.
The Cowboys have scored just 65 points this year and allowed 88. At this rate, the Cowboys would only score 260 points in the entire season. That would be the lowest output since 2002, when the Cowboys went 5-11 under Dave Campo.
Related articles
Original Story:
http://feedproxy.google.com/~r/ThinkY...
THE BACKYARD
BEST OF MAXIM
RELATED ARTICLES
I don't know about you, but the Bears game is still on my mind, and I'm looking for answers. What is this team going to do to be competitive and win some games? I surely thought we would see some changes on the offensive line since that's the weakest unit on the team. Changes need to be made, and we're mainly talking about RG Mackenzy Bernadeau - he stinks. Garrett apparently...
Thanks to @_Happy_Gilmore we got a picture of what Dallas Cowboys quarterback Tony Romo see's on the field compared to what a typical NFL quarterback see's. Check out the picture below.  
Roger Staubach and Troy Aikman regularly defend Tony Romo, making it seem like there's a brotherhood among those that have quarterbacked the Dallas Cowboys. But the wide receiver position doesn't share that same brotherhood when it comes to Drew Pearson and Dez Bryant. Pearson had been critical of Bryant throughout his first two years with the Cowboys, and Year Three looks...
Dallas Cowboys quarterback Tony Romo admits that he's going to have to "reassess" some things after Monday night's blow out loss to the Bears. "It's going to sit there in your stomach and just eat at you," Romo said of having to wait 13 days before the team plays again. "In different situations out there where you're trying to do too much and help out different...
Fantasy Football is a numbers game, and, Dez Bryant gave his owners impressive numbers last night. In great likelihood, he delivered a few owners just the line they needed to pull out a late game victory. His 8-105-0 line with a 2 point conversion tacked on was worth 12 points, an output no owner would object to. But, it might be the right time to move him. [...]
The Dallas Cowboys have a bye this week which is good news for injured players.  Three of the team's injured players, though, were able to return to the practice field yesterday.   Pro-Bowler Jay Ratliff, defensive end Kenyon Coleman, and center Phil Costa all returned for the only practice the Cowboys would have this week yesterday. According to Nick Eatman of CBS...
Last week: 10 (+0) Record: 2-2 Believe it or not, the Cowboys actually rank tied for 2nd in the league in yards per play differential with Baltimore and Philadelphia, behind only San Francisco. Turnovers are a huge issue for them as they rank dead last in the NFL at -7 and are coming off a game in which they were -4 in turnovers. However, turnovers are incredibly inconsistent on...
Going into training camp, into the preseason, and into the regular season the Dallas Cowboys lacked a big time play maker on the outside. The football season is four weeks old, and low and behold the Dallas Cowboys are struggling offensively. One of the sore spots is on the outside where the Cowboys, for some reason, didn't at least try and sign any receivers available during...
As our favorite angry Cowboys fan points out, the Cowboys are expecting inconsistency to regulate inconsistency. Jason Garrett seems to put together a greatly successful game plan one weekend, but then he follows it with a laughable one just a week later. Dez Bryant is accused of inconsistency, but his quarterback, Tony Romo, follows moments of brilliance with moments of incredible...
As we reported here at SoB last week, a Victoria's Secret Pink store was scheduled to open up shop with the palatial confine of Dallas Cowboys Stadium on Monday as a run-up to the match-up between the hometown Cowboys and visiting Chicago Bears. It was also mentioned in that same story that stunning Victoria's Secret [...]
Monday night in "Big D" proved to be rather unpleasant for the host Dallas Cowboys as they welcomed in the NFC North's Chicago Bears. Billed as the battle of the two "almost elite" quarterbacks, the Monday night matchup featured Chicago's controversial Jay Cutler and his revamped receiving corps against the Cowboys' charismatic Tony Romo and his promising...
NFL News

Delivered to your inbox

You'll also receive Yardbarker's daily Top 10, featuring the best sports stories from around the web. Customize your newsletter to get articles on your favorite sports and teams. And the best part? It's free!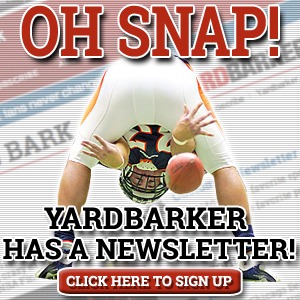 Latest Rumors
Best of Yardbarker

Today's Best Stuff

For Bloggers

Join the Yardbarker Network for more promotion, traffic, and money.

Company Info

Help

What is Yardbarker?

Yardbarker is the largest network of sports blogs and pro athlete blogs on the web. This site is the hub of the Yardbarker Network, where our editors and algorithms curate the best sports content from our network and beyond.