Found May 16, 2012 on Lost My Way:
I can't tell if the cop on the right is on his phone or crying. Junior Seau hasn't been dead very long
after committing suicide by shooting himself in the chest
, but that hasn't stopped people from trying to rob him. Five days after his death a thief apparently went through the garage doggy door to gain access to the house and stole a $500 bike. God didn't strike down the thief so scientists believe that this is proof that there is, in fact, no God. This happened only five days after Seau died, and the bike didn't even belong to him, it belonged to a family friend.
I guess this is what ADT is talking about when they say you need to keep your house safe when you're not there. I'm going to solve this problem for everybody in the best way possible so nobody has to worry about anything of mine after I'm gone, I'm just going to buried in a tomb with all my possessions like pharaohs used to do. I'll fill it with booby traps that will kill robbers and any friends or family who have fallen on bad luck because screw everybody else. If there's one thing I've learned so far in this life it's try to screw everybody over once you're dead, because there isn't anything they can do about it. They'll be furious and you'll be looking up at them laughing.
TL;DR
Five days after Junior Seau died somebody broke into his home and stole a $500 bike.
Junior Seau's home burglarized
[USA Today]
Posted by Atkins under News
Original Story:
http://www.lmwlostmyway.com/1/post/20...
THE BACKYARD
BEST OF MAXIM
RELATED ARTICLES
The home belonging to former NFL linebacker Junior Seau, who was found dead May 2nd due to an apparent suicide, was burglarized May 7th, just days after his death. Here are details via NCTimes.com: The burglary happened at about 2 p.m. May 7 at Seau's home at 604 S. The Strand, Oceanside police Lt. Leonard Mata [...]
A San Diego restaurant opened by Junior Seau in 1996 has closed its doors two weeks after the NFL star's suicide. Trustees of Seau's estate say they made the decision to close Seau's The Restaurant in Mission Valley on Wednesday. Trustee Bette Hoffman says in a statement that the decision to close the restaurant was made to honor Seau's legacy. She also says trustees...
Fairly awful and dispicable news to report this morning dealing with recently deceased NFL star Junior Seau. Seau's house in Oceanside, Calif., was reportedly burglarized last week, five days after Seau committed suicide inside the house. According to a North County Times report, someone entered the home's garage by force in mid-afternoon on May 7, police said. The person went...
Former NFL star Junior Seau committed suicide -- earlier this month --  sent shockwaves across the league and the NFL fans, but it's being reported that someone -- a dumb lowlife -- broke into Seau's garage and stole from his grieving family.The North County Times is reporting that the robber climbed through a doggy door and took a beach-cruiser bike worth $500, on the...
Trustees for Junior Seau's estate announced Wednesday that the former Chargers linebacker's restaurant in San Diego has been shuttered, the San Diego Union-Tribune reported.
Hot News for LB Junior Seau
A bicycle stolen from Junior Seau's Oceanside home days after the former NFL star's suicide has been recovered, police said.
Shawn Jefferson, former teammate of Junior Seau and now an assistant coach with the Lions, laid out his extensive and passionate plan to fight depression among recently retired NFL players. Age, pass rush could be areas of concerns for the Bears. And the Packers were eager to get their rookies up to speed.
By Christina Rivers Is tragedy a larger issue for past NFL players than we ever dreamed was possible? The death of Junior Seau has uncovered a dark side of the retirement world post-professional football that would have Obi Wan shuddering. The sports world is abuzz with questions about how the league will handle what has surfaced and how much they've known all along and never...
Jason Whitlock of Fox Sports thinks the NFL could fall the same way boxing did in America, even comparing Junior Seau to Muhammad Ali. To prevent that from happening, Whitlock offers some suggestions for commissioner Roger Goodell. Kickoffs should be eliminated. Reduce the regular season to 14 games and the preseason to two. Reduce the number of full-contact practices to one...
Hosts Steve Bennett and Don Russ interview the biggest names in sports media and pop culture each week on Football Nation's The Sports-Casters podcast. Their guest this week is Chris Burke, author of the Audibles blog on SI.COM. Burke joins the guys to chat about the death of Junior Seau, undrafted free-agents, and keeping an audience during the offseason. Burke:    Was...
NFL News

Delivered to your inbox

You'll also receive Yardbarker's daily Top 10, featuring the best sports stories from around the web. Customize your newsletter to get articles on your favorite sports and teams. And the best part? It's free!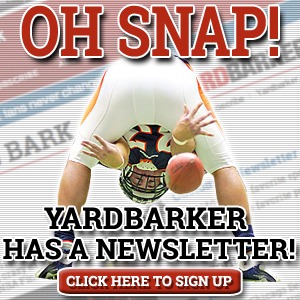 Latest Rumors
The Backyard

Today's Best Stuff

For Bloggers

Join the Yardbarker Network for more promotion, traffic, and money.

Company Info

Help

What is Yardbarker?

Yardbarker is the largest network of sports blogs and pro athlete blogs on the web. This site is the hub of the Yardbarker Network, where our editors and algorithms curate the best sports content from our network and beyond.