Found December 04, 2012 on Fox Sports North:
PLAYERS:
Leslie Frazier
,
Christian Ponder
,
Adrian Peterson
,
Antoine Winfield
,
Jared Allen
,
Kevin Williams
,
Joe Webb
,
Brandon Fusco
,
Geoff Schwartz
,
Mistral Raymond
,
Jamarca Sanford
,
Letroy Guion
,
Fred Evans
,
Christian Ballard
,
John Carlson
TEAMS:
Minnesota Vikings
EDEN PRAIRIE, Minn. Leslie Frazier stood at a podium Monday, taking repeated questions from the media regarding Minnesota Vikings quarterback Christian Ponder and Frazier's resolute stance that Ponder is, and will be, Minnesota's starter. Before standing up and explaining his and the team's position on Ponder, Frazier had already thought long and hard about a vastly more important setting. Frazier had wondered how his decisions regarding Ponder's place in the lineup would play in a locker room still believing it has a chance at making the playoffs this season. Considering the entire locker room, Frazier's decisions on Ponder are weighty. Frazier also has to toe the line on performance versus potential. In his two years as coach, Frazier has often discussed accountability. But how does that accountability work when Ponder seems unable to pull himself out of a downward spiral that has seen him tumble down the quarterback rankings for the past two months? "I've thought about that a lot because when you're struggling at a position, the guys know how we talked about everybody doing their jobs and why it's important for us to have our success," Frazier said Monday, a day after Ponder was 12 of 25 passing for 119 yards, a touchdown and two costly interceptions in a 23-14 loss. "You don't want to send mixed messages at any position. It's important that all the positions do their jobs and function well. The quarterback position is always under that bright light. We believe that Christian is going to continue to develop and grow and be the quarterback that we all expect him to be. "That being said, there's a lot riding on this next ballgame for our football team and I'm sure there are a lot of guys looking and wondering if we can get it done under the current situation. I believe we can. I believe we'll play better, not only at the quarterback position but at other positions as well. We'll need to as a team." Yet, Ponder and the passing games' failure has submarined a team that has otherwise played solid football. Running back Adrian Peterson has had an epic season, leading the league in rushing with 1,446 yards. The defense ranks 13th in the league in fewest yards allowed (344.8 per game) and 18th in fewest points allowed (22.7 per game). But Minnesota now owns the league's worst passing offense. Frazier's decisions are wider-reaching than the already crucial decision of who is the team's quarterback. Frazier has to think about a roster, flush with young players but also having several key veterans whose careers might be nearing the end. Players like Antoine Winfield, Jared Allen and Kevin Williams don't want to see the twilight of their careers spent playing out the string on bad or mediocre teams. Sunday, with a prime opportunity to win a pivotal game on the road and put his team in prime playoff positioning, Frazier stuck with Ponder. He said he never considered replacing Ponder and seeing if backup quarterback Joe Webb could provide a spark. With Ponder unable to do much, and adding to the issues with killer interceptions, Minnesota lost -- and a chance at making the playoffs became infinitely more difficult. Frazier reiterated his support of Ponder during Monday's press conference, but came as close as he has all season to insisting that Ponder's play improve. There's also the perception that a team can't pull its hand-picked franchise quarterback, one that many believe the team reached to select with the 12th overall pick in last year's draft. "I think there's something there where in my mind you don't want to get into a situation where you're not sure who your No. 1 is," Frazier said. "We believe that Christian is our No. 1. We've gone through offseason, training camp, during the season, now. That being said, if things get to a point where your No. 1 is really costing you some situations that could preclude winning, you do have to do what's best for the football team. That's always the case. That's always about what's best for the team. "Up to this point, I felt that what's best for the team is that Christian remain our No. 1 quarterback and I still feel that way. But every position you need those guys to continue to progress and continue to improve. He knows that as well as every position on our team." Frazier has instituted rotations at certain other positions. Brandon Fusco and Geoff Schwartz have split time at right guard, Mistral Raymond and Jamarca Sanford at safety, and Letroy Guion, Fred Evans and Christian Ballard at defensive tackle. John Carlson, signed to a five-year, 5 million contract this offseason, has played sparingly despite being paid big money. Carlson played just eight snaps in Sunday's loss. But Ponder has taken all but three snaps this season, including all 55 on Sunday. Webb's only playing time consisted of three plays at the end of the Vikings 30-7 win against Tennessee earlier this season, a kneel-down and two handoffs. Frazier said the NFL is a results-based business. Meanwhile, Ponder has slipped to 25th in the NFL in quarterback rating (79.4). He's completed 62.5 percent of his passes for 2,305 yards (24th), 14 touchdowns (tied for 21st) and 11 interceptions (tied for 19th). Ponder's average yards per attempt of 6.0 is last in the league. Meanwhile, as Ponder has regressed, Minnesota has gone from 5-2 to 6-6. Frazier maintains his confidence in Ponder and said Ponder hasn't lost his confidence, but Ponder's shaky body language and play says otherwise. Frazier doesn't believe giving Ponder the chance to sit and watch and clear his mind would help either. "I don't know if, at this stage, that would be the best thing," Frazier said. "He needs to play, and not only for experience but for our continuing to evaluate where he is as a quarterback in his second season. I don't know if it's the wise thing for him to do, to have him sit and watch, say Joe, and that's our backup quarterback. "What he would learn from Joe, I don't know what that would be right now. He needs to be out there playing and playing well for our football team and he will. I have complete confidence that he will have good week of practice and he will go out there and do a good job on Sunday. He has to in order for us to have success." If he doesn't, Frazier might be forced to sway from his support and make a move for the sake of the other 52 players on the active roster. Follow Brian Hall on Twitter.
Original Story:
http://www.foxsportsnorth.com/12/04/1...
THE BACKYARD
BEST OF MAXIM
RELATED ARTICLES
FOR BETTER OR NORSE
Minnesota Vikings quarterback Christian Ponder and ESPN reporter Samantha Steele are now engaged, a few months after they went public to reveal they were dating.
Christian Ponder has 22 starts for Minnesota in his NFL career. Many of his peers have enjoyed far more success in a similar amount of time, but Ponder said Wednesday he's not comparing himself to other quarterbacks around his age. He said he hopes he doesn't need much longer to find his rhythm on the job. Ponder blamed himself for the Vikings' 23-14 loss at Green Bay...
Minnesota Vikings fans who blame ESPN sideline reporter Samantha Steele for Christian Ponder's dip in production this season are not going to be happy. According to Sports Illustrated's Richard Deitsch, Steele confirmed on Tuesday that she and Ponder are engaged. Unless the two were dating for a long time and did a great job of keeping it a secret prior to Ponder confirming it...
Wow, that was quick.  It was less than a month ago when the world found out via twitter that Samantha Steele and Minnesota Vikings QB Christian Ponder were dating.  Now the two are engaged.  Richard Deitsch of Sports Illustrated confirmed the report on his twitter account earlier today.   Christian moves fast, hopefully for him he only moves fast in one way.  The Vikings have...
Spoke to ESPN's @samantha_steele today. She confirms she is engaged to @vikingsfootball quarterback Christian Ponder. — Richard Deitsch (@richarddeitsch) December 4, 2012 Sports Illustrated's Richard Deitsch confirmed on Tuesday that ESPN reporter Samantha Steele and Minnesota Vikings quarterback Christian Ponder are officially engaged to be married. After some speculation...
Leslie Frazier said he believes in Christian Ponder as the Vikings' best option at quarterback, for now and for developing long-term. Meanwhile, he said his approach at quarterback is different than other positions.
The Minnesota Vikings' playoff chances are slipping away with each missed opportunity, such as Sunday's 24-13 loss at the Green Bay Packers. Green Bay and the Chicago Bears (8-4) are tied atop of the NFC North, with the Packers owning a tiebreaker advantage against Chicago. Minnesota (6-6) is a game out of the playoffs after the Seattle Seahawks (7-5) beat the Bears Sunday...
By Andrew Gruman FOXSportsWisconsin.com GREEN BAY, Wis. When Vikings coach Leslie Frazier approached a dejected Christian Ponder at his locker just moments after the young quarterback struggled yet again, it wasn't to make a change. Instead, Frazier's intentions were to let Ponder know that he stood by him and won't be changing quarterbacks despite another dismal showing...
Minnesota Vikings quarterback Christian Ponder is scoring both on and off the field. The second-year signal-caller from FSU is engaged to ESPN reporter Samantha Steele. Sports Illustrated's Richard Deitsch confirmed it on Twitter "Spoke to ESPN's @Samantha_Steele today. She confirms she is engaged to @VikingsFootball quarterback Christian Ponder," Deitch tweeted. Steele...
Despite two immensely costly interceptions from Christian Ponder, the Vikings were still in the game … until an epic Packers drive drained the clock and drained the life out of the Vikings.
This is Mark Swanson. I'll bet his friends called him "Swanny" in high school. Or Marky. Or ... Well, he's allegedly 39 years old, so maybe he's young enough to have gone by Marky Mark? I don't know. Either way, he's a Minnesota Vikings fan who recently attended a Vikings/Packers game at Lambeau field. In retrospect, he probably wishes he wouldn'...
Vikings News

Delivered to your inbox

You'll also receive Yardbarker's daily Top 10, featuring the best sports stories from around the web. Customize your newsletter to get articles on your favorite sports and teams. And the best part? It's free!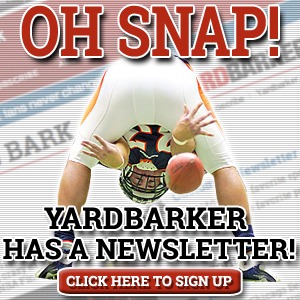 Latest Rumors
The Backyard

Today's Best Stuff

For Bloggers

Join the Yardbarker Network for more promotion, traffic, and money.

Company Info

Help

What is Yardbarker?

Yardbarker is the largest network of sports blogs and pro athlete blogs on the web. This site is the hub of the Yardbarker Network, where our editors and algorithms curate the best sports content from our network and beyond.