Found November 17, 2012 on Fox Sports North:
EDEN PRAIRIE, Minn. Chris Kluwe is out supporting another cause, but this one hits a bit closer to home for the outspoken Minnesota Vikings punter. Kluwe has written an open letter to the Pro Football Hall of Fame Selection Committee, which was posted on Deadspin.com, and admonished voters for continually ignoring former Raiders punter Ray Guy, considered by many the best-ever at the position. Spurred by a Yahoo! Sports report this week about Guy, who is resigned to his exclusion from the Hall of Fame despite being a seven-time finalist in the voting, Kluwe took to his now familiar format with the letter on Deadspin. "How dare you tell a man who devoted his life to perfecting his craft that he's not worthy of admission among the game's greatest," Kluwe wrote. "How dare you have the heartless effrontery to pronounce that football is a team sport, but that some positions are more equal than others? How dare you be so selfish, short-sighted, and just plain ass-ish to declare that Ray Guy won't be recognized for his skills because you're too damned lazy to learn the subtleties of kicking? "That's right, voting committee, you're lazy. You're indolent, slothful, petulant, ignorant, and flat-out stupid. You perpetuate the same small-minded Oh, he's just a kicker stereotype every single time you refuse to acknowledge that Ray Guy belongs in the Hall of Fame, because YOU'RE UNWILLING TO LEARN." Earlier this year, Kluwe wrote a letter published on Deadspin.com admonishing a Maryland politician for his comments about Baltimore Ravens linebacker Brendon Ayanbadejo, who had spoken publicly in support of gay marriage rights. Now, Kluwe supports Guy, who was a seven-time Pro Bowl selection and three-time All-Pro and was named the punter on the NFLs 75th anniversary team in 1994. Known for his booming punts with incredible hang time, Guy is the only punter ever drafted in the first round and was the first pure punter nominated for the Hall of Fame. But Guy, who was forced to sell his three Super Bowl rings in August as part of a bankruptcy filing, has been continually passed over in the selection process. Kluwe chastised the selection committee on Deadspin.com, saying "You have no desire to understand the fundamentals and complexities of trying to make a football travel over 60 yards using just your foot." Kluwe later added: "No, instead you continue down the path of ineptitude and ignorance. You've elected coaches to the Hall of Fame, administrators to the Hall of Fame, owners to the Hall of Fame, players at every single position other than punter to the Hall of Fame, and every year, every single damning year that you continue this trend of stupidity, you cheapen the integrity of the game. You tell children that football is the ultimate team game, unless you happen to play a certain position. You tell players that it doesn't matter if you're the very best at your job, because you play a certain position. You tell fans that it's all about the 53 men on the roster, except for that one guy who does the job you can't be bothered to learn about." Guy has now been out of the game for more than 25 years, which means hes outside the timeframe for regular voting. His fate will now rest in the hands of the Senior Selection Committee. Only one kicker, Jan Stenerud, is in the Hall of Fame. "I used to anticipate (the call) but not anymore," Guy told Yahoo! Sports. "It crosses my mind, and it's just a fluke. I don't think about it anymore. I just go on. I guess that's the way for the older vets, older than I am, who aren't in the Hall of Fame. I know it bothers them. I mean they should be in the Hall of Fame. The problem they are running into is there are too many modern guys going into the Hall of Fame over these veterans. Reason being is because of their notoriety and they are seen a lot more than these older guys are now." Guy is in the College Football Hall of Fame, and the award given to the best punter in college football bears his name. Yet, the 44 members of the Pro Football Hall of Fame Selection Committee -- all media members havent sent him to Canton, Ohio. Kluwe added a parting shot, with his own ideas for the election process. "Ignorance is not bliss," Kluwe wrote on Deadspin.com. "It's ignorance, and you should be ashamed. Also, why don't you just change the HoF entrance by position group instead of just a static number? For example, you could do 0-2 specialists, 2-4 offensive players, 2-4 defensive players, and 0-1 administratorcoaches each year. That literally took me all of 10 seconds to think of." Follow Brian Hall on Twitter.
Original Story:
http://www.foxsportsnorth.com/11/17/1...
THE BACKYARD
BEST OF MAXIM
RELATED ARTICLES
The Vikings were supposed to be terrible this season with AP's return in question.  No one told AP he wasn't supposed to be any good this season. We've entered the second half of the season and talk of league MVP will start heating up. Here is a look at my MVP candidates by position: Quarterback: Payton Manning - Manning not only switched teams but came back...
EDEN PRAIRIE, Minn. Minnesota Vikings general manager Rick Spielman doesn't travel as much for in-season college visits as he has in the past, having turned over some of those responsibilities to assistant general manager George Paton. Spielman has made a few changes to his schedule in the 10-plus months since he was given the position of general manager. One of those was cutting...
During last week victory over the Detroit Lions, Minnesota Vikings running back Adrian Peterson scored a rushing touchdown and decided to celebrate with the fans at the Mall of America Field. Peterson went over to a young boy with his jersey on near the end zone barrier and attempted to high five him. Watch as Petserson missed the boy's hand and hits him in the face on...
Vikings RB Adrian Peterson was honored with the FedEx Ground Player of the Week, sending a $2,000 donation to the Minneapolis Junior Achievement cause.
Donovan McNabb was one of the better quarterbacks in the NFL during his prime with the Philadelphia Eagles. He was a six-time Pro Bowler who led the Eagles to a whopping five NFC championship games and one Super Bowl during his 11-year career in Philly. If McNabb focused more and tried a bit harder, Jeff Garcia says he could have been even better. Garcia, who served as a backup for...
The Vikings have two ultra-productive stars on the field with Adrian Peterson and Percy Harvin, but both showed determination and toughness to get where they are.
EDEN PRAIRIE, Minn. Several Detroit Lions were upset about what they felt were cheap shots in last week's game against the Vikings, and the NFL apparently agreed, fining Minnesota linebacker Jasper Brinkley and safety Mistral Raymond this week. Brinkley was fined 21,000 and Raymond 7,875 for hits that came three plays apart during Minnesota's 34-24 win. The Lions were also...
I Consider That a Success: Because look at our roster. Percy Harvin? Jerome Simpson? Phil Loadholt? Kevin Williams? I was sure that they'd either be getting busted for smuggling drugs, eating people, or taking "dietary supplements" that would end up in a child's back pack and get your ass sent to jail. I was SURE something would happen. Would Jamarca Sanford...
MINNEAPOLIS (AP) -- A top state official overseeing the new Minnesota Vikings stadium said Friday she expects personal seat licenses to be priced in line with fees charged at the Twins' Target Field and the University of Minnesota's TCF Bank Stadium -- if the team pursues the fees to help pay its share of the 975 million construction cost. The Minnesota Sports Facilities...
NFL News

Delivered to your inbox

You'll also receive Yardbarker's daily Top 10, featuring the best sports stories from around the web. Customize your newsletter to get articles on your favorite sports and teams. And the best part? It's free!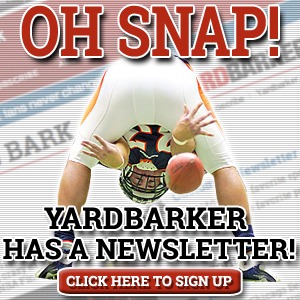 Latest Rumors
The Backyard

Today's Best Stuff

For Bloggers

Join the Yardbarker Network for more promotion, traffic, and money.

Company Info

Help

What is Yardbarker?

Yardbarker is the largest network of sports blogs and pro athlete blogs on the web. This site is the hub of the Yardbarker Network, where our editors and algorithms curate the best sports content from our network and beyond.