Found November 19, 2012 on Chicks in the Huddle:
Eagles at Redskins, Sunday, November 18, 2012 No stud this week, but Cooper did have a few good catches. That was so bad I seriously don't even know what to write. On the upside, we had a great weekend. Chef Spouse's best friend Steelers Transplant and his new fiancee were in town, and we went out for a really nice dinner Saturday night and then spent all day Sunday hanging out cooking, talking, laughing and drinking champagne to celebrate the engagement. The best part? Excellent distraction from the game. The best part of the game? Uh….when it ended? Both teams needed this game. Only one team seemed aware of the fact. And if you're wondering, it wasn't the Birds. Nick Foles looked OK when he wasn't throwing it or fumbling it away. Then again, how different is that than Mike Vick has played all year? And yes, the offensive line is a mess. I know. But wouldn't you think the coaches might make some adjustments to the playcalling or protection schemes as a result? Apparently n...
Original Story:
http://feedproxy.google.com/~r/Chicks...
THE BACKYARD
BEST OF MAXIM
RELATED ARTICLES
Rick Burkholder, the Philadelphia Eagles athletic trainer has made it clear that quarterback Michael Vick isn't even close to getting back on the field after suffering a concussion during last week's loss to the Cowboys. Vick is still only in "phase 1″ of a series of phases that he'll need to get through in order to get back on the field. Vick underwent impact testing on...
At 3-7, the Philadelphia Eagles' owner Jeffrey Lurie and the Philly fan base are afraid and disgusted with the result of the 2012 season. Afraid because of the constant possibility of making the wrong decision in firing longtime head coach Andy Reid and disgusted with how often Reid has let everyone down season after season. Whenever you make a change at Head Coach, it's a lot...
Eagles head coach Andy Reid said quarterback Michael Vick's concussion is "improving" during Monday's press conference, per Geoff Mosher.   Reid: mike Vick is improving. Took concussion impact test but still below baseline. Still at stage 1 — Geoff Mosher (@GeoffMosherCSN) November 19, 2012   Although it's unlikely, Reid hinted towards the possibility of Vick being...
This is the last of the bye weeks. It's all up to health and strategy from here on out to get you to a fantasy football championship. Here are some...
Image via USA Today Andy Reid's job as head coach of the Philadelphia Eagles is safe at least through Monday night, per a report in the Daily News. And if you're hoping that Reid will show mercy and throw himself on the sword of unemployment, you're out of luck. It ain't happening. Reid was asked whether his own leadership has been rendered ineffective in trying to motivate...
Marcus Vick hasn't made life easy for his brother, Eagles quarterback Michael Vick.  Just a couple of week's ago Marcus went on a Twitter rant asking that the Eagles trade his brother and yesterday it seems like he called Eagles head coach Andy Reid "fat boy." Yeaaaaa! Try everything n your handbook to save your *** FATBOY!!!! — Marcus Vick (@MVFive) November 19, 2012...
Philadelphia Eagles' coach Andy Reid said Monday that he won't resign because quitting on his team would be a "cop-out." "I'm standing in front of the team and telling them, 'These are the things we need to do,' one of which is continue to battle," Reid told reporters. "And so I think that would be a cop-out. That's not how I see...
Categories: BREAKING NEWS Eagles General News NewsTags: LeSean McCoyMichael VickPhiladelphia EaglesEagles head coach Andy Reid let us know today that his Pro Bowl running back LeSean McCoy is still battling headaches from the concussion he suffered on Sunday. Michael Vick is getting better and there's a chance that he could play on Monday night against the Carolina Panthers...
Like You Wanted Another Reid Pic > Given the severity of Michael Vick's concussion, I really am hopeful that he just retires, rather than go to some other hopeless franchise> Coach For Way Too Much Of The Rest Of Your Life Andy Reid came out with, shockingly, a pass that wasn't well-blocked for rookie QB Nick Foles> If your reaction to TE Brent Celek's drop...
Eagles News

Delivered to your inbox

You'll also receive Yardbarker's daily Top 10, featuring the best sports stories from around the web. Customize your newsletter to get articles on your favorite sports and teams. And the best part? It's free!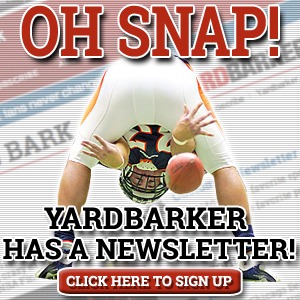 Latest Rumors
Best of Yardbarker

Today's Best Stuff

For Bloggers

Join the Yardbarker Network for more promotion, traffic, and money.

Company Info

Help

What is Yardbarker?

Yardbarker is the largest network of sports blogs and pro athlete blogs on the web. This site is the hub of the Yardbarker Network, where our editors and algorithms curate the best sports content from our network and beyond.