Found February 01, 2013 on Midwest Sports Fans:
It's been reported that over $1 billion dollars is bet on the Super Bowl, including millions on simply prop bets. They are very entertaining and can range from mildly ridiculous to very ridiculous. Here just a few of them, and, if I were a betting man, which way I would lean. (Odds courtesy of hogshaven.com.) Will any player get a penalty for excessive celebration in the game? Yes +225 (9/4) No -350 (2/7) I have to think the Harbaugh brothers have taught their teams how to control their emotions, even if they don't themselves on the sideline. How scary would that be to get a dumb 15-yard penalty and then get yelled at and, probably spittled on, by Jim Harbaugh? I'll put down the $350 and take the hundred bucks on this one. What Color will the Gatorade (or liquid) be that is dumped on the head coach of the winning Super Bowl Team? Clear/Water 7/4 Orange 5/2 Yellow 5/2 Green 13/2 Red 13/2 Blue 13/2 Put my money on yellow. The lemon-lime is probably the most popular of the flavors...
Original Story:
http://www.midwestsportsfans.com/2013...
THE BACKYARD
BEST OF MAXIM
RELATED ARTICLES
In advance of the much-hyped Harbowl (or "Super Browl", if you will), Reddit brings us this absolute gem from the Harbaugh brothers' childhood. Check out young John and Jim decked out in their Baskin Robbins little league unis, with the elder John towering over the befuddled looking Jim: (via reddit) And after some incredible interweb sleuthing, we uncovered a few more classic...
John and Jim Harbaugh have received plenty of attention as opposing head coaches in the Super Bowl. At their joint news conference Friday, someone asked the brothers if they could work together if either should be forced out of their current post. John Harbaugh, coach of the Baltimore Ravens, said, ''There's no question about it.'' He said the brothers discussed...
You cannot consume sports media this week without hearing about two brothers facing off for the first time ever in the Super Bowl. Many analysts want to make a big deal about how their relationship will affect the Harbaugh Bowl (HarBowl), but only Cosby Sweaters will literally make a story out of this. Our 'analysis' dives deep in to the rivalry between these two brothers going...
It was a nomadic existence considered almost normal when the world you grow up in and know includes a football coach. Save for the lucky ones that can last in one place for a while, most bounce from school to school to school or pro team to pro team, and the family is along for the often bumpy ride. Jack Harbaugh knew that. The father of Jim and John (and Joanie, who married...
There will be no Mannings, not at Super Bowl XLVII. It's brother vs. brother, certainly, a historic Super Bowl tale of opposing coaches. You could say it's brotherly love, a moment when John Harbaugh, coach of the Baltimore Ravens, will stand across the field from Jim Harbaugh, coach of the San Francisco 49ers Sunday to fight for a possession of the Vince Lombardi Trophy, a 22...
After one of the most memorable regular seasons in recent memory, the 49ers have finally made it to the Super Bowl for the first time since 1995.John Harbaugh has only been the head honcho in San Francisco for two seasons, but he's already made back-to-back NFC Championship appearances, and is heading to his first Super Bowl this Sunday.Harbaugh was lucky to be surrounded by...
Jack and Jackie Harbaugh are spending Super Bowl week celebrating the good fortune of having two sons at the pinnacle of pro football. Once the Super Bowl between John Harbaugh's Baltimore Ravens and Jim Harbaugh's San Francisco 49ers has ended this Sunday night, the parents know their first priority will be expressing sympathy to the coach who didn't get to hoist the...
NEW ORLEANS -- John Harbaugh and his younger brother Jim shared a bedroom growing up, but they can't split the Lombardi Trophy. One will experience the elation of winning Super Bowl XLVII, the other deflated by defeat. "In any game, that's always something you think about. Jim has pointed this out before, it's not really about how we're going to feel,&quot...
Super Bowl XLVII is closing in and there's plenty to talk about. John Harbaugh, Baltimore Ravens head coach and Jim Harbaugh, San Francisco head coach, are squaring off in the biggest sibling rivalry match in the NFL since the Manning brothers played each other during the 2010 regular season. John and Jim Harbaugh are barely [...]
The final game of the NFL season is upon us as the AFC Champion Baltimore Ravens prepare to take on the NFC Champion San Francisco 49ers in Super Bowl 47. They meet up in New Orleans in a game that features many unique story lines. From the Harbaughs facing off to Ray Lewis's final game in the NFL, along with his reported use of banned substances, the game has many off-field angles...
John Harbaugh said at the Super Bowl on Thursday that he hopes folks find it in their hearts to vote Art Modell into the Pro Football Hall of Fame during Saturday mornings vote. Dont expect many hearts in Cleveland to feel that way. And if Modells name is announced Saturday night, dont expect many hearts to accept it with a shrug, or without angry protest. Feelings in Cleveland...
Ravens News

Delivered to your inbox

You'll also receive Yardbarker's daily Top 10, featuring the best sports stories from around the web. Customize your newsletter to get articles on your favorite sports and teams. And the best part? It's free!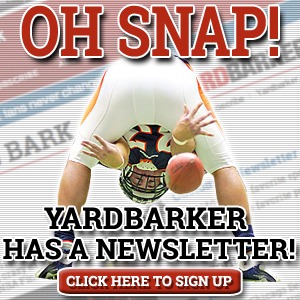 Latest Rumors
The Backyard

Today's Best Stuff

For Bloggers

Join the Yardbarker Network for more promotion, traffic, and money.

Company Info

Help

What is Yardbarker?

Yardbarker is the largest network of sports blogs and pro athlete blogs on the web. This site is the hub of the Yardbarker Network, where our editors and algorithms curate the best sports content from our network and beyond.