Found August 28, 2012 on MyTeamRivals.com:
The Irony is thick like school teachers working at Magic City. Wonder if Ms. Thayne will get two years in jail? The owner and founder of a group that bought Michael Vick's former Surry County home in an effort to care for rescued dogs is being sought on animal cruelty charges. According to Tracy Terry, Chief Animal Control officer for Surry County, Tamira Thayne is wanted for animal cruelty and inadequate care of animals. Animal Control has received numerous complaints about the property, but could not go into detail about the complaints. Terry told WAVY.com Thayne has been operating an illegal shelter as long as she has been in the state of Virginia. When Animal Control began to receive the complaints, Terry said officers and officials from Virginia's Office of Veterinary Services visited the home and property. While Michael Vick deserved to be punished for his dog fighting ring, two years in jail was too harsh of a penalty and I will venture a guess that Ms. Thayne charges will on...
Original Story:
http://www.mtrmedia.com/2012/08/tamir...
THE BACKYARD
BEST OF MAXIM
RELATED ARTICLES
FEELING COCKY
One company thinks it has solved Michael Vick's biggest problem over his career.
Getty Philadelphia Eagles quarterback Michael Vick told CSN Philly that he doesn't believe he's injury prone.  He believes he's just  had a few minor injuries. "I don't think I'm injury prone at all," said Vick. "I had a couple of fluke injuries that just happened but it's not something I'm going to worry about. I'm going to continue to go out there and play...
Eagles quarterback Michael Vick, has suffered several injuries over the last couple seasons. Over the course of his nine-year career Vick has played in all 16 games just once, and Vick has missed 4 games each of the last two seasons with Philly due to injury. Apparently Unique Technologies, a Philadelphia-based company, has constructed a protective vest that their CEO guarantees...
Will Darren McFadden or Michael Vick make it through 16 games? Rizzla: Betting on either of these superstars to make it through an entire 16 games seems foolhardy to say the very least. They both present major injury risks but also have the talent to finish as the top option at their position as well as overall in fantasy. I would draft either making sure I had the depth to cover...
Michael Vick has returned to practicing with the Eagles first team offense and says he "Feels Great." The highlight reel quarterback has given fans in Philadelphia nightmares with his inability to slide or stay out of harms way. Vick recently told the Philadelphia Inquirer that fans can relax, "he's not injury prone." "I don't think I'm injury-prone at all,"...
Photo by ESPN's Sports Nation The creator of the Kevlar flak jacket that Eagles quarterback Michael Vick will be wearing to protect his ribs is now guaranteeing that he won't get injured and that he'll be fully protected. "I guarantee he will not get hurt," Rob Vito, CEO of Unequal Technologies, told ESPN.com. "I'm looking forward to it … to give me more protection...
We talk a lot in our programs about various strategies for drafting and how to uncover the greatest value for your team.  We've even got an audio series with 7 hours of secrets unveiled before your very ears that shows you how to uncover the fantasy football champion that you've always had inside.  Take a look here, and take the plunge.  It's unlike anything you've ever...
The Philadelphia Eagles announced Tuesday that former running back Brian Westbrook will officially retire as an Eagle on Wednesday. Westbrook, a two time Pro Bowler, finished his career with the Eagles in 2009 after eight seasons with the team, posting 9,875 total yards from scrimmage. He is one of six players in NFL history to post 30-plus rushing (41) and receiving touchdowns...
NFL preseason: Eagles vs. Jets preview By SBRForum.com The Eagles get the pleasure of facing a Jets team that hasn't scored a touchdown the entire preseason for their final exhibition tune-up. Even though starters will get very little time, if any, that is a nice sight to see for Andy Reid and the rest of the coaching staff. They are going to have to cut another 22 players from...
Week 12: Eagles vs PanthersOnce again, it looks like the Eagles have another tough opponent. Thankfully it's another home game so hopefully that will have some advantage for the Birds. While I believe, like in RGIII's case, practicing against Vick everyday will help the Eagles greatly. Unfortunately Cam Newton stands at a lengthy 6'5" while Vick stands at 6'0...
Time to continue our mission of breaking down every Eagles' game of the season. It's time to see what'll happen to Philadelphia from Week 6 through Week 11.Week 6: Eagles vs. LionsThe Eagles face a tough match up when they play the newly-feared Detroit Lions.Matthew Stafford was one of three quarterbacks to throw for over 5,000 yards last year.Highly regarded as the best...
Eagles News

Delivered to your inbox

You'll also receive Yardbarker's daily Top 10, featuring the best sports stories from around the web. Customize your newsletter to get articles on your favorite sports and teams. And the best part? It's free!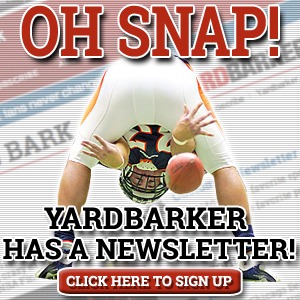 Latest Rumors
Best of Yardbarker

Today's Best Stuff

For Bloggers

Join the Yardbarker Network for more promotion, traffic, and money.

Company Info

Help

What is Yardbarker?

Yardbarker is the largest network of sports blogs and pro athlete blogs on the web. This site is the hub of the Yardbarker Network, where our editors and algorithms curate the best sports content from our network and beyond.