Found September 18, 2012 on IMAGE CPR SPORTS:
Via Image CPR:
Terrell Owens made just $4,342.86 during his short stint with the Seattle Seahawks, according to court documents filed in his child support case obtained by TMZ.
The Seahawks employed him for just 152 hours. That works out to $28.57 an hour.
Owens would have collected $925,000 had he made the team. But the Seahawks cut him after just two preseason games. He only caught two passes during those games.
Owens, who is currently a free agent wide receiver, is a six-time Pro Bowl selection. He holds or shares several NFL records. He has 1,078 receptions for 15,934 yards and 153 touchdowns — the second most in league history.
Owens made $80 million during his 14 years in the league. He said he's broke after his business ventures went bad. That's the reason he's struggled to pay $44,600 in monthly child support payments to the four different mothers of his four children, ages 5-12.
Imagine. He made just $28.57 an hour with the Seahawks. What a fall from grace.
Also from Image CPR:
Audio: Kansas City radio host goes nuts over winless Chiefs: "You suck!"
Photo: NFL pulls replacement ref from Saints vs. Panthers game
Photo: Snowboarder Shaun White allegedly got drunk and forced an entire hotel to evacuate

Original Story:
http://www.imagecpr.com/?p=16260
THE BACKYARD
BEST OF MAXIM
RELATED ARTICLES
Seattle Seahawks 1st-round pick Bruce Irvin recorded his first career sack on Sunday against the Cowboys and is developing into an asset as a pass rush specialist. Through two games Irvin has been used as a pass rusher on 53 of his 64 snaps (82.8%). While Irvin has done a nice job in this role (he's recorded a sack, hit or pressure on 9.1% of his pass rush plays), their use of...
Nothing really surprising about this. Owens' baby mamas jumped the gun in trying to get his child support payments increase before T.O. had made the team. They should have waited to at least see if he made the regular season roster before looking like a greedy women only out of money. Even when T.O. was cut, they are still going after the money, but Owens is telling the judge...
With the signing of DB Danny Gorrer today the Seattle Seahawks have waived seldom used RB Kregg Lumpkin. WE learned this news via the OFFICIAL twitter account for the Seahawks. Seahawks have signed CB Danny Gorrer (#36) to active roster. RB Kregg Lumpkin has been released.— Seattle Seahawks (@Seahawks) September 18, 2012
IRVING People in both the Seattle and Dallas organizations have been informed that the vicious and illegal crackback block administered to Cowboys linebacker Sean Lee by Seahawks receiver Golden Tate will result in a 21,000 fine to Tate, sources say. In reviewing the play from Sunday's 27-7 Seahawks win, Cowboys owner Jerry Jones said to the media, "I'm sure they will...
Kellen Winslow's physical with the Patriots a couple of weeks ago appears to be much more than a formality. New England could be on the verge of adding the free-agent tight end now that Aaron Hernandez is sidelined. ESPN.com reports that Winslow has inked a one-year deal with the Patriots. Other reports have surfaced stating that a deal is not done yet, but that the Patriots...
Seattle Seahawks wide receiver Golden Tate is 5'10", 202 lbs. Cowboys linebacker Sean Lee is 6'2", 245 lbs. Leverage and the element of surprise = Golden Tate de-cleating Sean Lee. "It's one of... Full story at Bob's Blitz ~ http://www.bobsblitz.com
In my eyes it was a good hit. In Pete Carroll's eyes it was a good hit. (By good we mean legal of course) Pete Carroll: "Oh ya - I knew Golden Tate was fined. It was a fantastic block, in their eyes he clipped the guys facemask, in chin area"— Q Smith (@NWSBQ) September 19, 2012 Today however the NFL said Golden Tate has been fined for his block on Dallas...
Statement made The Dallas cowboys came to town Sunday to take on our Seattle Seahawks. The last 2 meetings were in Dallas and the last 3 meetings went in favor of the Cowboys. Seattle 27, Dallas 7 When: 4:05 PM ET, Sunday, September 16, 2012 Where: CenturyLink Field, Seattle, Washington Temperature: 68° Head Official: Donovan Briggans Attendance: 68008 Boxscore | Recap  Not...
I know many people believe that the Seahawks wide receiver Golden Tate should be fined for lighting up Cowboys linebacker Sean Lee during yesterday's game.  But I'll break down why the hit is clean in my opinion. Lee was not a defenseless player. Tate hit him straight on and not on the side. Lee failed to guard himself and keep his head on a swivel. Tate didn't lead with...
A parking lot brawl broke out between fans of the Dallas Cowboys and Seattle Seahawks, after the Seahawks walloped the Cowboys 27-7 on Sunday. Here's video (via The Big Lead) of the fight between a bunch of drunken idiots:   Get the latest Thigh updates by following us on Facebook & Twitter. a2a_linkname=document.title;a2a_linkurl=location.href;
Wide receiver Deion Branch is back with the New England Patriots. Branch signed with the Patriots on Tuesday, rejoining the team that cut him three weeks ago, according to the NFL.com. Branch should have no trouble fitting back into the Patriots offense after playing six of his 11 NFL seasons with the team. Branch and Tom Brady hooked up on 51 receptions for 702 yards and five...
It Is What It Is » In Focus: What Kellen Winslow's addition means for Patriots' offense: Winslow's...
Seahawks News

Delivered to your inbox

You'll also receive Yardbarker's daily Top 10, featuring the best sports stories from around the web. Customize your newsletter to get articles on your favorite sports and teams. And the best part? It's free!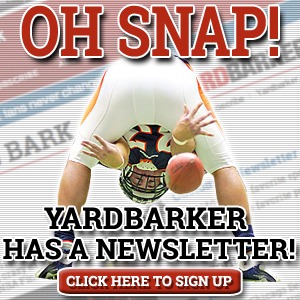 Latest Rumors
Best of Yardbarker

Today's Best Stuff

For Bloggers

Join the Yardbarker Network for more promotion, traffic, and money.

Company Info

Help

What is Yardbarker?

Yardbarker is the largest network of sports blogs and pro athlete blogs on the web. This site is the hub of the Yardbarker Network, where our editors and algorithms curate the best sports content from our network and beyond.