Found July 13, 2012 on The Sports Rocker:
Like many ex-NFL players, Terrell Owens is in the financial lifeboat. He's already been tossed overboard by teams, and now he's floating along in the sea of life, completely directionless.
ESPN reported yesterday that Owens is facing potential jail time in regards to being behind in child support payments. This is just another item on the "filing for bankruptcy" checklist that Owens is quickly completing.
February 2012: GQ magazine does a profile of Owens and his recent hardships. "I'm in Hell" is the tag.
May 2012: Owens goes on Dr. Phil and faces 3 of his baby mamas. He admits to squandering "his NFL fortune — anywhere from $80 to $100 million."
Unfortunately, it's not just Owens. The NFL, in my opinion, has a responsibility to the players to educate them as far as their finances are concerned. Just as the Roger Goodell sees his responsibility to do something about violent collisions, ie, concussions, he should also be concerned with the number of players that end of in financial straits once their playing days are over.
I would go as far as to see most of the kids coming into the NFL are coming from middle class or  poor backgrounds. They've never had a lot of money, and are suddenly given a few million, in some cases, just for signing a piece of paper and handing over bank routing and account numbers. A good agent will make sure they receive some financial counseling and have a good financial adviser. But they don't live with them, and can't follow them around 24 hours a day.
And then there are the kids coming into the NFL. I would love to see the NFL, NBA, MLB, and colleges get together and prepare financial preparedness courses for kids still in college that have aspirations to play professional sports. Actually, everyone should, even those taking tourism and hospitality classes.
Terrell Owens is just one of many. Until Roger Goodell sees this as an issue though, the NFL will have mud on its face.
Original Story:
http://www.thesportsrockers.com/2012/...
THE BACKYARD
BEST OF MAXIM
RELATED ARTICLES
Terrell "T.O." Owens, who is trying to land a spot with an NFL team this year, is $20,000 behind on child support payments and may be facing jail time. WSB-TV reports former Cincinnati Bengals wide receiver — who was recently released by the Allen Wranglers of the Indoor Football League — didn't show up for his child support hearing in Atlanta on Thursday. The judge was pretty upset.
Terrell Owens continues to wait for an opportunity to return to the NFL and recently did an interview where he again stated that he still has something to offer a team. Cowboys owner and general manager Jerry Jones encouraged Owens, 38, to reach out to him for advice last month. Jones added: "He's still got the ability to be quite a threat as a receiver. I would advise...
Former NFL wide receiver Terrell Owens owes $20,000 in child support payments and could be facing some jail time if make another wong move Owens snubbed his nose at appearing in court on Thursday in Atlanta, and Judge John Goger is irked. But alas, T.O.'s attorney David Hartin, said he wsn't thre because of a miscommunication with his client. Wow, they're using...
It appears that the Terrell Owens child support payment saga may be coming to a head at some point in the near future. For over a year we have heard stories about T.O.'s failure to pay child support to the mothers of his children. The issue has been a topic of debate in the media and on shows like "Dr. Phil," and we even defended T.O. last year for the way the media was portraying...
Getty Images According to Erica Byfield of WSBTV 2, free agent NFL wide receiver Terrell Owens is $20,000 behind in child support payments and could be facing jail time. Owens failed to show up for his child support hearing on Thursday and Judge John Goger was very upset, per Byfield. Owens' attorney David Hartin told the judge to blame him for Owens not showing up, since there...
Terrell Owens has made it clear he wants to return to the NFL. Instead of worrying about getting back into professional football, however, T.O. should be focusing on staying out of prison. According to a report by WSBTV.com in Atlanta, Owens has not paid $20,000 he owes in child support. The former star wide receiver reportedly did not show up in court for his child support hearing...
The Terrell Owens saga continues, it's been reported that Owens is $20,000 behind on the payments and could face jail time, according to a report posted on an Atlanta television station's website. Owens, 38, was recently cut by the Indoor Football League's Allen Wranglers for violating his contract. Owens was receiving a six-figure salary and an owership stake in the franchise...
Terrell Owens is akin to a dumpster fire. Just when you thought Owens had hit rock bottom, the former wide receiver/diva/sociopath managed to throw more gasoline on the fire that is his life.  The Philadelphia Inquirer is reporting that a woman is trying to sell photos that show Owens making lewd gestures during a Skype conversation he had with her. Naturally, Owens is claiming...
It seems apparent the Terrell Owens is having trouble acquiring and keeping a job these days. Owens is $20,000 behind in child support payments. County Judge John Goger was angered when Owens failed to appear at his hearing. Accepting the blame for his absence is Owens Attorney David Hartin, who claims he did not communicate with his client. Owens reportedly agreed to pay $5,000...
Ballertainment Dear Jerry Jones, I am writing to ask that you consider signing Terrell Owens this season. This is not a sympathy plea but more so a suggestion to roll the dice. You are a man of great ambition and fortitude. We all know you like to do it big, as evidenced by that gargantuan, luxe stadium you built in Texas. With all due respect, you have not done anything big,...
Detestable, and unemployed, wide receiver Terrell Owens is $20,000 behind child support payments for his seven-year-old daughter and Judge John Goger threatened to throw the deadbeat behind bars if he misses a rescheduled July 19 hearing at the Fulton County … Continue reading →
Getty Images Dallas Cowboys tight end Jason Witten was asked how he'd feel if Terrell Owens re-joined the team. "Honestly, it would be indifferent for me," Witten said. "I think it'd be hard for me to make a comment on it, really." Even wide receiver Dez Bryant didn't have much to say.  He just said that Owens is a "great guy" and "it'd be big" if he signed...
Bengals News

Delivered to your inbox

You'll also receive Yardbarker's daily Top 10, featuring the best sports stories from around the web. Customize your newsletter to get articles on your favorite sports and teams. And the best part? It's free!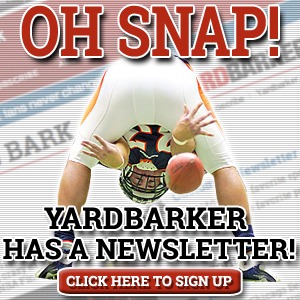 Latest Rumors
Best of Yardbarker

Today's Best Stuff

For Bloggers

Join the Yardbarker Network for more promotion, traffic, and money.

Company Info

Help

What is Yardbarker?

Yardbarker is the largest network of sports blogs and pro athlete blogs on the web. This site is the hub of the Yardbarker Network, where our editors and algorithms curate the best sports content from our network and beyond.