Found October 03, 2012 on Sports Junkie Online:
PLAYERS:
J.J. Watt
,
Arian Foster
,
Ben Tate
,
Andre Johnson
,
Owen Daniels
,
Matt Schaub
,
Matt Ryan
,
Ray Rice
,
Hakeem Nicks
,
Jason Garrett
,
Mark Sanchez
,
Sam Bradford
,
Jeff Fisher
,
Ryan Fitzpatrick
,
Brian Hartline
,
Reggie Wayne
,
Matt Cassel
,
Maurice Jones-Drew
,
Chris Johnson
TEAMS:
Houston Texans
,
Atlanta Falcons
,
Arizona Cardinals
,
Baltimore Ravens
,
Chicago Bears
,
Minnesota Vikings
,
Cincinnati Bengals
,
Philadelphia Eagles
,
New York Giants
,
Denver Broncos
,
Dallas Cowboys
,
New York Jets
,
St. Louis Rams
,
Washington Redskins
,
Seattle Seahawks
,
Buffalo Bills
,
Pittsburgh Steelers
,
Miami Dolphins
,
Detroit Lions
,
Indianapolis Colts
,
Carolina Panthers
,
Kansas City Chiefs
,
Oakland Raiders
,
Jacksonville Jaguars
,
Cleveland Browns
,
Tennessee Titans
,
New England Patriots
,
San Diego Chargers
,
Green Bay Packers
,
New Orleans Saints
,
Tampa Bay Buccaneers
With the season now 1/4 over with, there has been no lack of excitement and upsets through the first four weeks of 2012. Houston has clearly established themselves as perhaps the most well-rounded team in the NFL. Boasting a ferocious pass rush led by second-year defensive end J.J. Watt (league-leading 7.5 sacks), the Texans are also strong against the run. Offensively, the team is led by All-Pro running back Arian Foster, while Ben Tate is there as his backup. The passing game may not be as explosive as it once was, but wide receiver Andre Johnson and tight end Owen Daniels still produce at a high level for quarterback Matt Schaub. All these are reasons that Houston land in the top spot of the newest Sports Junkie Online power rankings.
Rank Team Record Thoughts 1 Houston Texans (4-0) An absolutely dominant defense and balanced offense are a recipe for success 2 Atlanta Falcons (4-0) Closer than expected against Carolina, but Matt Ryan is in MVP discussion 3 San Francisco 49ers (3-1) Bounced back after disappointing loss @ Minnesota with a shutout vs. Jets 4 Arizona Cardinals (4-0) Clutch throws from Kolb, stout defense have Arizona thinking playoffs 5 Baltimore Ravens (3-1) Ray Rice should get more touches, but Baltimore's passing attack looks good 6 New England Patriots (2-2) Patriots offense got back on track in a big way against Bills, still AFC East elite 7 Chicago Bears (3-1) The defense is solid as always. Seems the offense is catching up with win over DAL 8 San Diego Chargers (3-1) Team should only get better as RB Mathews should see bigger workload 9 Minnesota Vikings (3-1) Back-to-back wins over 49ers and Lions has team thinking playoffs 10 Cincinnati Bengals (3-1) Week one loss to BAL now in rearview mirror, averaging 33 pts/game since 11 Philadelphia Eagles (3-1) Three wins have come by a combined 4 pts; talented but too turnover prone 12 New York Giants (2-2) Hakeem Nicks' foot issues have to be concerning, as does 0-2 division record 13 Green Bay Packers (2-2) Offense showed signs of life against Saints, but O-line needs better pass pro 14 Denver Broncos (2-2) Still not completely buying into the Broncos, but Manning has been good in DEN 15 Dallas Cowboys (2-2) Jason Garrett may well find himself out of a job if Dallas' players can't perform 16 New York Jets (2-2) Three straight ugly games by Mark Sanchez won't quiet those calling for Tebow 17 St. Louis Rams (2-2) Sam Bradford is still getting sacked too much, but team plays hard for Jeff Fisher 18 Washington Redskins (2-2) RGIII is a ROY front-runner, but will need defense to play better (30.8 ppg) 19 Seattle Seahawks (2-2) Seahawks defense has been good, but struggle to make big plays on offense 20 Buffalo Bills (2-2) Ryan Fitzpatrick has 7 INT in 2 division games; unsurprisingly, team lost both 21 Pittsburgh Steelers (1-2) Struggles defending the pass (6 TD, 1 INT) stem from poor pass rush (5 sacks) 22 Miami Dolphins (1-3) WR Brian Hartline (455 yards) leads the league in receiving, but team is just 1-3 23 Detroit Lions (1-3) Cover-2 defenses have had success containing Lions vertical passing attack 24 Indianapolis Colts (1-2) Reggie Wayne (294 yards) has looked better in 2012 than in recent seasons 25 Carolina Panthers (1-3) The lack of production out of their running backs puts too much pressure on Cam 26 Kansas City Chiefs (1-3) Is it time for the Chiefs to replace Matt Cassel (7 INT, 3 fumbles lost in 4 games)? 27 New Orleans Saints (0-4) It's probably too late to talk playoffs, but team showed signs of life against GB 28 Tampa Bay Buccaneers (1-3) Tampa Bay has been competitive in every game, but have come up short in past 3 29 Oakland Raiders (1-3) Opposing QBs have shredded OAK (9 TD, 0 INT) with time to throw (3 total sacks) 30 Jacksonville Jaguars (1-3) Maurice Jones-Drew is significantly underpaid for how important he is to JAX 31 Cleveland Browns (0-4) Browns playing scrappy football, but a young squad needs to learn how to win 32 Tennessee Titans (1-3) Chris Johnson finally produced against HOU (141 yards) but still hasn't scored TD
Original Story:
http://sportsjunkieonline.blogspot.co...
THE BACKYARD
BEST OF MAXIM
RELATED ARTICLES
Recently, the Houston Texans had to make roster adjustments due to safety Quintin Demps breaking his forearm. The Texans had to add another safety to the fold while cutting someone to stay at the league required 53 man roster. The Texans resigned safety Troy Nolan back to the roster while cutting quarterback John Beck. Before the cut was made, a debate amongst Texans fans and media...
The Houston Texans have waived third string quarterback John Beck to clear room for the recent addition of safety Troy Nolan. Beck who won a spot on the roster with his good play during the 2012 preseason and was an asset with his knowledge of the offense. The move comes as a bit of surprise especially with the quarterback situation from last season and the injuries that happened...
For the fourth time in as many weeks, the Houston Texans took the field and walked off with a win, this time over divisional rivals the Tennessee Titans. Their current 4-0 record isn't just the best in Texans' history, it's the best in Houston professional football history. The old Houston Oilers never had a start to the season like this, and of course neither have the Texans...
The Houston Texans have cut third-string quarterback John Beck and re-signed safety Troy Nolan. The 31-year-old Beck signed with Houston in May after he was cut by Washington. He beat out undrafted free agent Case Keenum for the No. 3 spot behind Matt Schaub and T.J. Yates. The Texans (4-0) turned to Nolan after Quintin Demps fractured his left forearm in Sunday's win over...
The Houston Texans have answered all their skeptics so far with the first 4-0 start in franchise history. Now the task is staying focused as the stakes get higher each week and they prepare for a nationally televised game against the Jets on Monday night. Coach Gary Kubiak isn't worried about his Texans getting caught up in the hype, saying ''they're very mature...
With Texans running back Arian Foster on pace for 400-plus carries, coach Gary Kubiak said "he can handle it; I know that. You never know how the season's going to go."Fantasy Spin:Foster has 112 touches in four weeks, 103 carries and nine catches. There's a history of running backs burning out the year after carrying the ball 370-plus times, so that's something...
The Houston Texans are now 4-0 for the first time in franchise history after a big home win Sunday over division rival Tennesseeive Titans. It was a game that the Texans had control of from the starting drive to the closing whistle as they were dominant on both sides of the ball the whole game.Houston Texans QB Matt Schaub has played almost perfect mistake free football, all while...
The beginning to the Houston Texans season has been perfect in the win-loss department, but not perfect overall. They're a team that is finally gaining national recognition as a legit Super Bowl contender and in many cases, the best team in the NFL through four weeks. But as anybody can tell you, it's not about where you are as a team in September and early October, but rather...
The Quality Stats Power Rankings continue to fluctuate, but a familiar face returns to the top spot. And what 2-2 team dropped 12 spots to No. 28 in our rankings?
The beginning to the Houston Texans season has been perfect in the win-loss department, but not perfect overall. They're a team that is finally gaining national recognition as a legit Super Bowl contender and in many cases, the best team in the NFL through four weeks. But as anybody can tell you, it's not about where you are as a team in September and early October, but rather...
Members of the Houston Texans accused Tennessee Titans tackle David Stewart of employing some dirty tactics during their game on Sunday, including pulling the hair of Houston linebacker Brooks Reed, the Houston Chronicle reported. "I saw some things I've never seen before," Texans defensive end Antonio Smith told the Chronicle. "I saw him try to pull (Reed&...
The Texans, Falcons and Ravens hold their own atop this week's power rankings, but, there is plenty of movement in the middle ranks... including the Arizona Cardinals making their climb upwards.
NFL News

Delivered to your inbox

You'll also receive Yardbarker's daily Top 10, featuring the best sports stories from around the web. Customize your newsletter to get articles on your favorite sports and teams. And the best part? It's free!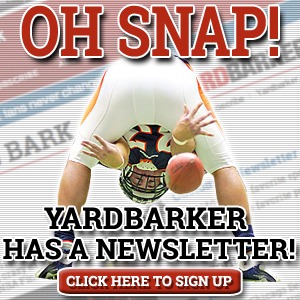 Latest Rumors
Best of Yardbarker

Today's Best Stuff

For Bloggers

Join the Yardbarker Network for more promotion, traffic, and money.

Company Info

Help

What is Yardbarker?

Yardbarker is the largest network of sports blogs and pro athlete blogs on the web. This site is the hub of the Yardbarker Network, where our editors and algorithms curate the best sports content from our network and beyond.