Found March 10, 2012 on Cleveland Sports 360:
Well Cleveland Browns Fans , For one thing I am so glad it wasn't us that St Louis decided to trade with ? Think about it 3 # 1 picks and Espn reported a possible 2nd rd pick ?? That is totally insane , what's even more just down right crazy and beyond nuts !! This team could not withstand that kind of hit, The Browns have holes everywhere, giving up three years of number one picks ? talk about giving up the farm ? How could this organization even think about that ? CRAZY ! No one player is worth that to a team ,well except The Redskins ,Wow they better pray whoever they pick, stays healthy and contributes quickly , because if he doesn't pan out ? that franchise is set back 5 years  ! Again fans we should be thanking our lucky stars it wasn't us ! Now remember  what we do in free agency should dictate who we draft most of the time anyways .Let's get back to our potential picks I like Justin Blackmon A pure home run hitter at WR something we have not had and need, But depending on wh...
Original Story:
http://clevelandsports360.com/wordpre...
THE BACKYARD
BEST OF MAXIM
RELATED ARTICLES
Getty Images According to Mary Kay Cabot of the Cleveland Plain-Dealer, the Browns will likely aggressively pursue Robert Griffin III and if the price gets to high for him, they could end up settling for Ryan Tannehill by either taking him 4th overall or trading down and taking him. I don't believe there's any way the Browns will be willing to outbid the Washington Redskins...
Adam Schefter reported that the Browns were involved in the talks and had also offered three first round picks like what the Rams got from the Redskins. That report seemed confusing considering that the Browns had both a higher first round pick and a second first round pick in 2012. Common sense would tell you that the Browns' were in a position to make a more attractive offer...
"I really like [Brandon Weeden]. I really like him a lot, and we're actually gonna see him [Friday at his pro day]. That's the million-dollar question. You go, 'Wow, he's 28 years old.' But I don't know. If he can play six years, I might not be here, so who cares? If he can play, he can play. [...] He's mature, and he's telling you it's a positive. And it is...
With the blockbuster trade between the St. Louis Rams and Washington Redskins now completed, all that's left to do for Browns fans is figure out the best way forward. We conducted a poll today to do just that. First of all, on the trade itself Browns fans overwhelmingly agree that they are happy the Browns didn't pay the exorbitant price that St. Louis was asking. 74% of Browns...
For Browns Fans that had hoped the team would be able to draft Robert Griffin III there hopes were dashed tonight as the Washington Redskins pulled off a massive trade with the St. Louis Rams to get the 2 pick in the first round of the up-coming NFL Draft. The Redskins gave St. Louis Their 6th pick this year, their first pick in 2013 & 2014 and this years second round pick to...
Different That's how Browns G.M. Tom Heckert described RG3 and Colt McCoy. Heckert clearly understands RG3 is one of the great athletes in this years draft. The question remains if the Browns will make moves come draft day to position themselves to take RG3. Heckert said in a press conference the Browns feel pretty good with the number four pick in the up-coming draft. The thing...
Maybe next year? ESPN's Adam Schefter reported that the Browns offered at least three first round picks to the Rams to move up two slots in April's draft for the chance to draft Robert Griffin III, "and possibly even the second-round pick." SI's Peter King tweeted that "Cleveland was in it, but didn't want to give three ones and a 2." Schefter added that, "Cleveland...
Browns G.M. Tom Heckert really  is impressed with Brandon Weeden, I find it interesting how when talking about Weeden Heckert refers to him as the kid. Hey Tom this is now kid he is 28 years old. The guy is almost ready to retire from the NFL, most guys are done by the time they reach 28. I certainly hope for the Cleveland Browns Tom Heckert doesn't go out and draft a guy that...
Now that RG3 is almost undoubtedly going to be a Washington Redskin, what should the Browns do? Log your responses here.
*sigh* I can't believe it's over. All those words typed, all those hours spent debating… wasted. Since when do draft trades happen more than a month before the actual draft? To me, that's the most surprising aspect of this whole debacle. Not that the Browns lost out on Robert Griffin III  (I knew it the moment Bill Simmons jinxed us) or that Dan Snyder and the Washington...
For the Cleveland Browns, it's all about landing Robert Griffin III. Which means they'll probably have to spend some picks/dough to move up to #2 in order to nab him. The St. Louis Rams are overtly looking to deal that pick, and the Browns would be the perfect suitor. However, I don't project trades in my mock drafts. However, this is what I see them doing- finding a new quarterback...
As reported first by Jay Glazer of Fox Sports the Washington Redskins trade with the St. Louis Rams for the 2nd pick in the 2012 NFL draft. The compensation was extreme with a swap of 1st and the Redskins second round pick this year. The Rams also will receive the Redskins first round picks in 2013 and 2014.  The reports are mixed as to what the Cleveland Browns offered but it...
NFL News

Delivered to your inbox

You'll also receive Yardbarker's daily Top 10, featuring the best sports stories from around the web. Customize your newsletter to get articles on your favorite sports and teams. And the best part? It's free!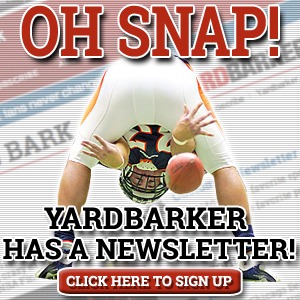 Latest Rumors
The Backyard

Today's Best Stuff

For Bloggers

Join the Yardbarker Network for more promotion, traffic, and money.

Company Info

Help

What is Yardbarker?

Yardbarker is the largest network of sports blogs and pro athlete blogs on the web. This site is the hub of the Yardbarker Network, where our editors and algorithms curate the best sports content from our network and beyond.