Found September 03, 2013 on Awful Announcing:
The feud between the New York Daily News and Jets head coach Rex Ryan has been one of the more entertaining subplots of the preseason, adding a new layer of absurdity on top of one of the biggest circus acts in sports.  Combative press conferences, newspaper front pages, state Governors weighing in, and even the ridiculous notion put forth by NYDN sportswriter Manish Mehta of firing Ryan in the preseason. Now the feud has taken a bit of an ugly turn with Metha writing a Labor Day column bashing Ryan for having the gall to attend his son's football game on Saturday.  Ryan's son Seth plays for Clemson and the Jets coach travelled to South Carolina to watch the Tigers' Top 10 showdown against Georgia.  Normal parenting, right?  Well, for Mehta, it was an excuse to carry out his and the paper's vendetta even further: "He shirked his professional responsibilities for personal ones, Dead Coach Walking in Death Valley, furthering the perception that he's nothing more than a figurehead patrolling the Jets sidelines these days. It was the exact wrong move at the exact wrong time for a man supposedly fighting for his head coaching life. Ryan's decision to skip cut-down day, regarded as the most important 24 hours in pro personnel departments across the league, to watch his son, Seth, a freshman walk-on wide receiver at Clemson, face Georgia in South Carolina revealed how much the head coach has been marginalized." But Mehta wasn't done there.  In fact, he was just getting started.  This is less of a hit piece and more of a character assassination of the Jets head coach.  Included are various anonymous sources (shocking for a piece about the Jets) confirming Mehta's starting theory that Rex Ryan is a dead man walking as head coach and watching his son play football is a sign of his lack of leadership.  But it's not enough to bash Ryan as a football coach, Mehta has to step up his game and question Ryan's priorities by putting his fatherhood ahead of the Jets: "By all accounts, Ryan has been a great dad, but sometimes the job must take precedence. Ryan, a football lifer, understands the inherent sacrifices of being a coach, which made this decision that much weirder." If Mehta's endgame in all of this is to make Rex Ryan a sympathetic figure who we're all rooting for, then he's doing a great job of it.  When you start taking shots at a guy supporting his kid, that's when you cross a line from "ridiculous media feud" to "being a giant jackwad." It's not like Rex Ryan attending a Clemson game is an extraordinary step.  Reasonable people know fathers seeing their sons play football games is actually quite a normal activity: Rex Ryan going to son's college game at Clemson? Good for him. He was not only HC who did that on Saturday. — Chris Mortensen (@mortreport) September 3, 2013 And yet, since it's become personal between the Daily News and Rex Ryan, anything is fair game for Mehta.  It's unfortunate because now this feud reflects poorly on Mehta and the Daily News.  It's one thing to be combative, it's another to become completely biased in your coverage without an ounce of professionalism. [New York Daily News] 
Original Story:
http://www.awfulannouncing.com/2013/s...
THE BACKYARD
BEST OF MAXIM
RELATED ARTICLES
The last several months, Rex Ryan has taken a lot of crap from media and the fans. Rightfully so. You cannot flap your gums as much as Rex did in his first few years, bragging and boasting your way to two AFC Title game appearances, and then not have to also answer for the failures of your football team, especially when you then decide to zip your lip. He is the captain of the ship...
New York Jets coach Rex Ryan defended his decision to spend Saturday at Clemson University with his son while NFL teams made cuts to set their 53-player rosters. Ryan's son, Seth, is a walk-on at Clemson, which played Georgia at home. The coach says Monday that he spoke on Friday to ''several'' Jets players who were getting cut, and personnel decisions had been...
Everything that is wrong with the media outrage over Rex Ryan going to see his son playing at Clemson can be summed up in one sentence written by Mr. You Can't Boo New York Daily News writer Manish Mehta. By all accounts, Ryan has been a great dad, but sometimes the job must take precedence. Story should be over right there. Ryan won't be able to attend any of his son's games...
Rex Ryan has taken some brutal criticism from the New York media for taking the day off on Saturday to attend his son's game at Clemson amid cuts to get the Jets roster down to 53. One person not criticizing Rex is his boss, Woody Johnson. Johnson told the New York Daily News that he had no problem with Rex traveling to South Carolina to watch his son play. Woody Johnson supports...
Can you blame Rex Ryan for spending Saturday in Clemson, South Carolina to watch his son run onto the field for the first…
Even at the Dunkin' Donuts in 125th and Lenox, it's hard out here for a Jets fan. pic.twitter.com/ylexU56bHm — Jason Clinkscales (@asportsscribe) September 5, 2013 Boy, that's a lot of donuts in that there post title. But not as many tasty confectionery treats that remain at a Dunkin' Donuts in New York that feature a […]The post Giants donuts outselling Jets donuts...
It's been one helluva 14 or so days for Rex Ryan, but today just got a little better for the foot fetish fiend.…
Geno Smith may be the Jets starting quarterback against Darrelle Revis and the Bucs but there is no guarantee he'll be starting anything beyond that. The Jets unleashed their triple threat Wednesday -- Rex Ryan GM John Idzik and owner Woody Johnson -- and from every angle they made it clear that the competition is continuing into the regular season. "We'll always put the best...
The Turn On The Jets Roundtable is back to debate issues surrounding the New York Jets. Make sure to give all of the writers a follow on Twitter and if there is a question you want to see us debate, leave it in the comment section!  What are your predictions for the 2013 New York Jets season?  Joe Caporoso - Check out the 30 Pack of Predictions  Mike Donnelly - Tomorrow I'm...
NFL News

Delivered to your inbox

You'll also receive Yardbarker's daily Top 10, featuring the best sports stories from around the web. Customize your newsletter to get articles on your favorite sports and teams. And the best part? It's free!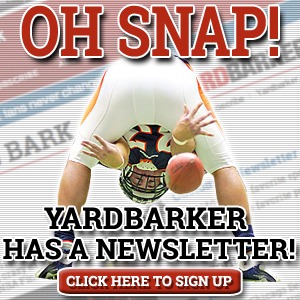 Latest Rumors
Best of Yardbarker

Today's Best Stuff

For Bloggers

Join the Yardbarker Network for more promotion, traffic, and money.

Company Info

Help

What is Yardbarker?

Yardbarker is the largest network of sports blogs and pro athlete blogs on the web. This site is the hub of the Yardbarker Network, where our editors and algorithms curate the best sports content from our network and beyond.