Found August 07, 2012 on The Sports Headquarters:
The Good, The Bad, and The Ugly.
By Eric Judd
The Hall of Fame Game
Arizona 10 – Saints 17
The Good
Yeah, I'm totally worth it.
Drew Brees: There is a reason, (okay quite a few reasons) he just got a big fat check. Just watch the first drive of this game. After just a handful of padded practices, you'd expect a slow, vanilla offense during the first preseason game. On the second play of the game, the right side of the Saints line breaks down and Brees looks like he's about to get crushed by Calais Campbell. Campbell's 6'8" arms can't grab hold of Brees and that early pressure  magically, ignites his mid-season form. 8 Plays, and just over four minutes later, New Orleans is up 7, and looks completely unstoppable. Brees, who missed team OTAs waiting for the ink to dry on all those zeros, looks to be poised for the greatest of his great seasons in 2012.
The Bad
"I don't feel so good."
Kevin Kolb: Kevin Kolb is the Anti-Drew Brees. Kevin Kolb was the highly regarded backup QB, who got the big check and the even bigger list of expectations. Brees, cast off for the next best thing, found a home in the Big Easy, and ignited the flame that will lead him right  to Canton. On Kevin Kolb's first possession, he telegraphed an out to Andre Roberts, and was intercepted by Malcolm Jenkins. Perhaps telegraphed is not the right word. Kevin Kolb put an ad in the paper, posted flyers, signs on street corners, and had a guy flipping a big red arrow that said, "Hey, my arm isn't ready, I'm going to noodle this dead duck out to #12. Please don't turn around, I need this." Kolb ends up playing 6 total downs, going 1 for 4 for 4 yards and that JV pick, his only completion coming on his final play, on which he was tackled, innocently enough, by Sedrick Ellis, only to stay down, holding a indiscernible part of his body, ultimately needing to be helped of the field. Kolb ends up with bruised ribs and a bruised diaphragm (No, not the birth control). Cardinals' fans end up with a giant pile of doubt, and tens of millions of dollars (and a second round pick) in stewing animosity.
The Ugly
"Yeah, you miss this."
Replacement Refs: If there is a better argument for crumbling under the demands of the Referee Union, just watch the Hall of Fame game. The officiating was miserable, and this coming from a guy who still complains about no-calls from Super Bowl XLIII. Calls were missed. Calls were forgotten. Confusion reigned, and fans were left with a sour taste in their collective mouths. The NFL is America's game. America's sport. America's passion. As a business, in order to maintain the quality of the final product, it is of the utmost importance to have the highest quality components, from top to bottom. Roger, please. Pay these men their money. Make it a long-term deal. Incorporate their deal into the players Collective Bargaining Agreement.  You've got the cash. Fans do not want a season of Mr. Bean in stripes. He just doesn't have Ed Hochuli's guns. Without the best referees, the best players won't be able to shine as brightly. Oh, and lets get some female referees. There's no reason not to. This isn't Augusta. It's better than that. It's the NFL.
Original Story:
http://feedproxy.google.com/~r/TheSpo...
THE BACKYARD
BEST OF MAXIM
RELATED ARTICLES
Drew Brees didn't need much time to finish off a good weekend for the New Orleans Saints. Brees smoothly led a touchdown drive on his only series Sunday night, and the Saints beat the Arizona Cardinals 17-10 in the Hall of Fame game, officiated by a crew with college experience. The game was canceled last year for the first time in 45 years, a casualty of the NFL's lockout...
CANTON, Ohio (AP) -- Drew Brees didn't need much time to finish off a good weekend for the New Orleans Saints. Brees smoothly led a touchdown drive on his only series Sunday night, and the Saints beat the Arizona Cardinals 17-10 in the Hall of Fame game, officiated by a crew with college experience. The game was canceled last year for the first time in 45 years, a casualty...
Kevin Kolb has not exactly had the best luck since he was traded to the Cardinals from Philadelphia, and the tough times continued during Sunday night's Hall of Fame Game against the Saints. Kolb, who started off the game by throwing an interception on his first pass attempt, was injured on the Cardinals' third offensive series when he was hit by Saints defensive lineman Sedrick...
Cardinals quarterback Kevin Kolb was shaken up on a hard tackle and left the Hall of Fame game against the New Orleans Saints with bruised ribs. Kolb was tackled hard by Sedrick Ellis as he let go of a pass for his only completion in three series on Sunday night. Kolb landed hard on his right side, got to his knees and put his helmet on the ground, staying down while trainers talked...
Kevin Kolb, the Arizona Cardinals' starting quarterback in Sunday's Hall of Fame preseason game against New Orleans, had to leave in the first quarter because of a rib contusion. He was not expected to return to the game. Saints defensive tackle Sedrick Ellis slammed Kolb to the ground, and Kolb fell on his right shoulder. He left the field under his own power, but...
Arizona Cardinals starting qb Kevin Kolb didn't fist pump game entering quarterback Josh Skelton when he left this weekend's Hall of Fame game. Was it a) because he was injured b) because he couldn't... Full story at Bob's Blitz ~ http://www.bobsblitz.com
Let me preface this piece by stating that this is purely speculation on my part, but I believe that Kevin Kolb may have just pulled into second place on the depth chart at quarterback for the 2012 Arizona Cardinals. Even though Kolb has been announced as the early number one quarterback on the roster, the opportunity for John Skelton to steal the job was always there. And even though...
Cardinals QB Kevin Kolb did himself no favors in the preseason opener against New Orleans while John Skelton took another step towards becoming the team's starting quarterback.
You know whats sillier than NFL preseason games? A good chunk of the people who cover them. Lets review. Cardinals quarterback Kevin Kolb threw an interception on his first pass and got hurt on his fourth and final pass of Sundays 17-10 loss to the New Orleans Saints in the Hall of Fame Game in Canton, Ohio. John Skelton led the Cards on their only touchdown drive of the first half...
Week 1: @ Arizona Cardinals Kevin Kolb finally realizes how big of a mistake it was going to Arizona as Bruce Irvin sacks him 12 times while foaming at the mouth. SEA 23, ARI 13 (1-0)Week 2: Dallas Cowboys Tony Romo hides in a CenturyLink Field bathroom stall with the thought of seeing Terrell Owens again. SEA 27, DAL 23 (2-0) Week 3: Green Bay Richard Sherman makes a comment...
NFL News

Delivered to your inbox

You'll also receive Yardbarker's daily Top 10, featuring the best sports stories from around the web. Customize your newsletter to get articles on your favorite sports and teams. And the best part? It's free!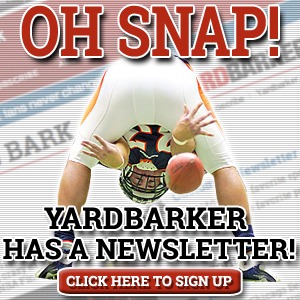 Latest Rumors
Best of Yardbarker

Today's Best Stuff

For Bloggers

Join the Yardbarker Network for more promotion, traffic, and money.

Company Info

Help

What is Yardbarker?

Yardbarker is the largest network of sports blogs and pro athlete blogs on the web. This site is the hub of the Yardbarker Network, where our editors and algorithms curate the best sports content from our network and beyond.