Found January 22, 2013 on Sports-Glory:
Hall of Fame finalist and former Oakland Raiders wide receiver Tim Brown believes former Raiders coach Bill Callahan sabotaged the team before its embarrassing 48-21 loss to the Tampa Bay Buccaneers in Super Bowl XXXVII. "We get our game plan for victory on Monday, and the game plan says we're gonna run the ball," Brown said Saturday on SiriusXM NFL Radio, first reported by ProFootballTalk.com.  "We averaged 340 [pounds] on the offensive line, they averaged 280 [on the defensive line].  We're all happy with that, everybody is excited.  [We] tell Charlie Garner, 'Look, you're not gonna get too many carries, but at the end of the day we're gonna get a victory.  Tyrone Wheatley, Zack Crockett, let's get ready to blow this thing up.'" Brown said coach Callahan changed the game plan from a run-heavy attack offense to a "throw the ball 60 times," offense on the Friday before the Super Bowl. "We all called it sabotage . . . because Callahan and [Tampa Bay coach Jon] Gruden were good friends," Brown said.  "And Callahan had a big problem with the Raiders, you know, hated the Raiders.  You know, only came because Gruden made him come.  Literally walked off the field on us a couple of times during the season when he first got there, the first couple years.  So really he had become someone who was part of the staff but we just didn't pay him any attention.  Gruden leaves, he becomes the head coach. . . .  It's hard to say that the guy sabotaged the Super Bowl.  You know, can you really say that?  That can be my opinion, but I can't say for a fact that that's what his plan was, to sabotage the Super Bowl.  He hated the Raiders so much that he would sabotage the Super Bowl so his friend can win the Super Bowl.  That's hard to say, because you can't prove it. "But the facts are what they are, that less than 36 hours before the game we changed our game plan.  And we go into that game absolutely knowing that we have no shot.  That the only shot we had if Tampa Bay didn't show up." Brown said the players weren't angry at center Barret Robbins, who went on a drinking binge in Tijuana and missed the Super Bowl, just at Callahan. "Barret Robbins begged Coach Callahan, 'Do not do this to me.  I don't have time to make my calls, to get my calls ready.  You can't do this to me on Friday.  We haven't practiced full speed, we can't get this done.'" Brown said he wasn't sure if Callahan's decision to change the game plan on Friday had any impact on Robbins going off on a two day drinking binge just south of San Diego where the game was played.    "I'm not saying one had anything to do with the other," Brown said.  "All I'm saying is those are the facts of what happened Super Bowl week.  So our ire wasn't towards Barret Robbins, it was towards Bill Callahan.  Because we feel as if he wouldn't have did what he did, then Barret wouldn't have done what he did. "Now, should Barret have manned up and tried to do it?  Absolutely.  But everybody knew Barret was unstable anyway.  So to put him in that situation — not that he was putting him in that situation — but for that decision to be made without consulting the players the Friday before the Super Bowl?  I played 27 years of football.  The coaches never changed the game plan the Friday before the game.  I'm not trying to point fingers at anybody here, all I'm saying is those are the facts of what happened.  So people look at Barret and they say all these things, but every player in that locker room will tell you, 'You'd better talk to Bill Callahan.'   Because if not for Coach Callahan, I don't think we're in that situation." Well, I am sure Brown will be asked about this more next week in New Orleans, the 10th anniversary of the game is Jan. 26.
Original Story:
http://sportsglory.com/xn/detail/6286...
THE BACKYARD
BEST OF MAXIM
RELATED ARTICLES
Tampa Bay quarterback Josh Freeman heads into the offseason knowing that his long-term future with the team is uncertain, despite throwing for more than 4,000 yards and 27 touchdowns in 2012. Buccaneers general manager Mark Dominik told the Tampa Tribune that the team has no plans to give the 25-year-old Freeman an extension and that a quarterback likely will be added through free...
Tampa Bay Buccaneers rookie running back Doug Martin is being added to the NFC Pro Bowl roster, taking the place of San Francisco 49ers runner Frank Gore, who'll go to the Super Bowl instead. Martin is the Bucs' first rookie in the Pro Bowl since kick returner Clifton Smith in 2008. Martin, the 30th pick in last April's NFL draft, ran for 1,454 yards and 11 touchdowns...
Former Oakland and Tampa Bay receiver Tim Brown sounds as if he is still hurting from the Raiders Super Bowl XXXVII loss to the Bucs a decade ago. So hurt that he can't remember if he said former head coach Bill Callahan sabotaged the game plan or not. Let's take a trip down memory lane. Here is what Brown said Saturday on SiriusXM NFL Radio: "We all called it sabotage . ....
Rich Gannon quarterbacked the Raiders in their Super Bowl 37 loss. (Credit: AP Photo/David Zalubowski) Earlier today, former Raiders wide receiver Tim Brown made a shocking revelation when he claimed that then-head coach Bill Callahan tried to throw the game when the Raiders and Buccaneers faced off in Super Bowl 37. In that game, Jon Gruden, who coached the Raiders for four years...
It's been ten years since the Tampa Bay Buccaneers faced off against the Oakland Raiders in Super Bowl XXXVII, a game that saw Tampa Bay pick off league MVP Rich Gannon five times, returning three for scores as the Bucs ran away with a 48-21 victory. Jon Gruden was the Raiders' coach from 1998-01 and [...]
Bucs will have another member of the team going to the Pro Bowl next week. Rookie running back Doug Martin will be joining teammates Vincent Jackson and Gerald McCoy in Hawaii.  Martin replaces San Francisco 49ers' running back Frank Gore after they defeated the Atlanta Falcons and move on to the Super Bowl. Martin broke the Bucs franchise rookie record for rushing yards with...
At one point we all felt like this play might be the defining moment of 2012 and the play that would turn around the Saints' season. Unbelievable effort here by Jenkins, and an example to all sports players that when you don't quit amazing things can happen. Of course, this play isn't as awesome if the Saints don't stop the Bucs on 4th down after three tries from...
The San Francisco 49ers' appearance in the Super Bowl means several stars won't play in the Pro Bowl, opening up spots for others Arizona inside linebacker Daryl Washington is headed to the Pro Bowl for the first time. Washington, an alternate, will replace San Francisco's NaVorro Bowman in Hawaii, where the Pro Bowl will be played next Sunday. Washington Redskins linebackers...
Buccaneers News

Delivered to your inbox

You'll also receive Yardbarker's daily Top 10, featuring the best sports stories from around the web. Customize your newsletter to get articles on your favorite sports and teams. And the best part? It's free!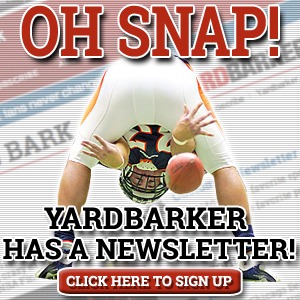 Latest Rumors
Best of Yardbarker

Today's Best Stuff

For Bloggers

Join the Yardbarker Network for more promotion, traffic, and money.

Company Info

Help

What is Yardbarker?

Yardbarker is the largest network of sports blogs and pro athlete blogs on the web. This site is the hub of the Yardbarker Network, where our editors and algorithms curate the best sports content from our network and beyond.