Found May 10, 2012 on Kissing Suzy Kolber:
Next copyright claim: foam headset and spangled jersey
In case you're wondering why Robert Griffin III is in a big rush to trademark things like "RGIII" and the "Unbelievably Believable" phrase from his Heisman acceptance speech, here's a handy object lesson as to why. A Jacksonville man is suing the Jaguars for copyright infringement because he claims the team stole his idea for the "three-point stand" tee that kickers use to warm up on the sidelines. He is seeking $5 million.
Of course, in his filing with the court – written by typewriter, by the way – Johnnie Perry misspells words "plaintiff" and "deliver" then encloses a photo of an object that doesn't actually have three points.
IN 1996 THE THREE POINT STANDS WAS INVENTION THE PALINTIFF INVENTION THE THREE POINT STANDS AND ASK THE DEFENDANTS TO BUY ONE THREE POINT STANDS AND HANDDELEVER TO THE N.F.L. KICKER AND THE TEAM.
I'm no law-talking guy, but this looks like a slam dunk to me. Get out your checkbook, Shahid Khan.
Original Story:
http://kissingsuzykolber.uproxx.com/2...
THE BACKYARD
BEST OF MAXIM
RELATED ARTICLES
BUSINESS PLANS
Redskins quarterback Robert Griffin III is a pretty smart dude and has decided to trademark his name and other nicknames he goes by.
The person was Robert Griffin III, the phenomenon was RG3. If you used the number it sounded like a sports car. If you used the Roman numerals it looked like an event. Either way, it was the truth. You may have heard the news Griffin III is trademarking both of those symbols. People have been hocking RG3 stuff all over Washington, D.C. since the Redskins took the former Baylor...
When the Washington Redskins drafted Robert Griffin III with the second pick of the NFL Draft, they knew they had their new franchise quarterback. The team sees dollar signs in their new quarterback, and Griffin shares that same sentiment. Shortly after being drafted, Griffin hired an attorney and created an LLC, named Thr3escompany, according to a report by USA Today. Griffin...
Robert Griffin III is already more than a household name, and if all goes to plan for the Redskins he's going to be an NFL superstar. As we know, these things don't always turn out the way teams hope they will. But Griffin isn't taking any chances. If and when he becomes a celebrity athlete, nobody is going to be making money off RG3′s name without permission. According to...
Robert Griffin III is going to do very well for himself, no matter what happens on the football field. The new starting QB for the Washington Redskins is acting quickly on his fame, and has already put the wheels in motion to profit off himself. There are several reports that Griffin hired an attorney almost [...]
Robert Griffin III could soon capitalize on his booming popularity in the nation's capital and beyond. Griffin applied for trademark applications for "RGIII," "RG3" and the phrase "Unbelievably Believable" and generated an LLC to be known as "Thr3escompany," according to the Sports Business Journal and Changelegal.com. Griffin'...
Was Philadelphia Eagles quarterback Michael Vick inadvertently disrespected by Redskins rookie Robert Griffin III?  Apparently some Eagles fans feel that is the case after an RG3 interview with the DC press took place at the end of April. A mini "Twitter-ruption" (okay, maybe it wasn't that bad, but I did say "mini") took place recently amongst some Eagles fans who felt...
Courtesy of Dan Steinberg over at D.C. Sports Bog comes this photo of what at the very least likely the first photo to emerge online of a Washington Redskins fan who has gone ahead and got himself some Robert Griffin III tattoo goodness etched into his skin. Obviously, this fellow believes that the team has [...]
In 2011, former Michigan State quarterback Kirk Cousin led Michigan State to play against Wisconsin in the first ever Big 10 Championship.  In a draft that was filled with star quarterbacks like Andrew Luck, Robert Griffin III, Ryan Tannehill and Brandon Weeden, Cousins was one of the quarterbacks that went on the back burner. After being drafted with the seventh pick in the fourth...
Andrew Strickert is my long time blogging colleague who covers the Tennessee Titans for Total Titans on the Bloguin Network. Andrew overheard an assessment of Robert Griffin III and his NFL prospects that he thought would interest Washington Redskins fans — not that Redskins fans need convincing about RG3. We thought it was good enough to turn into a guest post. Read on. Mike...
Redskins News

Delivered to your inbox

You'll also receive Yardbarker's daily Top 10, featuring the best sports stories from around the web. Customize your newsletter to get articles on your favorite sports and teams. And the best part? It's free!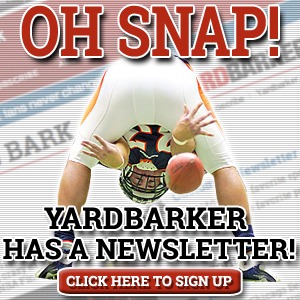 Latest Rumors
Best of Yardbarker

Today's Best Stuff

For Bloggers

Join the Yardbarker Network for more promotion, traffic, and money.

Company Info

Help

What is Yardbarker?

Yardbarker is the largest network of sports blogs and pro athlete blogs on the web. This site is the hub of the Yardbarker Network, where our editors and algorithms curate the best sports content from our network and beyond.