Found November 19, 2012 on Blitzburgh Blog:
Way back in August, I did a statistical look at how Todd Haley's offenses have fared in past years. The results were mixed, but the only time Haley had approaching the level of offensive talent as he has had this year was in 2008 with the Super Bowl runner-up Cardinals. Now is a very good time to look at how the offense has fared so far, because with Ben Roethlisberger out for an unknown amount of time and Byron Leftwich representing a definite downgrade, that will affect the quality of the Steelers offense significantly. First, let's look at the Steelers' current offensive DVOA rankings through week 10: Year Offense DVOA (rank) Pass Offense (rank) Run Offense (rank) 2012 (through W10) 4.2% (16) 25.8% (9) -15.6% (27) 2011 (season) 11.4% (6) 24.3% (7) 6.6% (6)   The Steelers' offense ranks in the middle of the pack so far, but it's not the fault of the passing game. The rushing offense has been near the bottom of the league. In fact, the only Steelers running back with a positive DVOA as of week 10 is none other than Chris Rainey at +10.3%! The injuries have hurt, and the offensive line hasn't fared that well (24th in run blocking with 3.83 Adjusted Line Yards per carry and 16th in pass blocking with a 6.3% Adjusted Sack Rate). You might remember this chart from August: Game HA (rank) Game HA (rank) Game HA (rank) Game HA (rank) 2008-WC .2676 (1/8) 2009-1 .2195 (13/32) 2010-1 .0963 (31/32) 2011-1 .0940 (30/32) 2008-DC .2161 (3/8) 2009-2 .1857 (21/32) 2010-2 .1808 (23/32) 2011-2 .1484 (30/32) 2008-CC .3227 (1/4) 2009-3 .1812 (20/32) 2010-3 .3052 (2/32) 2011-3 .2342 (13/32) 2008-SB .2765 (1/2) 2009-4 .0993 (28/28) 2010-5 .1502 (23/28) 2011-4 .2608 (10/32) 2009-5 .1809 (19/28) 2010-6 .2223 (11/28) 2011-5 .2862 (5/26) 2009-6 .1453 (20/28) 2010-7 .3434 (1/28) 2011-7 .1580 (17/26) 2009-7 .1042 (25/26) 2010-8 .1698 (18/26) 2011-8 .2364 (8/26) 2009-9 -.1970 (26/26) 2010-9 .1850 (19/26) 2011-9 .1713 (23/28) 2009-10 .1783 (18/30) 2010-10 .2627 (11/28) 2011-10 .1160 (31/32) 2009-11 .2296 (9/32) 2010-11 .2612 (7/32) 2011-11 .1665 (23/28) 2009-12 .1605 (26/32) 2010-12 .2511 (9/32) 2011-12 .1703 (24/32) 2009-13 .0876 (32/32) 2010-13 .1747 (24/32) 2011-13 .1415 (29/32) 2009-14 .1383 (23/32) 2010-14 .0280 (32/32) 2011-14 .1527 (26/32) 2009-15 .2524 (11/32) 2010-15 .1857 (20/32) 2009-16 .1448 (27/32) 2010-16 .2747 (8/32) 2009-17 .2437 (5/32) 2010-17 .0703 (32/32) 2010-WC .0867 (8/8) Average .2707 Average .1471 Average .1911 Average .1797   This chart shows Haley's game-by-game coaching statistics as offensive coordinator or head coach, via QuantCoach. For those interested, his methodology in producing coaching statistics is here. Now, we have nine more games to add: Game HA (rank) 2012-1 (at DEN) .1685 (28/32) 2012-2 (vs NYJ) .2706 (8/32) 2012-3 (at OAK) .2517 (6/32) 2012-5 (vs PHI) .1647 (22/28) 2012-6 (at TEN) .2693 (7/28) 2012-7 (at CIN) .2122 (8/26) 2012-8 (vs WAS) .2185 (10/28) 2012-9 (at NYG) .2070 (16/28) 2012-10 (vs KC) .1508 (24/28) Average .2126   In looking at these stats, .2 seems to be the break-even point between a good coaching performace and a bad one. Taken somewhat simplistically and based on QuantCoach's equation, a good play calling game adds about 1.3 yards per passing attempt. So far, it has looked a lot better in Pittsburgh for Haley's play calling than his years in Kansas City. Of course, if he had Roethlisberger with the Chiefs, he'd probably still be coaching there. The Steelers are currently the third-best coached team (offense and defense) by the average difference between teams' HA, according to QuantCoach's standings. I will be interested in seeing the coaching statistics for this week and any other games the Steelers play without Roethlisberger, because one of QuantCoach's principles behind his coaching equations is that the QB is also a play caller. There is an obvious drop-off in QB talent from Roethlisberger to Leftwich, and I think that will show up in these coaching statistics as well.
Original Story:
http://www.blitzburghblog.com/2012-ar...
THE BACKYARD
BEST OF MAXIM
RELATED ARTICLES
RIP
A Kansas City Chiefs fan's obituary claimed his death was caused by the team. Read the funny entry here.
Eric Edholm of ProFootballWeekly.com believes the Kansas City Chiefs will likely move on from quarterback Matt Cassel after this season.  They clearly don't believe in him after benching him in favor of Brady Quinn. All signs pointed to the Chiefs parting ways with QB Matt Cassel at season's end, but that became all but certain when he was yanked from the Chiefs' loss Sunday...
The Kansas City Chiefs are in midst of one of the worst seasons in the organizations history, and it may have been all that a local man could take. Loren G "Sam" Lickteig, passed away at the age of 81, due to complications of MS. Well, that and the Chiefs, at least according to his [...]
KANSAS CITY, Mo. The Chiefs, and their fans, seemingly have nothing left to get mad about. Instead, an eerie silence cast over the in-house crowd of about 50,000 fans at Arrowhead Stadium for most of Sunday afternoon's Chiefs-Bengals game, won handily and rather uneventfully by the Bengals, 28-6. Obviously, Chiefs fans had virtually nothing to cheer about, just two short Ryan...
KANSAS CITY, Mo. (AP) Chiefs coach Romeo Crennel laid out for his team Monday exactly what it will take to end their seven-game losing streak and then questioned whether the solution is even possible. "We know we have to fight. We have to do everything in our power to be the best we can be, to be perfect," he said during a break in meetings. "That's what I told...
Chiefs receiver Dwayne Bowe left Sunday's game in the second quarter with a head injury. His return is doubtful.Fantasy Spin:Bowe landed on his head and went to the locker room. When he returned he didn't have his helmet with him, a pretty sure sign that he's not retuning anytime soon.
The Kansas City Chiefs' play on the field leaves much to be desired but who knew that rooting for the team was deadly? That was the case for one Loren "Sam" Lickteig whose recent obitiuary cast some of the blame for his death at the Chiefs' feet.  I always say, "If you're gonna go, might as well take some people out with ya," and it looks...
Kansas City Chiefs wide receiver Dwayne Bowe left yesterday's game against the Cincinnati Bengals with a neck injury, reports the Associated Press. Bowe sustained the injury when he landed hard on the turf after leaping to make a catch. He was checked by trainers on the sidelines, hit the locker room for further evaluation and ultimately returned to the bench without his helmet...
After another embarrassing home loss by the Kansas City Chiefs that featured a lackluster crowd wearing more black than red in the stands, I'm ready to give in to the fact that all the blame for the teams 1-9 record can't be placed at the feet of General Manager, Scott Pioli.
KANSAS CITY, Mo. -- Loren "Sam" Lickteig led a fulfilling life -- a loving wife and family, a stint in the Air Force, a career as a real estate broker and a spell on the city council. But in passing, he's now become a part of Kansas City Chiefs lore. "Oh, he would've loved it," Lickteig's son, Jake, told FOXSportsKansasCity.com when asked about his...
The Chiefs are without center Ryan Lilja and right guard Jon Asamoah along with wide receiver Jon Baldwin for their game against the Cincinnati Bengals. Safety Reggie Nelson was inactive for Cincinnati with a hamstring injury Sunday. Taylor Mays is expected to start in his place alongside Nate Clements. Lilja is inactive with a knee injury and Asamoah had surgery on his right thumb...
KANSAS CITY, Mo. (AP) -- The Cincinnati Bengals are back to eyeing the playoffs. The Kansas City Chiefs are looking forward to the end of the season. Andy Dalton threw for 230 yards and accounted for three touchdowns, A.J. Green caught a touchdown pass in his ninth straight game and the Bengals beat the woeful Chiefs 28-6 on Sunday. Green finished with six catches for 91 yards...
NFL News

Delivered to your inbox

You'll also receive Yardbarker's daily Top 10, featuring the best sports stories from around the web. Customize your newsletter to get articles on your favorite sports and teams. And the best part? It's free!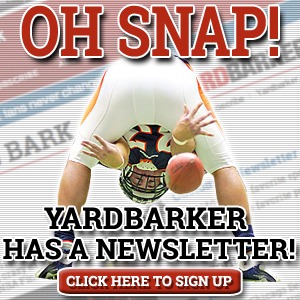 Latest Rumors
Best of Yardbarker

Today's Best Stuff

For Bloggers

Join the Yardbarker Network for more promotion, traffic, and money.

Company Info

Help

What is Yardbarker?

Yardbarker is the largest network of sports blogs and pro athlete blogs on the web. This site is the hub of the Yardbarker Network, where our editors and algorithms curate the best sports content from our network and beyond.