Found March 21, 2013 on Pats Propaganda:
Tom Brady teaching the Easter Bunny his Touchdown Dance (x)
Original Story:
http://feedproxy.google.com/~r/PatsPr...
THE BACKYARD
BEST OF MAXIM
RELATED ARTICLES
NICE HARE
It is no shock to see Tom Brady in the following ads by UNREAL, a candy company that produces candy without the use of  corn syrup, hydrogenated fats, GMOs, artificial colors, flavors and preservatives. Brady has been a company supporter for years. In this year's UNREAL ads, Brady along with other celebs are shown with the Easter Bunny who is heading off on his "apology tour"...
#1 NFL Single Season Performance of All Time—Tom Brady[HD] (by woods54)
Candy company UNREAL and Tom Brady have teamed up for some new ads starring the Easter Bunny. In this year's UNREAL ads, Brady along with other celebs are shown with the Easter Bunny who is heading off on his "apology tour", sending his sincerest apologies across the nation for filling kids baskets with junk food filled with artificial ingredients. The first ad shows Brady...
Well, that's not a headline you don't see every day. As part of UNREAL Candy's "Easter Bunny Apology Tour," Tom Brady tossed the pigskin and put on a touchdown celebration clinic with everyone's favorite rabbit. Brady's signature fist pump looks to be in midseason form, but the bunny could use a few more lessons. Check out the strange scene in the videos below.
Oh No! Easter has been cancelled due to Tom Brady attacking the Easter Bunny! Check out this short promo video of Tom Brady killing the Easter Bunny in an ad for UNREAL, a candy company that is promoting a healthy candy made without a bunch of junk in it. The apology tour mentioned in the video is the Easter Bunny apologizing to children everywhere for filling their baskets with...
Of course, we've all seen this video before. I feel like Brady has one of these surprisingly athletic but not really that athletic moves every year. Last year it might've been either his scramble for a TD against Buffalo or when he kicked Ed Reed in the balls, can't decide which I liked more. Anyway, Brian Urlacher is leaving Chicago after they basically told him they...
The debate about who the best coach of all time and who the best quarterback of all time can be carried for hours.  The list of all time great coaches worthy of being the best ever may not be that long, but the debate about who the best quarterback of all time won't be settled in one conversation that's for sure. One man in particular thinks he has the best of both worlds.  Patriots...
Owners from the NFL voted on two rules for this upcoming season. Earlier today the voted on eliminating the tuck rule and whether or not to penalize offensive players, especially running backs, on using the crown of their helmets to hit defensive players. The tuck rule was voted out of the league. There has to be some joy in Oakland to have this rule eliminated from league rules...
When a team totals double digits in regular season victories in eleven out of the last twelve years; you laud them for their consistency. When they've been to seven conference title games during that time; their brush with greatness is hard to deny. When they play in five Super Bowls during that time; it's tough to call them anything other than a special. Finally, when a team...
Bill Belichick and Tom Brady are the winning-est coach and quarterback tandem in NFL history, so calling them the best ever wouldn't be much too much of a stretch. And that's just what Robert Kraft did. Kraft, who along with Belichick is out at the NFL Annual Meeting in Phoenix, Ariz., this week, joined NBC Sports Pro Football Talk crew on Tuesday and let his feelings be known...
The NFL owners voted Wednesday to eliminate the Tuck Rule at their meetings in Arizona. With that rule now eliminated, quarterbacks who lose control of the ball while trying to pump fake and bring it back into their chest will be deemed to have fumbled. This change of course won't help the 2001 Oakland Raiders, who lost to the New England Patriots in the AFC Divisional Round...
We shared on Thursday that the league was willing to get rid of the totally pointless Tuck Rule. Wednesday was the day its fate was decided, and you kiss it goodbye for good. The league voted to abolish the controversial ruing that infamously stole a playoff victory away from the Raiders in 2002 by a count of 29-1. The Redskins and the Patriots, obviously, abstained from the vote...
Patriots News

Delivered to your inbox

You'll also receive Yardbarker's daily Top 10, featuring the best sports stories from around the web. Customize your newsletter to get articles on your favorite sports and teams. And the best part? It's free!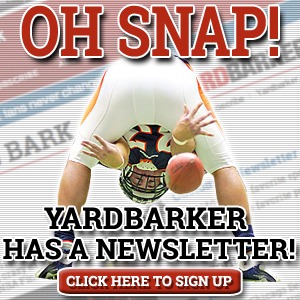 Latest Rumors
Best of Yardbarker

Today's Best Stuff

For Bloggers

Join the Yardbarker Network for more promotion, traffic, and money.

Company Info

Help

What is Yardbarker?

Yardbarker is the largest network of sports blogs and pro athlete blogs on the web. This site is the hub of the Yardbarker Network, where our editors and algorithms curate the best sports content from our network and beyond.