Found October 08, 2012 on Boston's Bettah:
Tom Brady has been doing more managing than throwing in 2012
The term "game manager" has always been a sore subject in football circles. Normally, it has been reserved for okay quarterbacks on teams filled with talented players at every other positions who have one job and that job is to not make a major mistake. The ultimate game manager was Baltimore Ravens quarterback Trent Dilfer who in 2000 with one of the greatest football defenses of all time led the Baltimore Ravens to a Super Bowl championship by not making many mistakes.
The game manager has three major jobs:


Don't turn the ball over and give the opposing teams a short field.


Change to the correct play if the defense shows something that can be exploited.


Make enough plays to win the game if need be.


As Sunday's game between the New England Patriots and the Denver Broncos went on from the afternoon into the early evening, the idea of the "game-manager" constantly popped into my head between plays and sips of beer. Watching quarterback Tom Brady get to the line, calling out the audibles and more than often hand off the ball to one of the Patriots' running backs, it was hard not to think of him as a "game-manager".
It seems blasphemous to think of Tom Brady, one of the greatest if not arguably the greatest quarterbacks of all time, as being a game-manager given the common connotation the term game-manager has. It would imply that Tom Brady isn't that great, that the Patriots don't need him to be great for them to win games right now. That last one is becoming closer to reality than Patriots' fans might think. The past two weeks, the Patriots have rushed for over 200 yards as a team on the go, the first time that has happened since the 1970′s. They have a physical offensive line that opens holes for Stevan Ridley, Brandon Bolden and Danny Woodhead to make one cut and go. In fact, the most impressive play of the game for the Patriots was the definition of a game-manager's plays. With a third and seventeen, the Patriots called a simple stretch-run play to Danny Woodhead in the hopes that he would gain a couple of yards to make the punt a little bit easier. The Patriots, of course,  acquired a first-down on the run which is what made it impressive, but the fact of the matter is that the Patriots played the play in a way that they didn't want to make a mistake and give the Broncos a short field and continue their comeback. One would think that with Tom Brady at the helm, the Patriots would try and take a shot to gain the first down, but they didn't do that.
Is this a bad thing or a knock against Tom Brady? Not at all. In fact, the Patriots could be better for it in the long run. I don't think many Patriots' fans are doubting Tom Brady's ability to make big plays in order to win games. Outside of the Jets playoff game (and the Ravens game to some extent) it has been the Patriots' defense that has let them down over the years with Brady having done enough work to usually win those game.
A quick look at his games this year show a quarterback who is qualifying as a game-manager with a little bit of girth to him:
Passing
Rushing
Scoring
Rk
G#
Date
Age
Tm
Opp
Result
GS
Cmp
Att
Cmp%
Yds
TD
Int
Rate
Y/A
AY/A
Att
Yds
Y/A
TD
TD
Pts
1
1
2012-09-09
35-037
NWE
@
TEN
W 34-13
*
23
31
74.2%
236
2
0
117.1
7.61
8.90
2
1
0.50
0
0
0
2
2
2012-09-16
35-044
NWE
ARI
L 18-20
*
28
46
60.9%
316
1
1
79.6
6.87
6.33
1
-1
-1.00
0
0
0
3
3
2012-09-23
35-051
NWE
@
BAL
L 30-31
*
28
41
68.3%
335
1
0
101.2
8.17
8.66
2
7
3.50
0
0
0
4
4
2012-09-30
35-058
NWE
@
BUF
W 52-28
*
22
36
61.1%
340
3
0
120.1
9.44
11.11
1
4
4.00
1
1
6
5
5
2012-10-07
35-065
NWE
DEN
W 31-21
*
23
31
74.2%
223
1
0
104.6
7.19
7.84
4
-2
-0.50
1
1
6
5 Games
124
185
67.0%
1450
8
1
102.8
7.84
8.46
10
9
0.90
2
2
12
Provided by
Pro-Football-Reference.com
:
View Original Table
Generated 10/8/2012.
Outside of Buffalo, Brady isn't putting up huge touchdown numbers or making massive plays to win games for the Patriots, but he is doing enough to win games and making plays when he needs to. In addition, it's tough to call him a game-manager because he is completing balls at a 67% rate and throwing for 290 yards a game. If anything, it is a throwback to the Tom Brady of old back when the Patriots were a run first team and used the run to set up the pass. The difference now is that Tom Brady is more experienced and has also been the man in the offense for almost 5 seasons now. Not since Corey Dillon in 2004 have the Patriots had a running attack this good.
It's also a testament to the ability and skill of Tom Brady to fit into many different offenses. If the Patriots needed him to throw for 500 yards and 4 touchdowns to win, he has proven he can do that. If a game-winning drive is needed, Brady can deliver and he can also hand off the ball, prevent turnovers and do enough that is needed for the Patriots to win. Maybe that is what makes him the ultimate game-manager. He can adapt and evolve to whatever the situation is supposed to be. It's the true definition of "game-manager", he manages the game and determines what he has to do to give the Patriots the best chance to win.
(Did I twist the term game-manager to my own desires? Of course I did, but what semi-biased Boston sports blog writer would I be if I didn't do that?)
The 2012 Patriots offense is the most balanced one since the 2008 Patriots and the most balanced one with Tom Brady at the helm since the 2004 Super Bowl season. There are weapons all over the field and defenses are going to try and play them different ways. Each game, Tom Brady has the ability to quickly decipher who or what the Patriots' have that is trying to be stopped and determine what he has to do to win.
So far in 2012, he hasn't had to be the all-world MVP passer of years past. As long as they are winning, Tom Brady, game-manager sounds just fine to me.
Original Story:
http://www.bostonsbettah.com/?p=5210
THE BACKYARD
BEST OF MAXIM
RELATED ARTICLES
New England QB Tom Brady threw a season-high two interceptions and turned in his lowest QB rating of the year Sunday in a one-point loss to the Seahawks.Fantasy Spin:Despite the uneven performance, Brady still managed to throw for 300 yards passing, the fourth time he's been able to accomplish that in his last five starts.
Brady sure looks like a man who turned the 12thMan against us twitter.com/RSherman_25/st…— Richard Sherman (@RSherman_25) October 15, 2012He told me and earl to see him after the game when they win..... I found him after.... twitter.com/RSherman_25/st…— Richard Sherman (@RSherman_25) October 15, 2012Patriots fans mad lol... Talking bout Super Bowl rings.... What have u done...
Tom Brady and the New England Patriots choked away a game in Seattle on SundayIt's very easy to write the book on how to win football games in the NFL. By following the common rules of good football such as "manage time wisely" or "be more physical than the opposition". It is a lot harder to write the other book. THat's the book on how to lose football games and, of course...
The line went viral following Seattles stunning comeback against New England on Sunday. "U Mad Bro?"Seahawks cornerback Richard Sherman had words for Tom Brady following the game. Brady was asked about the incident and responded according to NFL.com's Gregg Rosenthal."(Sherman's) a very good player, and I have a lot of respect for that defense and certainly that secondary...
The guys find out why a winning Richard Sherman went after a losing Tom Brady Sunday and about an errant football finding a NFL Network reporter
Three games, three losses by 4 points, and a whole lot of mistakes at crucial times. This doesn't sound like New England Patriots football, but it's been the case so far this season. The introduction of the running game was supposed to help ground out tough yards to secure victories, but you have to use it to get it's benefits. Well within field goal range near the end...
Welcome back Rex. And welcome backs Rex's mouth. They both predict victory over the Patriots. The Bills hope to the Titans at home.
There are many reasons not to like Tom Brady, so many that I don't feel like writing the novel on it.He's a competitive guy and that showed against the Seattle Seahawks as he was obviously frustrated at times cursing himself after he threw his two interceptions on the day.The Seahawks wanted to make sure they rubbed it in a little after the game on Sunday when cornerback Richard...
The Billy Beane Theory of Chaos is at play in the NFL nowadays, helping explain a lot of the ugly we have seen so far this season. Because whatever your particular NFL problem -- Chiefs, Norv, Sanchez or Cowboys -- Patriots quarterback Tom Brady almost assuredly has a hand in that blame. He has ruined NFL franchises. He has sold them hope, then watched as that fledgling spirit dies...
Andrew Luck, RGIII, Ryan Tannehill: All of these 1st round QB's were the talk of the league coming into this 2012 season. Surely, it would be one of these 3 young guns to win the Rookie of the Year award. But then came Russell Wilson, the rookie sensation in Seattle! Wilson, who was known in college for his great mobility and pocket presense, has showed off his laser rocket...
This picture should make the Patriots sick. "Me and (safety Earl Thomas) walked up to him and said, 'We're greater than you. We're better than you. You're just a man -- we're a team,'" [Richard] Sherman told the News Tribune. "That's the Brady Bunch; this is a defense. We've got 11 players out there to play great ball, and we'...
NFL News

Delivered to your inbox

You'll also receive Yardbarker's daily Top 10, featuring the best sports stories from around the web. Customize your newsletter to get articles on your favorite sports and teams. And the best part? It's free!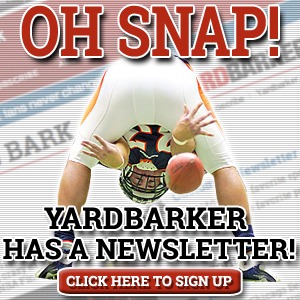 Latest Rumors
Best of Yardbarker

Today's Best Stuff

For Bloggers

Join the Yardbarker Network for more promotion, traffic, and money.

Company Info

Help

What is Yardbarker?

Yardbarker is the largest network of sports blogs and pro athlete blogs on the web. This site is the hub of the Yardbarker Network, where our editors and algorithms curate the best sports content from our network and beyond.