Found July 27, 2012 on Extra Pine Tar:
How am I supposed to interpret the Patriots 2012 Yearbook picture? Is like an Uncle Sam thing, or a presidential thing? Are the offensive linemen in the secret service? Am I being recruiting for something? I guess this gets me excited for football season – and I can have it for the one-time fee of $12.95, which is nice – but what's the deal here?
Most importantly, why is Tom Brady pointing at me? I mean, the Patriots sell out every game anyway – they don't need Tom Brady to encourage me to come out to the stadium. What is being pitched to me, exactly? What do they want me for? I'm already uncomfortable when people stare me straight in the eyes – like Brady is doing – I don't need them pointing at my chest for no reason as well.
And look at the guy in the back, two people over from Tom Brady's left shoulder. I think that's Turtle from Entourage. How did he manage to find his way into the photo? I have no idea who any of those players are,  except for Gronk (I think?), which might make me a bad fan, but what the hell – they're all wearing sunglasses. I'm used to seeing them in helmets, not in suits pretending to be part of some U.S. militia.
Imagine them setting this whole thing up? Do the players get to keep the sunglasses afterwards? Did Brady have to come to the photo shoot dressed like that – in the same way that we used to dress up for school pictures – or did he go in regular clothes and the guys provided him with a presidential outfit?
Everything about this is just very confusing. At least Brady doesn't have some Euro haircut, although he clearly didn't shave for three or four days to get ready for the shoot – giving him that rustic, 5 o'clock shadow look we all covet. Smart.
Original Story:
http://www.extrapinetar.com/2012/07/2...
THE BACKYARD
BEST OF MAXIM
RELATED ARTICLES
LET GO
Before he had to make his way back to Foxborough for another arduous journey through another grueling training camp at Gillette Stadium, New England Patriots quarterback Tom Brady and his brood embarked on a family trip to Costa Rica in July to relax, soak up some sun and enjoy some quality time together. Along with [...]
Tom Brady Hasn't had the mop cut this short in a while… (via Patriots open 2012 Training Camp)
Tom Brady turned 35 on Friday, earning the Patriots' quarterback a few birthday serenades from fans at New England's training camp. While Brady has said in the past he would like to play until he was 40, and has shown few signs of slowing down, the team is getting ever closer to the unthinkable, life without their franchise quarterback. After practice Sunday, Brady wouldn...
Bits and pieces of gray stubble jut out from of his chin and cheeks these days, hard to notice if you're not looking close enough. A black brace is always secured to his surgically repaired left knee. His hair is shorter, showcasing a slightly receding hairline. One careful look at Tom Brady might reveal that he is celebrating his 35th birthday Friday. Then the three-time...
"Star performer of the day. Bobby Carpenter. The linebacker intercepted an underthrown Tom...
New England Patriots star Quarterback, Tom Brady may be a new daddy soon. Brady  along with his supermodel wife Gisele Bundchen appeared to have let a secret out of the bag when she showed up on the beaches of Costa Rica in her bikini yesterday. The couple has a two-year old son Benjamin but have not confirmed the second pregnancy even though the photo clearly shows that congratulations...
Chad Johnson joining the Dolphins has an extremely familiar feel to it. It's not that he has played in Miami before, but there was a lot of talk about the artist formerly known as Ochocino resurrecting his career when he teamed up with Tom Brady and the Patriots. As we know, the exact opposite happened. Now that he has found yet another job, Chad insists he is going to have a "monster"...
My latest 53-man Patriots roster: QB (3) Tom Brady, Brian Hoyer, Ryan Mallett RB (5) Stevan Ridley,...
After five Super Bowl appearances since 2001, it's safe to say the New England Patriots aren't the most popular team in the United States. After all, Bill Belichick and Tom Brady have set a new bar for success that many teams in the NFL haven't been able to live up to. But the Patriots are still getting support outside of New England. Very, very far away from New England...
In a three-part segment leading into the start of training camp, we examine the expectations for the Patriots' free agent acquisitions, rookies, and veterans this season. Yesterday we talked about the free agent acquisitions. Today, let's take a look at some rookies. Let us use a different scale for "grading" these guys today. 1 Tom Brady: There cannot be any question...
In a three-part segment leading into the start of training camp, we examine the expectations for the Patriots' free agent acquisitions, rookies, and veterans this season. The only one left to talk about is the veterans, so let us get started. We are [yet again] going to use a different grading scale, this time based on the accomplishments and disappointments of previous players...
Patriots News

Delivered to your inbox

You'll also receive Yardbarker's daily Top 10, featuring the best sports stories from around the web. Customize your newsletter to get articles on your favorite sports and teams. And the best part? It's free!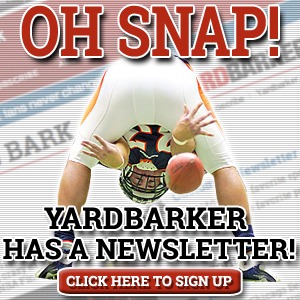 Latest Rumors
Best of Yardbarker

Today's Best Stuff

For Bloggers

Join the Yardbarker Network for more promotion, traffic, and money.

Company Info

Help

What is Yardbarker?

Yardbarker is the largest network of sports blogs and pro athlete blogs on the web. This site is the hub of the Yardbarker Network, where our editors and algorithms curate the best sports content from our network and beyond.