Found August 02, 2013 on Thacover2:
Tony Dungy is a man of god, one of the more forgiving men you'll find in football, and one of the few people that will take a call from the embattled Aaron Hernandez. Dungy says he hasn't reached out to Hernandez or his family, but told USA Today that he would be willing to answer the phone call, if Hernandez, who has pleaded not guilty, reached out and called. "My approach is guys who request the help, I'm glad to do it, but I have not at this point," Dungy told USA TODAY Sports. "I find it's the people who want help that respond best." Dungy referred back to his mentoring of Michael Vick over five years ago. "In Michael's situation, they called me," Dungy said. "And it became very easy. That's usually the best way, because people are receptive when they are looking for help as well."
Original Story:
http://thacover2.com/2013/08/tony-dun...
THE BACKYARD
BEST OF MAXIM
RELATED ARTICLES
Aaron Hernandez Claims Innocence In Letter From Jail, Expects 'Not Guilty' Verdict--CBS Boston: Here's the letter from Aaron Hernandez: our letter meant a lot and was very true! I know everything happens for a reason and I know "God" has a plan for me and something good will come out of this. The wolrd just makes things out of false accusations and it will all die down...
Despite the best efforts of the New England Patriots to distance themselves from former tight end Aaron Hernandez, who is currently in jail facing a murder charge, there will certainly be unexpected references to Hernandez that will come up during the season that will undoubtedly make things pretty awkward. Case in point: Aaron Hernandez is the featured player for the month...
According to WFSB  in Connecticut,  Aaron Hernandez's uncle was killed after crashing his moped in Bristol, Connecticut. Officers were called to the intersection of Central Street and Church Avenue around 1 a.m. where they found a man, who was later identified as 49-year-old Robert Valentine of Bristol, suffering from a life-threatening head injury. Valentine was pronounced dead...
Aaron Hernandez has a lot of free time in jail. He can lift weights, read books, take a shower ... and write letters. It would be a real hoot if we could actually see one of those letters, because seriously, who does that these days? Well, if TMZ is to be believed, Hernandez has indeed fired off a missive to someone on the outside world. Supposedly, a fan who spent time at the Bristol...
Just a coincidence, I would imagine, but this is the second person connected to Aaron Hernandez that has died while Hernandez has been in jail. Here is what happened to his uncle. Sources told Eyewitness News that Aaron Hernandez's uncle was killed after a Moped crash in Bristol early Saturday morning. Officers were called to the intersection of Central Street and Church Avenue...
A man killed early Saturday morning in a moped accident in Bristol, Conn., has been identified as Aaron Hernandez's uncle, according to The Hartford Courant. Robert J. Valentine, 49, suffered a life-threatening head injury after being thrown from his moped when he struck a curb shortly after 1 a.m. ET, police told The Courant. Valentine was the brother of Terri Hernandez, Aaron...
Aaron Hernandez's last words when he responded to a fan via a letter, was don't let this get into the hands of social media. That letter has done more than make it to social media, and according to the Boston Globe, it has made for a nice payday. The Boston Globe is reporting that TMZ paid $18,000 to a sports store named Sportsworld. Sportsworld, Inc., manager Brendan Brennan...
Former New England Patriots tight end Aaron Hernandez has been in jail for a month now for allegedly murdering Odin Lloyd. The time in jail has been enough to give Hernandez a pen pal. A man named Karl recently sent Hernandez a letter which was replied to by the former tight end. The letter was obtained by TMZ and has been verified as real by law enforcement officials. The highlights...
Aaron Hernandez has taken another hit in his life, as it's being reported that his uncle, Robert Valentine, died at 1 a.m. Saturday morning in a moped accident [below] in Bristol, CT. Valentine was announced dead at the scene from a head injury after striking a curb, and then striking his head after a vehicle was thrown into a private drive.The crash is still under investigation...
Calendars are made well advance, so nothing you can do about this, but still…. Does anyone know when the Pats calendar trade-in is? #HappyAugust t.co/xprgD0NCEC — Anthony Mahn (@AMahn7) August 1, 2013 Hernandez was also supposed to be on the 2014 calendar, but Pats are trying to stop that.
Former New England Patriots tight end Aaron Hernandez wrote a jail letter to a fan while in prison. Read what he had to say regarding his innocence.
Carlos Ortiz one of the men who was with Aaron Hernandez on the night Odin Lloyd was murdered told authorities that he saw Hernandez put two guns in a box according to court documents obtained by the Associated Press. According to the documents Ortiz Hernandez and Ernest Wallace were at Hernandez's residence after the killing when Ortiz handed a small gun to Hernandez. Ortiz...
NFL News

Delivered to your inbox

You'll also receive Yardbarker's daily Top 10, featuring the best sports stories from around the web. Customize your newsletter to get articles on your favorite sports and teams. And the best part? It's free!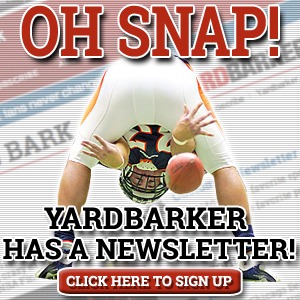 Latest Rumors
Best of Yardbarker

Today's Best Stuff

For Bloggers

Join the Yardbarker Network for more promotion, traffic, and money.

Company Info

Help

What is Yardbarker?

Yardbarker is the largest network of sports blogs and pro athlete blogs on the web. This site is the hub of the Yardbarker Network, where our editors and algorithms curate the best sports content from our network and beyond.