Found March 30, 2013 on BlackSportsOnline:
There's no doubt that Tony Romo has been under a microscope throughout his career as the starting quarterback of one of the NFL's most popular teams.  The Cowboys just gave us all 108 million (or 55 million if you only want to count guaranteed money) more reasons to zoom-in. Much to the chagrin of many observers, the Cowboys from signed Romo to a six-year, $108 million contract extension that includes $55 million in guaranteed money on Friday. "Absolutely, we feel we can win a championship with Tony," Cowboys Vice President Stephen Jones told USA Today (via CBSSports.com). "We wouldn't be doing all of this if we didn't think we could win with him." We'll find out if Jones and his father, Cowboys Owner/GM Jerry Jones will be rewarded for their faith soon enough, but there is a reasonable argument to support giving Romo this deal. With few alternatives available to them other than stumbling upon the right quarterback in the draft this year or next, and Joe Flacco's deal already setting the market, the Cowboys chose to commit to Romo in hopes of staying relevant in the NFC East long enough to eventually breakthrough with a successful playoff run. In many ways I think the Cowboys' move is analogous to the Atlanta Hawks' decision to give Joe Johnson a $119 million dollar contract extension in 2010.  Like Romo's deal, Johnson's deal was met with plenty of criticism. Johnson was 29 when he signed his deal, and in NBA years that's similar to where Romo is now as a soon to be 33-year old starting quarterback in the NFL.  Moreover, Johnson's Hawks were a fringe playoff team like Romo's Cowboys, having been swept out of the playoffs in the second round in consecutive seasons prior to Johnson getting his extension. In addition, many would argue that Romo's value to the Cowboys exceeds his value on the open market the way that Johnson's value to the Hawks exceeded his. Hawks' management made a choice that was very similar to the one that Jerry Jones' Cowboys just made when they decided to re-sign Johnson: they opted to avoid risking falling into the NBA's draft lottery in favor of maintaining their status as a fringe playoff team in the NBA's Eastern Conference. Even though the Hawks (with a new GM) eventually decided to get rid of Johnson's contract in an effort to free up cap space, one key distinction (other than the fact that NFL contracts aren't fully-guaranteed like NBA deals) between the two moves is that being a fringe playoff team in today's NFL is a lot different than being a fringe playoff team in the NBA. The NBA hasn't seen a playoff team seeded lower than third win a championship since the sixth-seeded Houston Rockets in 1995.  Meanwhile, the 2011 New York Giants won the Super Bowl following a 9-7 regular season and the sixth-seeded Green Bay Packers won a title as a wildcard team in 2010. Even though Romo has led the Cowboys to a pedestrian 16-16 mark over the last two seasons, Dallas was only a game away from getting into the postseason in 2011 and 2012.  As New York and Green Bay have recently demonstrated, once a team gets into the playoffs, anything can happen. Given that context, perhaps the Cowboys didn't necessarily embrace mediocrity when they extended Romo. "We've always looked at him as a great quarterback," Jones said. "He wants to win a championship as much as anybody." Despite his shortcomings, Dallas has decided to bet $55 million in guaranteed money on Romo and his 55-38 career regular season record getting them into January and stringing together three of four wins over facing an uncertain future at the most important position in football. If the Cowboys are wrong, they'll likely be set back even further than they would have been if they had decided to move on from the Romo era after next season. If they're right, Jerry Jones will end up having a Mastercard-like "priceless" moment when he hoist up the Lombardi trophy next to the highest paid player in Cowboys history.                            
Original Story:
http://blacksportsonline.com/home/201...
THE BACKYARD
BEST OF MAXIM
RELATED ARTICLES
Dallas Cowboys quarterback Tony Romo released a statement after signing his new six-year extension that will pay him up to $108 million. "This is an organization that always gives us a chance to win, and that is always the main focus here," Romo said in a statement, per the Fort Worth Star-Telegram. "We haven't had the type of success that we have all wanted the last few...
Several NFL insiders are now reporting that Tony Romo has signed a franchise record monster deal for 6yrs. Cowboys fans worst fears have now been confirmed. NFL Network Ian Rapoport saying it comes with a record $55 million guaranteed, more than Super Bowl Champ Joe Flacco. We are stuck with Romo and his choke artist ways for years to come. Forget going after a legit quarterback...
Tony Romo and the Dallas Cowboys have agreed on a six-year contract extension worth $108 million, with about half of it guaranteed. The agreement was reported on the team's website Friday. The deal will lower Romo's salary cap number of $16.8 million for 2013, giving the team more room to sign free agents and draft picks. Romo, who turns 33 next month and was entering the...
The Dallas Cowboys and quarterback Tony Romo agreed to a 7-year $108 million dollar deal today, according to ESPN. The deal makes Romo, 32, the highest-paid-played in franchise history. The last six years of the deal, Romo will earn an average of $18 million a year compared to the $16.8 million he will earn in his first year. Romo is guaranteed to earn $55 million dollars this season...
Quarterback Tony Romo of the Dallas Cowboys roped in a six-year contract extension on March 29 worth a total of $108 million. Reports said that he received a bonus signing of $25 million and $55 million of the contract is guaranteed. The new contract will kick in after the completion of the 2013 NFL season. [...] [[ This is a content summary only. Visit my website for full links...
The Cowboys signed quarterback Tony Romo to a shockingly controversial contract extension Friday. The shock is that it is controversial. The inalienable truth about the NFL is it is always about the franchise quarterback. If you have one, you overpay him. If you think you have one or the possibility of one, you pay him. If you don't have one, you are constantly scrambling...
After using Twitter to express shock and disgust with the deal, Donovan McNabb elaborated on the Dallas Cowboys and embattled quarterback Tony Romo agreeing to a six-year contract extension worth $108 million while working as an analyst for the NFL Network on Friday. "I'm gonna say 'wow' again. And the reason I say that is because when you have one playoff win, quarterbacks...
ARLINGTON, TEXAS — Tony Romo has a chance to start for the Dallas Cowboys longer than Roger Staubach or Troy Aikman. The question is whether he will ever match their Super Bowl pedigrees.
Look, Tony Romo is a good quarterback. He isn't great, he's good. That being said, he is now the highest paid Dallas Cowboy of all-time. And that's only because Roger Staubach can't play anymore. Adam Schefter of ESPN first reported the news on Twitter: Cowboys and Tony Romo reached an agreement on blockbuster 6-year extension that makes him highest paid player in team history...
How much do the Dallas Cowboys value starting quarterback Tony Romo? Apparently enough to make him the highest-paid player in franchise history. Romo will reportedly receive a six-year extension worth $108 million, per ESPN's Adam Shefter. Included in the 6-2, 230-pound quarterback's contract extension is $55 million in guaranteed money—the second-most guaranteed money...
Donovan McNaab after the infamous Campbell's Chunky Soup Binge In breaking news this afternoon, Donovan McNaab believes that people give a **** about what he has to say, when he took to twitter to gripe about Tony Romo's contract extension. Tony Romo 6 yr 55 million dollar extension. Wow really, with one playoff win. You got to be kidding me — Donovan McNabb (@donovanjmcnabb...
NFL News

Delivered to your inbox

You'll also receive Yardbarker's daily Top 10, featuring the best sports stories from around the web. Customize your newsletter to get articles on your favorite sports and teams. And the best part? It's free!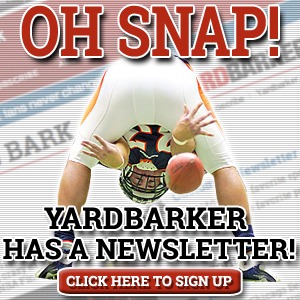 Latest Rumors
Best of Yardbarker

Today's Best Stuff

For Bloggers

Join the Yardbarker Network for more promotion, traffic, and money.

Company Info

Help

What is Yardbarker?

Yardbarker is the largest network of sports blogs and pro athlete blogs on the web. This site is the hub of the Yardbarker Network, where our editors and algorithms curate the best sports content from our network and beyond.