Found April 23, 2012 on Five Tool Tool:
10) Afraid that the network would find out about the QB's shameful secret criminal activities9) Roddy White and a live mic isn't exactly a recipe for team harmony 8) Just not able to match Rex Ryan's standard for HBO-ready dialogue7) Worried that if they appear on the show, people would start noticing how they never actually win any playoff games6) Don't want the world to know just what's involved in keeping Tony Gonzalez and John Abraham upright5) Need to keep Matt Bryant's collection of children's teeth as far from the media as possible4) Know that, if they did this, Brent Grimes would spawn off with 25 different women in an attempt to raise the bar for CBs on the show 3) Would feel bad after telling Michael Turner that he was going to be a big part of the show, only to see his role reduced2) Mike Smith was given the final decision to kick away the opportunity or go for it, and he's not really the guy you want to make that decision 1) HBO might be t...
Original Story:
http://fivetooltool.blogspot.com/2012...
THE BACKYARD
BEST OF MAXIM
RELATED ARTICLES
The Atlanta Falcons made quite a splash in last year's NFL draft. This year, they'll likely spend a lot of time sitting around. The Falcons are one of three teams that did not have a pick in Thursday night's first round. Considering what they gave up to get receiver Julio Jones in 2011, there's little chance of the team moving up to make another high-profile selection...
Their happens to be quite a pool of talent in this year class defensive tackle class with 3 to 4 being projected in the first round. The Talent continues on into the second and third rounds as well. Let's take a look at some of those second-third Round DTs that the Falcons might be targeting. A potential Falcons draft pick? Let's start off with Brandon Thompson, the...
Mike Smith & the Atlanta Falcons reject HBO's Hard Knocks for their organization. It was revealed today that the Atlanta Falcons declined the opportunity to appear on the hit HBO show 'Hard Knocks.' A source revealed that the Falcons team talked a lot about the oportunity, but in the end Thomas Dimitroff, Arthur Blanks & coach Mike Smith didn't feel it would be...
A couple weeks ago we told you HBO had finally come to a decision about the team they wanted to appear on the successful Hard Knocks series.  That choice was the Atlanta Falcons, who in spite of 3 playoff apperaances in 4 years, were a less than inspiring selection to the wide majority of those of you who responded to the news via Twitter and Facebook.  At that point, it seemed...
Cornerback Brent Grimes signed his one-year franchise tender with the Atlanta Falcons, the team announced. Grimes will earn $10.3 million in 2012 if he doesn't agree to a long-term contract before mid-July. Grimes, an undrafted free agent in 2006 who was on the team's practice squad for all but the final two games of 2007, went to the Pro Bowl in 2010 and is considered one...
ATLANTA- The Falcons are no longer satisfied with making due with what they have when it comes to their secondary. It is becoming more than a possibility that could acquire CB Asante Samuel from the Philadelphia Eagles. The Eagles have been trying to move the disgruntled corner for almost a year now and now their asking priced has dropped dramatically. Please click the link below...
The Falcons made a mega deal - a 5-for-1 trade with Cleveland - to move up 21 spots to select wide receiver Julio Jones last April. Because they don't have picks in the first and fourth rounds of the 2012 draft, they must be prudent in order to fulfill some of their needs. Their first pick will be the 55th pick overall in the second round and they will look to add either a...
With six men on the line of scrimmage, including three plugging the middle, run fits, reads, and keys within the 46 defense can vary from other more traditional fronts. In his DVD, "Coaching Football's 46 Defense", Rex Ryan uses two chapters to discuss the keys and reactions of the Mike linebacker and strong safety within this defense including the use of former plays to...
HBO's "Hard Knocks" is ready for a seventh season, but is still in the market for an NFL team willing to be featured on the reality program. According to ESPN, the Atlanta Falcons declined to appear on the show after more than a week of mulling the offer, ultimately viewing it as too much of a distraction. The show, which follows an NFL team through training camp...
Falcons News

Delivered to your inbox

You'll also receive Yardbarker's daily Top 10, featuring the best sports stories from around the web. Customize your newsletter to get articles on your favorite sports and teams. And the best part? It's free!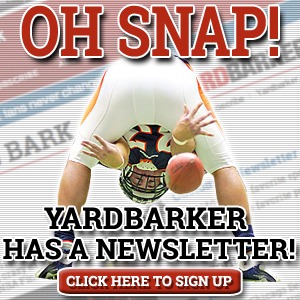 Latest Rumors
Best of Yardbarker

Today's Best Stuff

For Bloggers

Join the Yardbarker Network for more promotion, traffic, and money.

Company Info

Help

What is Yardbarker?

Yardbarker is the largest network of sports blogs and pro athlete blogs on the web. This site is the hub of the Yardbarker Network, where our editors and algorithms curate the best sports content from our network and beyond.