Found March 21, 2013 on BlackSportsOnline:
I remember this play like it was yesterday. Trent Richardson's collision with Philadelphia's Kurt Coleman, knocking him to the ground with a violent hit causing his helmet to fly away, was the main source of evidence which helped the NFL come to the decision to ban running backs from using their helmet against defenders outside the tackle box. "I feel like I made it bad for all the backs," Richardson told the newspaper. "I feel like it's my fault." "People keep telling me it's the T-Rich rule," he said. "I guess I made history today." "I know why they did it, but I won't say that I fully agree with it," he said. "I'm not saying it's a dumb rule, but the backs are all talking about it and it's kind of hard on us." A lot of speculation has been made regarding the new NFL helmet rule, which passed yesterday 31-1. Majority of the backlash seems to be surrounded around how can you judge intent. You would have to first ensure the play was done outside of the tackle box, while making certain the running back was using "forcible contact." Not to mention anytime a flag costs a team 15 yards from the spot of the ball you better be certain of the call before proceeding to throw the flag. However many are unsure you can call this penalty within the course of a game with  high accuracy. The only owner who voted against the new rule was Bengals owner Mike Brown, due to the difficulty to officiate the rule during the course of a game. "That hit made me a hero with Browns fans, but that was just me playing football," Richardson said. "That hit made history right there and it was big." Although Richardson found it shocking that his organization voted for the rule, he claims to understand the position of the owners wanting to keep the players safe. "I understand why they did it. They're going to do whatever it takes to keep guys safe. I kind of understand all of that, but it's tough for the runners on our end." "I don't know how they're going call it, but (laughing) most likely I'm going to be the one getting all the fines and all the penalties because I just know I just can't change the way I play the game," he said. Even with a 15 yard penalty looming over this costly play, Richardson has no plans to change his style of running. "I'll still play me," he said. "I'll still play the way I play. … I'm going to try to be as safe as I can, but I'm going to protect myself first. I know there are a lot of runners that feel the way I feel." You may disagree or you may agree with the rule, but one thing is for certain if you want to use the crown of your head it will cost your offense. After a few times ending up on 3rd and long with Weeden as your QB, I'm sure Richardson will soon make the adjustment to his game as well as other players around the league.
Original Story:
http://blacksportsonline.com/home/201...
THE BACKYARD
BEST OF MAXIM
RELATED ARTICLES
The Cleveland Plain Dealer reports that Cleveland Browns running back Trent Richardson has been named in a lawsuit by two women over an incident that is alleged to have taken place December 9th 2012. The Plain Dealer also has a copy of the lawsuit as provided by the attorney for two named female plaintiffs. The suit also names Trent Richardson's girlfriend and mother of his children...
'MY FAULT'
Browns running back Trent Richardson said that he believes the rule change about the use of helmets by running backs can be attributed to him.
They told me I better be in the best shape ever. They told me they're gonna run the shoes off of me. They're gonna pass me the ball more. … They're going to do whatever they can … and they want me to be a leader for this team. Voice-wise, they want me to lead the group. They want me to get on that horse, man. They want me to be that stallion that's gonna take this program...
If anyone wants to point the finger at someone for why the NFL has instituted a new rule that penalizes running backs for using the crown of their helmet in the open field, look no further than Cleveland Browns running back Trent Richardson. At least, that's what Richardson believes. While speaking with the Cleveland Plain Dealer, Richarsdon took the blame for the new rule, shortly...
Cleveland Browns running back Trent Richardson has been named in a civil lawsuit alleging verbal and physical abuse, according to the Cleveland Plain Dealer. The lawsuit, filed on Friday in Cuyahoga County Common Pleas Court in Cleveland, names Richardson, his girlfriend, Sevina Fatu, and two other unidentified women. The complaint also names Richardson's brother, Terrell.The...
Trent Richardson isn't having a good week. On Wednesday, word came out that the Browns running back would no longer be able to deliver his patented head-first truck into defenders after the NFL passed a new rule saying players couldn't lead with the crown of their helmets. On Friday, two women filed a civil lawsuit against Richardson, claiming he orchestrated three women to assault...
According to the Akron Beacon Journal, two women are suing Cleveland Browns running back Trent Richardson, his girlfriend Sevina Fatu, his brother Terrell Richardson and two unnamed women.  The lawsuit claims they were   verbally and physically assaulted at Richardson's home early in the morning on Dec. 10, 2012. Attorney Leif B. Christman is representing the women who claim...
I didn't know you could get sued for throwing someone out of your home, but that is what is happening to Trent Richardson. This is what happened when you bring girls home from the club you don't know. Here are the details of the lawsuit. The lawsuit claims that the incident began on Dec. 9, 2012, at Rumors night club following a Browns victory and continued into the early hours...
(Credit: AP Photo/Mark Duncan) Cleveland Browns second-year running back Trent Richardson may be in a bit of hot water early in his career as he was named a suspect in a civil lawsuit claiming physical and verbal assault. Although the 21-year-old back has not been arrested for the alleged incident, the claim moves forward while naming four others. Richardson's brother, his girlfriend...
The NFL passed a new rule on Wednesday, changing the way running backs are able to play the game, and Cleveland Browns back Trent Richardson feels responsible. "I feel like I made it bad for all the backs," Richardson said, according to the Cleveland Plain Dealer. "I feel like it's my fault." Richardson, who enjoyed a successful rookie seasons with over 950 rushing yards...
Cleveland Browns running back Trent Richardson said he believes it's his fault that the NFL passed the new rule that will penalize players for using the crown of their helmets to make contact with a defender outside the tackle box.
With player safety and concussion concerns being among the top of league priorities, the NFL has passed a rule that will no longer allow running backs (or ball-carriers) to lower the their crowns in space, using it as a weapon against their opponents. While not enforceable in goal-line or most short-yardage situations, the rule will penalize teams 15 yards if one of their players...
Browns News

Delivered to your inbox

You'll also receive Yardbarker's daily Top 10, featuring the best sports stories from around the web. Customize your newsletter to get articles on your favorite sports and teams. And the best part? It's free!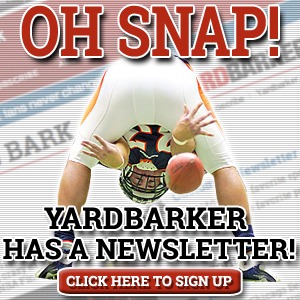 Latest Rumors
Best of Yardbarker

Today's Best Stuff

For Bloggers

Join the Yardbarker Network for more promotion, traffic, and money.

Company Info

Help

What is Yardbarker?

Yardbarker is the largest network of sports blogs and pro athlete blogs on the web. This site is the hub of the Yardbarker Network, where our editors and algorithms curate the best sports content from our network and beyond.