Found January 28, 2013 on The Sports Headquarters:
PLAYERS:
Kurt Warner
,
Max Hall
,
Kevin Kolb
,
John Skelton
,
Ryan Lindley
,
Brian Hoyer
,
Matt Barkley
,
Tyler Bray
,
Peyton Manning
TEAMS:
Arizona Cardinals
,
USC Trojans
,
Tennessee Volunteers
Triple Shot Three Potential NFL Draft Picks for the Arizona Cardinals   A new NFL draft feature to grace the pages of TSHQ. by Eric Judd @ericjuddTSHQ   If you scour the Internet, you will find no end to mock drafts and pundits already assuring you of whom your favorite team will choose in April. The point of this series is not to flaunt the psychic powers of TSHQ, it is to provide NFL fans with some names to, not only watch for during the draft process, but also to provide direction in doing your own research and evaluations. So between now, and the start of the NFL Draft on Thursday, April 23, all 32 teams will get a "Triple Shot", so keep an eye out for your NFL team, and what we (okay, me) here at TSHQ think would be a good fit. Triple shot is broken up into the categories. "Best Shot" players who should hear their names called on the opening night at Radio City Music Hall. "Long Shots" are 2nd day players who make up a bulk of the typical NFL roster. However, don't expect your favorite team to assuredly fill an immediate need with a "long shot" draft choice. A "Shot in the Dark" is a day 3 pick. With just a fool's hope of being that diamond in the rough that makes all of your favorite team's issues disappear. Arizona Cardinals   Major Need: Quarterback   While many factors may be responsible for Arizona's abysmal 1-11 finish to the season, the most glaring need is under center. Since the retirement of first ballot Hall of Famer Kurt Warner after the 2009 season, the Cardinals have fielded the moteliest crew of B-list QBs. From the horrifically inaccurate Derek Anderson to the Moxie-filled, but woefully out-classed Max Hall. In 2012, Arizona started, and subsequently benched, 4 different QBs. The overpaid Kevin Kolb, the 6th-rounder-for-a-reason, John Skelton, the (also) overmatched 6th rounder Ryan Lindley, and lastly, waiver wire pickup Brian Hoyer. Obviously, improving on the plays of this "fearsome foursome" would benefit the Cardinals immensely. Unfortunately, as the Cardinals well know (as they watch the rest of the NFL find starting QBs in the draft), finding an NFL quality quarterback is easier said than done. Best Shot: Geno Smith QB West Virginia. While the name Mike Glennon out of NC State has been gaining first round traction in the national media, the only draft eligible quarterback with top 10 potential is Geno Smith out of West Virginia. His athleticism is a perfect fit for the NFL, and his deep ball is a thing of beauty. Compared to pre-season front-runner Matt Barkley out of USC, Smith has the arm to make all the NFL throws, but also in the new Bruce Arians-led Cardinals offense. Unfortunately, Smith's footwork can falter, appearing almost lazy at times, causing accuracy and power to suffer. Being the top QB, Geno Smith making it to the Cardinals at the 7th overall selection is doubtful, at best, especially with possibly 5 of the 6 teams ahead of Arizona with unsettled quarterback situations. Long Shot: Tyler Bray QB Tennessee. Tyler Bray has the best arm in the 2013 draft. He has room to grow in to his 6'6" frame and easily could look the part as a NFL signal caller. Unfortunately, his footwork doesn't fit in a community center dance class, let alone in the NFL. Lucky for Bray, if he does end up in the desert, (most likely in round 2), he will be paired with Arians and QB guru (and new Cardinals assistant Head Coach/offense) Tom Moore, who each helped coach Peyton Manning into the quarterback he has become. Sadly, aside from Arians and Moore, and his alma mater, Bray and Manning share little else. Shot in the Dark: Zac Dysert QB Miami (Ohio).  Day 3 quarterbacks are rarely, if ever, successful (see: Skelton, John and Lindley, Ryan). That doesn't mean you stop trying (see: Brady, Tom). Dysert had a rough senior bowl week, spending most of his time, checking down to the running back, and forgetting that the entire NFL world is watching. Dysert has acceptable arm strength but has yet to display his skillset against quality competition. Dysert is the definition of a long-term prospect. He needs serious work behind a competent QB and years under NFL coaching tutelage. Perhaps, eventually, Dysert could manifest his skills into something more than wishful thinking.
Original Story:
http://feedproxy.google.com/~r/TheSpo...
THE BACKYARD
BEST OF MAXIM
RELATED ARTICLES
Defensive lineman Darnell Dockett is in a good mood these days, he's tweeting at beauty queens, and playing the dozens with Crimson Tide quarterback AJ McCarron. However, it wasn't always like that, in actuality Dockett wanted out of Arizona if former coach Ken Whisenhunt had stayed. Dockett felt he wasn't being utilized right, but new coach Bruce Arians has the same idea...
According to the Arizona Republic, former Cardinals head coach Ken Whisenhunt and defensive lineman Darnell Dockett weren't very fond of one another. Whisenhunt wasn't crazy about Dockett's immaturity at times.  the messages from Ken Whisenhunt weren't always so well-intended or received. And by the end of the 2012 season, Dockett was in a much darker place. He had defied...
The Arizona Cardinals are expected to formally announce this week that they hired Amos Jones as their special teams coach, according to multiple reports. Jones worked with new Cardinals coach Bruce Arians at Alabama during his career. Jones spent several years as a college assistant before spending a year in the Canadian Football League and then joining the Pittsburgh Steelers...
Aye someone tell sissy ass @ochocinco I'm looking for em! I been in miami in all the skinny jeans store &can't find him.I'm getting pissed — DARNELL DOCKETT (@ddockett) January 29, 2013 After the Katherine Webb thing, and now this, Darnell Dockett is making a serious run at my favorite non-Patriot in the league. Ochocinco is just getting completely demolished and...
Scrolling Craig's List can be fun.   There are missed connections to be browsed, haiku's to be discussed in the forums and collectibles to be sold. So, after confirming I was not a missed connection, I skipped the haiku discussion forum and found myself clicking an advertisement selling a playbook with multiple NFL players: (from Craig's List) Flacco/Anquan...
Larry Fitzgerald is quarterback proof, they said. Check out his 2011 numbers with John Skelton at quarterback, they said. If you were one of the "lucky" fake football GMs to have selected Fitzgerald with an early round draft pick or, perhaps, traded for the artist formerly known as "Sticky Hands" in your dynasty league, then you were probably watching your make believe...
NFL News

Delivered to your inbox

You'll also receive Yardbarker's daily Top 10, featuring the best sports stories from around the web. Customize your newsletter to get articles on your favorite sports and teams. And the best part? It's free!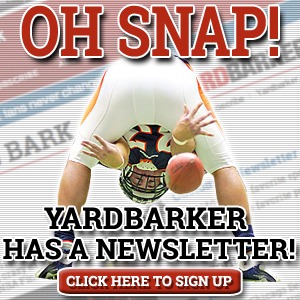 Latest Rumors
Best of Yardbarker

Today's Best Stuff

For Bloggers

Join the Yardbarker Network for more promotion, traffic, and money.

Company Info

Help

What is Yardbarker?

Yardbarker is the largest network of sports blogs and pro athlete blogs on the web. This site is the hub of the Yardbarker Network, where our editors and algorithms curate the best sports content from our network and beyond.