Found October 10, 2012 on Pro Football Zone:
During the Cowboys' week 4 loss to the Chicago Bears at home, there were a lot of Bears fans in attendance at Cowboys Stadium. It was obvious that at least for that game, the Cowboys had lost their home field advantage."I don't think Dallas has ever really had a great home field advantage," Aikman said last week during an interview on KTCK-AM 1310 The Ticket, via the Dallas Morning News. "What I've heard is that, 'Wow, they really lost home field advantage when they left Texas Stadium.' Texas Stadium really wasn't that different. Having played playoff games in Texas Stadium, that stadium was rocking, it was great. … But when we would play in Philadelphia, New York and walk out of the tunnel, I would have to be yelling at the top of my lungs for guys to hear me. And you get on the plane for the flight home and your head would be pounding, you wouldn't have a voice, and that's just the way that it was. There was no way you could go down there near the goal line and use hard count in an opposing stadium. And yet in Texas Stadium, teams did it all the time."Aikman says that this is just the way Dallas sports fans are."I think for a large part – and the fans don't want to hear this – a lot of the people that attend sports in this town, they're there because it's kind of just a place to be seen," Aikman said. "I didn't know anybody who went to Rangers games, and then when they started winning and going to World Series, everybody's wearing Rangers hats and saying, 'Oh yeah, I'm a big Rangers fan.'"I've always said Dallas isn't so much a sports town as it is a winner's town. And that's not that unique. Most towns are like that. There are very few towns like Chicago where you can go out there and go 4-12 and they're stilling selling out stadiums. That's pretty unique. But Dallas, they pull for their winners, and as we saw in the Tampa game, when an opposing offense can get down there on the 10-yard line and they're drawing the home team offsides, that's different. You're not seeing that in some of these other places."I think Aikman has a great point, after watching the Cowboys-Bears game, I never heard a visiting team have so much support behind them.I do believe some Cowboys fans are fed with how poorly owner Jerry Jones has managed his team, even though they're a better team in certain areas this season.
Original Story:
http://feedproxy.google.com/~r/ProFoo...
THE BACKYARD
BEST OF MAXIM
RELATED ARTICLES
Well, we've been waiting for some roster changes, and the only significant one was the activation of RB Lance Dunbar to the 53-man squad. We all know this is to see if Dunbar can be more productive than 1st round bust Felix Jones. What we really wanted to see was a change at RG. Mackenzy Bernadeau has been a free agent bust, you can mark this up as the same category as Marcellus...
When Dallas Cowboys owner Jerry Jones built his billion dollar plus playpen, many skeptics felt it would ruin the team's home field advantage. Well according to Cowboy legend and Hall of Famer Troy Aikman, the fans might be the blame for lack of a stadium advantage. Aikman told the Dallas Morning News that now and when he played, there was no home field advantage.  don't think...
The 2nd in our two-part series, working to assign grades to each respective unit. Make sure to check out the offensive grades here  and let us know how we did! Defensive Line: B These guys have looked good so far, and that's without all-pro NT Jay Ratliff. Players like Jason Hatcher, Tyrone Crawford, Sean Lissemore, and Josh Brent have all made a name for themselves throughout...
Jerry Jones must be getting to a point where his patience runs out. His hot and cold Cowboys can't get untracked from inconsistency. However, Jones still has a lot of confidence in his team. The Cowboys are coming off their bye and know they have to start making noise. Falling behind New York or Philadelphia doesn't bode well going down the stretch. Jones spoke to Elf &amp...
Here's a look at LestersLegends sit and start advice as you set your lineups for the sixth week of the 2012 NFL season..QuarterbacksStart: Ben Roethlisberger, Pittsburgh Steelers: He's coming off a win in which he threw for 207 yards without a touchdown. He threw multiple touchdown passes in the first three games. Mendenhall (knee) is back so it should be a more balanced attack...
Until further notice, the Cowboys main concern for their offense is to solve their issue in running the ball out of base-offense situations. That means, with a QB under center, can they run the ball on 1st and 10 and 2nd and 5-9 to a point where they are not "falling behind the chains" as the coach likes to say. It is vital to figure this issue out, and since so many of...
I was thinking back to 1997 and trying to recall why I was so upset with Dallas Cowboy Head Coach Barry Switzer. I mean he was the spirit and soul of my proud Oklahoma Nation and his resume is definitely a "Top Ten" collegiate coach in the history of the NCAA.Then I realized that it wasn't Coach Switzer that I was angry with nor his stupid antics like boarding a plane...
It's on the record that Players View feels that Terrell Owens can still play. There is also the feeling that he creates these weird stumbling blocks for himself that for instance kept him from making the grade in Seattle. In looking at the film that he generated as a Seahawk he had no problem getting open which is why he was targeted so much. He just dropped crucial catches.When...
Dallas Cowboys fullback Lawrence Vickers told the media that he isn't scared of Ravens linebacker Ray Lewis, or any team in the NFL for that matter."You see me. I stay ready for whoever," Vickers said, per the Fort Worth Star-Telegram. "Names don't scare me, man. Teams don't scare me. I'm a man before anything. So I let other men just talk. See me in between those lines...
According to Clarence Hill of the Fort Worth Star-Telegram, Baltimore Ravens linebacker Ray Lewis plans on reaching out to Dallas Cowboys wide receiver Dez Bryant to possibly offer him some leadership and advice.There's no doubt that Bryant has a ton of talent. The only problem is that it seems like the Cowboys can't get him to tap into it the way he needs to so he can fulfill...
Jerry Jones is the owner of the Dallas Cowboys and since he owns 'America's team', Jerry is 'America's owner' as the boss of the franchise. However Jerry Jones is starting to become known as the new Al Davis of the NFL with seemingly too hands of an approach. The late Oakland Raiders owner Al Davis was famous for having a successful football team that won three Super...
It's a tough matchup because both teams are coming off games which left them questioning just how good is the sum of their parts...Questions of faith abound for both the 'Boys and the Ravens...not of a spiritual nature, of course, but of a tactical and personnel nature.The last time the Dallas Cowboys took the field, quarterback Tony Romo threw five interceptions and they...
Cowboys News

Delivered to your inbox

You'll also receive Yardbarker's daily Top 10, featuring the best sports stories from around the web. Customize your newsletter to get articles on your favorite sports and teams. And the best part? It's free!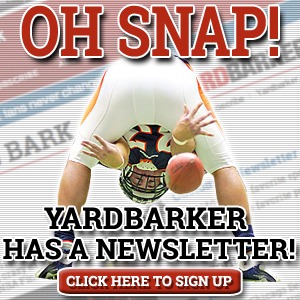 Latest Rumors
Best of Yardbarker

Today's Best Stuff

For Bloggers

Join the Yardbarker Network for more promotion, traffic, and money.

Company Info

Help

What is Yardbarker?

Yardbarker is the largest network of sports blogs and pro athlete blogs on the web. This site is the hub of the Yardbarker Network, where our editors and algorithms curate the best sports content from our network and beyond.