Found June 12, 2012 on Turn On The Jets:
PLAYERS:
Santonio Holmes
,
Brian Schottenheimer
,
Eric Smith
,
Brandon Carr
,
Morris Claiborne
,
Jay Cutler
,
Brandon Marshall
,
Alshon Jeffery
,
Michael Bush
,
Matt Forte
,
Ricky Sapp
,
Joe McKnight
,
Jeff Cumberland
,
Jenrry Mejia
,
Sandy Alderson
,
Kevin Durant
,
LeBron James
,
Ndamukong Suh
,
Matthew Stafford
,
Jamaal Charles
,
Romeo Crennel
,
David Garrard
,
Brian Hartline
,
Davone Bess
,
Chad Ochocinco
,
Jeff Ireland
,
LaRon Landry
,
Tim Tebow
TEAMS:
New York Jets
,
Dallas Cowboys
,
Chicago Bears
,
Oklahoma City Thunder
,
Miami Heat
,
Detroit Lions
,
Kansas City Chiefs
,
Miami Dolphins
,
New England Patriots
Mike Donnelly is back with his weekly stock watch. Make sure you give Mike a follow on Twitter and give Turn On The Jets a like on Facebook.
It is that time of the week again: Stock Watch! It's been a busy week with the Jets as always, and in the sports world in general. We had some big news as Santonio Holmes threw his helmet (on no!) and the media had a collective aneurysm running to their computers to throw him under the bus. We also saw a rigged boxing match, the NBA Finals get set (be sure to check out Joe's Finals preview), the Kings win the Stanley Cup, and the Yankees mop the floor with my Mets and their abomination of a bullpen. We're gonna touch on some of those with buy and sell advice, but this week the big stock tips come in the form of some NFL over/unders for wins. Vegas released their totals two weeks ago, and after several sleepless nights crunching the numbers –or just taking some guesses– I've come up with a few to invest in. Let's dive in…
BUYS
Jets 8.5 Wins – Perhaps I'm a Jets homer, but I think this is a slam dunk. I can't help but laugh when people say "Oh the Jets are the third best team in the division!". We've been hearing that same crap for 3 years now, and it's yet to happen. The fact is, the Dolphins and Bills just aren't that good, and that isn't going to change this year. Last year, the Jets had a disaster of a season, and they still finished with 8 wins and easily could have had one or two more. This year I'm expecting 4-2 in the division (split with Pats, 3-1 vs. Bills and Fins), and then score very likely wins against the Colts, Cardinals, and Chargers at home; and Rams, Jaguars, and Titans on the road. That leaves tough games in Pitt and Seattle (always a tough place to play), and against the 49ers and Texans at home. A split amongst those 4 isn't unlikely. With a potentially dominant defense and an offense that improved simply by getting rid of Brian Schottenheimer, I just don't see this team not winning 10 or 11 games.
Cowboys 8.5 Wins – I hate backing the Cowboys, because every offseason people look at their roster and talk about how this is the year they put it all together and they're going to the Super Bowl. Just to be clear, I don't think that, but I do think this team has enough talent to win 9 or 10 games. The only reason they failed to get there last year was because of a secondary that featured several guys whose performances rivaled Eric Smith. And as all Jets fans know, that's not a compliment. This year, however, they added the best corner in free agency, Brandon Carr, and traded up to draft the best corner in the draft, Morris Claiborne. 9 wins here we come!
Bears 8.5 Wins – I'm a big Bears fan this year. Da Bears have Jay Cutler coming back from injury, they added Brandon Marshall and Alshon Jeffery to the receiving corps, and they brought in Michael Bush as Matt Forte insurance. Oh, and they still have one of the best defenses in the NFL. Not only do I think they easily clear 8.5 wins, but I think they have a chance to give the Packers a run for their money in the NFC North.
Ricky Sapp, Joe McKnight, Jeff Cumberland, Vlad Ducasse – Yes, even Vlad Ducasse. I'm buying this group of 4 "under the radar" players, because I'm very interested in hearing how they do in Mini-Camp the next few days. All 4 guys have a chance to contribute in a meaningful way this year, especially McKnight and Sapp.
Jenrry Mejia - As a Mets fan, I'm absolutely disgusted with their bullpen. I don't know what the hell Sandy Alderson was thinking this offseason putting this group of bums together, but there is hope on the horizon — Jenrry Mejia. One of the best pitching prospects in the Mets system, they recently moved him to the bullpen in Triple A, with the intention of having him come up and rescue this sad sack of relievers. I'm excited. And yes, I know that makes me pathetic getting excited for a middle reliever, but I'm a Mets fan, what do you want from me?
Kevin Durant – I love the NBA. I hate the regular season when the players openly don't give a crap, but the playoffs are awesome, and I love when a young guy breaks down the door and announces he's arrived. That's what Kevin Durant is doing right now, and I couldn't be more excited to watch his Thunder take on the hated Miami Heat and LeBron James.
SELL
That John Malkovich iPhone Commerial – Ugh. Had to mention this one first. I can't be the only person who gets legitimately angry every time this commercial comes on, can I? And I can't help but think Apple has a few more of these atrocities ready to put out there. It's like they're daring me to buy non-Apple products, knowing full well I am going to just sit here, do nothing, and continue to watch John Malkovich commercials while playing on my iPad. Screw you, John Malkovich.
Lions 9.5 Wins – I'm sorry, but I think the Lions are going to take a tumble this year. They're the sexy pick for "Team Ready to Take the Leap into Super Bowl Contention", but I don't see it. The secondary still stinks, the offensive line is a mess, their coach is a raving lunatic, and this might be the year Ndamukong Suh attempts to become the first player to use the football to actually beat an opposing player into a coma. That's not to mention Matt Stafford miraculously avoided injury all of last year, and is unlikely to happen again. I can see this Lions season going very, very badly.
Chiefs 8 Wins – Maybe I'm missing something, but I just don't see this at all. The Chiefs just aren't that good. They have a solid defense, but questions at quarterback, Jamaal Charles is recovering from a blown out knee, and last I checked, Romeo Crennel is their head coach. Sell this one.
Dolphins 7.5 Wins – Sorry Dolphins fans, this one is going way under. As of now, the #1 quarterback on the depth chart is David Garrard. Yes, that David Garrard. The one who was out of football last year. The one who will be throwing passes to…umm, Brian Hartline? Davone Bess? Oof. The only way that can be worse is if they sign someone like Chad Ochocinco. Oh wait, that's exactly what Jeff Ireland did. On the bright side, they have a solid defense and a pretty easy schedule, but the fact is, the Dolphins are the exact team other teams' fans see on the schedule and say, "That should be a win there."
LaRon Landry – Let's just say I'm starting to get a little nervous about this guy and his prospects for the 2012 season. I'll reserve judgment until closer to the season, but it's not looking all that promising.
Boxing – I'm selling the sport as a whole. I know this same thing has been written 500 times since the fixed Pacquiao vs. Bradley fight on Saturday, but the sport is just a joke. I wish we could organize a worldwide boycott of a rematch if it comes to fruition, because seriously, what's the point? The only guy I'd pay to watch fight at this stage is Mike Tyson, and that's not a joke. At least that would be entertaining.
Tebow (!!!) Coverage at Mini-Camp – Get ready, Jets fans. The Jets are holding a 3 day mini-camp this week, and we're about to get bombarded with Tim Tebow information. Not only will we know about every pass he throws within 10 seconds of it slamming into the turf, but get ready to find out some real important personal things about Tebow; things such as: his favorite color, his favorite book, his pick on the NBA Finals, if he prefers Coke or Pepsi, and what toppings he likes on his hot dogs. Crap, I think I just gave the media some ideas. My bad, Jets fans. My bad.
Original Story:
http://turnonthejets.com/2012/06/turn...
THE BACKYARD
BEST OF MAXIM
RELATED ARTICLES
Let's forget about what his NFL peers may think about New York Jets' superstar backup QB Tim Tebow, and turn to someone who understands the quarterback position better than most, and who studies game film of the position more than anyone. He isn't nearly as flattering. ESPN analyst and Monday Night Football announcer Ron Jaworski [...]
THE NERVE!
It is a new week, so we have a new Tim Tebow story to talk about. This time it is thanks to ESPN analyst Ted Bruschi, who had some choice words for the superstar backup QB of the New York Jets. "Stop talking to the media so much," Bruschi said. "You need to disappear, okay, [...]
I thought we'd take a minute to show you the most hideous Tim Tebow tattoo that I've ever seen, thanks to LarryBrownSports.com. I would hope that the guy who had this etched into his leg forever, either received the tattoo for free or paid under $10 for it.
This video chronicles the journey of Tim Tebow, the Messiah of the NFL, from the Denver Broncos to his new home with the New York Jets.  [h/t Sweater Punch]
Being the polarizing figure that he is, Tim Tebow has been the brunt of a million different critics. Well, keeping with the trend, here's the latest from No. 1,000,001. During a segment on ESPN's NFL32, analyst Tedy Bruschi opined that Tebow, seeing how he's not the starting quarterback, should do the team (and Mark Sanchez) a solid by ducking out of sight. "Stop talking...
// google_ad_client = "ca-pub-7180957052612181"; /* ad 6 */ google_ad_slot = "0647442956"; google_ad_width = 500; google_ad_height = 50; // // // As minicamps begin, Tim Tebow is a trending topic around the New York area and around the Jets organization. Where will Tebow fit in and when will he get his chance to start. Thos questions are being...
New York Jets coach Rex Ryan says backup quarterback Tim Tebow will take snaps only with the second-team offense during the team's three-day minicamp. Mark Sanchez, whom the team has repeatedly insisted is the Jets' undisputed starter, will run the first-string offense throughout the practices. Ryan, who spoke before the Jets' first minicamp session Tuesday, eliminated...
New York Jets coach Rex Ryan says backup quarterback Tim Tebow will take snaps only with the second-team offense during the team's three-day minicamp. Mark Sanchez, whom the team has repeatedly insisted is the Jets' undisputed starter, will run the first-string offense throughout the practices. Ryan, who spoke before the Jets' first minicamp session Tuesday, eliminated...
Jets coach Rex Ryan said quarterback Tim Tebow would be running the second-team offense at Tuesday's minicamp practice with Mark Sanchez handling all first-team reps. Ryan continued an offseason theme of heaping heavy praise on Sanchez for his diligent film, playbook and conditioning work. "I think Sanchez has really been impressive," Ryan said. "Obviously,...
The New York Jets are a perfect example of how the offseason's main story lines can have little impact on the fantasy relevance of a team. If you haven't heard, the Jets acquired Tim Tebow from the Denver Broncos, kicking off a entirely over-dramatic quarterback controversy which most likely doesn't exist. In this preview, I'll assume that Mark Sanchez is the starter with...
NFL News

Delivered to your inbox

You'll also receive Yardbarker's daily Top 10, featuring the best sports stories from around the web. Customize your newsletter to get articles on your favorite sports and teams. And the best part? It's free!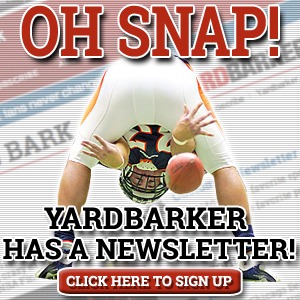 Latest Rumors
The Backyard

Today's Best Stuff

For Bloggers

Join the Yardbarker Network for more promotion, traffic, and money.

Company Info

Help

What is Yardbarker?

Yardbarker is the largest network of sports blogs and pro athlete blogs on the web. This site is the hub of the Yardbarker Network, where our editors and algorithms curate the best sports content from our network and beyond.