Found December 09, 2012 on Turn On The Jets:
The Race for Steak continues. Note that last week's record includes the most recent Thursday games - CURRENT STANDINGS 1. Rob Celletti (105-82-6) 2. Chris Celletti (97-91-5) 3. Chris Gross (96-92-5) 4. Mike Donnelly (95-94-4) 5. Joe Caporoso (77-110-6) Joe Caporoso Last Week (7-9) Redskins (-2) vs. Ravens Chiefs (+6.5) vs. Browns Steelers (-8) vs. Chargers Titans (+5) vs. Colts Jets (-3) vs. Jaguars Bears (-3) vs. Vikings Falcons (-3) vs. Panthers Bucs (-7) vs. Eagles Rams (+3) vs. Bills Cowboys (+3) vs. Bengals 49ers (-10) vs. Dolphins Giants (-5) vs. Saints Seahawks (-10) vs. Cardinals Packers (-6.5) vs. Lions Patriots (-3) vs. Texans Mike Donnelly Last Week (7-9) Redskins -2 Browns -6.5 Steelers -8 Titans +5 Jets -3 Vikings +3 Panthers +3 Bucs -7 Bills -3 Cowboys +3 Dolphins +10 Saints +5 Cards +9.5 Lions +6.5 Patriots -3 Rob Celletti Last Week (9-7) Redskins (-2) over Ravens Chiefs (+7) over Browns Steelers (-8) over Chargers Titans (+5) over Colts Jets (-3) over Jaguars Bears (-3) over Vikings Falcons (-3) over Panthers Eagles (+7) over Buccaneers Bills (-3) over Rams Bengals (-3) over Cowboys Dolphins (+10) over 49ers Saints (+5) over Giants Seahawks (-9.5) over Cardinals Packers (-6.5) over Lions Patriots (-3) over Texans Chris Celletti Last Week (10-6) Ravens Browns Chargers Colts Jets Bears Falcons Eagles Bills Bengals 49ers Saints Seahawks Packers Patriots Chris Gross Last Week (7-9) Ravens (+2) Chiefs (+7) Steelers (-8) Colts (-4) Jets (-3) Vikings (+3) Falcons (-3) Eagles (+7) Rams (+3) Cowboys (+3) 49ers (-10) Giants (-4.5) Seahawks (-9.5) Packers (-6.5) Patriots (-3.5) Jets/Jaguars Roundtable Predictions Chris Gross - Jets 17 Jaguars 3 – In yet another horribly ugly football game, the Jets defense and run game will carry them to a painful 17-3 victory. All eyes will be on Quarterback Mark Sanchez, who will lead one early scoring drive, extending his short leash throughout the game. Sanchez will commit a turnover in some fashion before the end of the first half, but will not play poorly enough to force Rex Ryan to make a quarterback change. The Jets will run the ball close to 50 times, with Shonn Greene and Bilal Powell each scoring a touchdown and rushing for over 80 yards a piece. Defensively, the Jets will smother the Chad Henne led Jaguars offense, who will be competing with a group that is actually depleted worse than the Jets offensive unit. Don't expect this one to be too enjoyable to watch, but the Jets will be one game away from .500 by about 4:30 pm today. Who would have thought? Chris Celletti - So everybody has been asking for Mark Sanchez to stop being coddled by the Jets, to have to feel the pressure of playing for his job. Well, it probably doesn't get much worse or more embarrassing for a professional athlete, especially a starting quarterback in the NFL, than to get benched and have a backup with one eighth your physical talent to lead your team to victory. The Jets are rightly seeing how Sanchez responds to this, and how he does is going to determine his fate as a New York Jet. And with that, Sanchez probably couldn't pick a better scenario to kick off his rehabilitation tour, as the Jacksonville Jaguars own the league's worst record and a bad defense to go along with it. Although if I were running the Jets I would, but I don't expect them to let Sanchez fling it around. Expect a gameplan akin to what you saw a few weeks ago in St. Louis; a run-heavy approach with a simplified passing game. I think Sanchez will do just fine if that's the case, throwing for around 200 yards while taking care of the ball. The Jets defense should be rolling a bit after their dominant performance last week, and the already-thin Jaguars' offense is even more depleted due to injuries. I think the Jets win comfortably, 28-10. Rob Celletti - The most intriguing stat regarding Sunday's game involves the number 36.  As in, there are 36 combined players between the Jets and Jaguars that appear on the injury report.  These teams lacked talent to begin with, and now they're starting third and fourth stringers in some key positions.  Neither team is confident in its quarterback.  The Jaguars are 32nd in the NFL on the ground and 24th through the air.  The Jets offense, especially the passing attack, is downright laughable at time. In other words, this one should be a doozy! In all seriousness, games like these favor the Jets.  And as our esteemed editor has pointed out, while the Jets have certainly disappointed in many ways this season, they are far from the worst team in the league.  Actually, the Jacksonville Jaguars are the proud owner of that title, with a league-worst 2-10 record.  I've predicted lots of games to be ugly this year.  This one's no different.  Jets win it 23-9.
Original Story:
http://turnonthejets.com/2012/12/turn...
THE BACKYARD
BEST OF MAXIM
RELATED ARTICLES
The New York Jets have found themselves in a rather familiar situation throughout the 2012 season.  They are making headlines.  The Rex Ryan era has been full of promises, successes, disappointments, and turmoil.  The last three plus years in New York have been nothing short of a media frenzy, and it doesn't seem to be stopping any time soon. Last Sunday, Rex Ryan chose to...
In another ugly game, the Jets maintain their wildcard hopes. Bills lose at home to the Rams. Dolphins fall to the 49ers.
The Pittsburgh Steelers were dominated by the San Diego Chargers today, but the Bengals, who were tied with the Steelers for the last playoff spot coming into the game, couldn't capitalize, losing to the Cowboys after leading most of the game. With the losses by the Steelers and the Bengals, the Jets are suddenly right back in the wildcard race, just a game back with three...
New York Jets quarterback Mark Sanchez isn't going anywhere in 2013. Sanchez is due to make $12.8 million for next season.  If the Jets were to cut Sanchez it would cost them Click Link below to read more! Tim Tebow
The New York Jets and their quarterback controversy have turned into Washington's political football. In August, President Barack Obama questioned the Jets' decision to acquire Tim Tebow when they had quarterback Mark Sanchez, who had led the team to the playoffs two years in a row. Then this week, Senate Majority Leader Harry Reid took a swipe at Republicans in the midst...
Are the Jets 6-7 and still alive in the AFC Wildcard race? Yes, if you can believe it. Rex Ryan pulled out some late 2009 magic dust and sprinkled it on Pittsburgh and Cincinnati, after yet another must win over the Jags and an exhausting week playing "Who Is My Quarterback?" The fact that this current roster is in the postseason hunt with three games left is a testimony to someone...
This week the Jets travel to Tim Tebow's hometown to play the Jaguars, unfortunately for the legion of Tebow supporters who undoubtedly wanted to line up to watch him play quarterback, equally unfortunate for many Jet fans that Greg McElroy won't be getting the start either, as you know, since it's all that anyone has talked about the entire week, Mark Sanchez will remain...
The New York Jets will visit the Jacksonville Jaguars in Week 14. Scheduled for a 1 p.m. EST kickoff this game will be aired on CBS where available. Mark Sanchez will start for the Jets, a week after he was benched for third-string quarterback Greg McElroy. McElroy led the Jets to a 7-6 win against Arizona but will again be the third string option this week should Tim Tebow's ribs...
Per multiple sources including Jason LaCanfora on twitter Tim Tebow is active today for the Jets. Tebow has been the second man on the Jets depth chart all year; so, maybe it was a 'can't lose your spot due to injury' piece; maybe Rex Ryan thinks he's their best backup quarterback; or maybe it was a marketing ploy by Woody Johnson and/or NFL higherups; either way, McElroy...
In the midst of an easy final stretch of the schedule, the New York Jets are facing their usual late-season do-or-die situation. A win improves them to 6-7 and maintains their minuscule hope in attaining a Wildcard beth for at least one more week. A loss could mean a plethora of depth chart adjustments next week.The good thing is, the Jets are in Jacksonville to face an absolutely...
It has been far from pretty but the New York Jets have won two games in a row and three of their last four after today's 17-10 win over the Jacksonville Jaguars. Somehow they remain relevant in the AFC Playoff picture for the final wild-card spot, thanks to losses from both the Pittsburgh Steelers and Cincinnati Bengals today. The Jets have fully embraced their 2009 style of...
NFL News

Delivered to your inbox

You'll also receive Yardbarker's daily Top 10, featuring the best sports stories from around the web. Customize your newsletter to get articles on your favorite sports and teams. And the best part? It's free!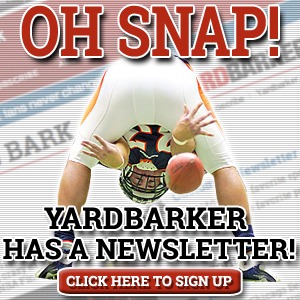 Latest Rumors
Best of Yardbarker

Today's Best Stuff

For Bloggers

Join the Yardbarker Network for more promotion, traffic, and money.

Company Info

Help

What is Yardbarker?

Yardbarker is the largest network of sports blogs and pro athlete blogs on the web. This site is the hub of the Yardbarker Network, where our editors and algorithms curate the best sports content from our network and beyond.